Discover Northern Israel on a 2-day tour from Tel Aviv to Golan Heights, Nazareth and the Sea of Galilee that explores historic sites and biblical landmarks. Rise into a wild mountain landscape, visit a border hot springs and take in views of the Golan Plateau from Mount Bental. Sleep at a kibbutz, experience Nazareth's Church of the Annunciation and descend into crypts below St. Joseph's Church, then visit the excavated ruins of ancient synagogues in Capernaum and see a Jordan River baptismal site before returning to Tel Aviv.
Highlights
2-day tour from Tel Aviv to northern Israel tour, with accommodation in a traditional kibbutz
Explore Golan Heights, a mountainous national park in northern Israel
Pose for photos at Hammat Gader, a hot springs that marks Israel's border with Syria and Jordan
Walk around the Talmudic village of Katzrin with a local guide
Visit Nazareth's Church of the Annunciation and St Joseph's Church

Discover the delights of the Sea of Galilee, visiting Yarendit, Capernaum and more
What You Can Expect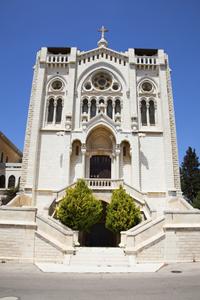 Day 1: Tel Aviv – Golan Heights
Leave your Tel Aviv hotel and travel north to Golan Heights, the gorgeous mountainous region in northern Israel. Golan Heights lies some 110 miles (180km) away from Tel Aviv, so two photo stops are worked in to the route to break up your journey.

Ogle the views from the vantage point of Megiddo, where successive ancient settlements were built on top of each other, and then stretch your legs at Yarendit on the banks of the Jordan River.

On reaching the national park, your first stop is Hammat Gader, a hot springs on the edge of the Syrian and Jordanian borders. Stop for photos, and then continue to Katzrin for a walking tour. Considered as the capital of Golan Heights, Katzrin is actually a Talmudic (ancient Jewish) village with incredible ruins scattered all around. Visit Katzrin's synagogue, and admire the remains of the 6th-century building that still features original decorative details and inscriptions.

After a break for lunch (own expense), travel to the top of Mount Bental – one of Golan Height's dormant volcanoes. Towering above the Golan plateau, the mountain lends itself to breathtaking views over Syria's Quneitra Valley. Stop for photos set against a former Syrian fortification in the valley, and then travel to your kibbutz for your overnight stay.

Overnight: Nof Tavor kibbutz in the Golan Heights region

Day 2: Golan Heights – Nazareth – Sea of Galilee – Tel Aviv (B)
Leave Golan Heights after breakfast, and then travel south to Nazareth. Nestled into the Galilean Hills, the city is home to a revered Christian shrine – the Church of the Annunciation – where the Angel Gabriel is said to have appeared to the Virgin Mary.

Head inside the basilica, and learn of its significance as a Christian pilgrimage site while admiring the architecture. Another sacred site – St Joseph's Church – is nearby, so stroll over to it next with your guide. Built on the spot where Joseph of Nazareth's carpentry workshop is said to have stood, the church is fascinating to explore with a network of crypts beneath its main hall.

After walking around the church with your guide, leave Nazareth and continue through the village of Cafa for a photo stop at the Church of the Multiplication on the Sea of Galilee. It was here that one of the New Testament's parables – the feeding of the 5,000 – took place.

Continue around the foot of Mount Beatitudes to the ancient fishing village of Capernaum, and see the ruins of Jesus' much-celebrated synagogue on a walk with your guide. Stop for lunch (own expense) and then travel toward the Jordan River.

Stop at Yarendit to walk along its sacred river banks and learn about the baptismal rituals that take place at the water's edge. If you would like to get baptized, speak to your guide to see if it can be arranged. Enjoy the tranquil ambiance, return to your coach, and then return to Tel Aviv.
December 2015
Fantastic trip, definitely got to see a side of Israel that is so often overlooked but is a major part of both its history and its present. Tour guide was very knowledgable and helpful.
One downside is if you do a different tour in the area you're going to end up at the same place for lunch and there weren't a lot of options. Would have preferred options for lunch given the small size of the tour group.
December 2014
Everything was very well organized. We were lucky to travel with small group- only 5 tourists.
Our guide Ori was extremely knowledgeable. Excellent day spent with him. Hotel for overnight was more or less OK. Nothing special.
April 2014
Day trip to Nazareth, Jordan river and sea of Gallilea was great and very interesting with good tour guide. Golan heights was not as great as it's very repetitive from the precious day.Hotel was not great and not in Kubuttz, just a hotel next to high way with only 1 restaurant which is terrible.
Advertisement
Advertisement