15 Reviews
Location:

Tel Aviv, Israel

Duration:

6 hours

(approx.)
Get inspired by Jerusalem and combine ancient history with spiritual sanctity in this half-day tour from Tel Aviv. Discover the quarters of the Old City by exploring Holy Land attractions such as the Western Wall and the site of Jesus' Crucifixion, enjoying panoramic views along the way.
Highlights
Half-day tour from Tel Aviv to Jerusalem

Enjoy panoramic views from the Mount of Olives

See popular Holy Land places such as the Garden of Gethsemane, the Western Wall and the site of the Crucifixion

Explore the Old City of Jerusalem from Tel Aviv

Transport by air-conditioned coach

Hotel pick-up

Recent Photos of This Tour
What You Can Expect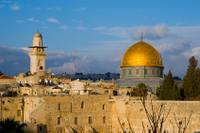 Departing from Tel Aviv in your air-conditioned coach, your first stop is the Mount of Olives for scenic views over Jerusalem. From this vantage point you can see the Dome of the Rock at theTemple Mount Esplanade, where heaven is said to meet earth.

Traveling via the Kidron Valley, you will pass the Garden of Gethsemane (where Jesus prayed before his crucifixion) before continuing to the walls of the Old City. Entering through the Armenian Quarter, you will visit the famous Western Wall (Wailing Wall), the holiest of Jewish sites which functions as an open-air synagogue for thousands of worshippers.

Your half-day tour then crosses over to the Christian quarter, where you can follow the route of the Via Dolorosa - an important pilgrimage for many Christian visitors. Look out for the 14 Stations of the Cross as you trace Jesus' steps to the site of his Crucifixion at the Church of the Holy Sepulchre.

After a short walk back along the ancient Byzantine main street, your overview of Jerusalem concludes in the Jewish Quarter of the Old City.
June 2014
Very nice tour and pointed out all most important points from Jerusalem.
June 2014
This has got to be the trip that I'd write a book about. It's an amazing historical tour that is breathtaking and awe-inspiring all in one. Of course it won't be possible if it weren't for the able, willing, and helpful assistance extended by Viator.
March 2014
Hya, the tour leader was excellent in terms of both knowledge and presentation.
March 2014
Very worthwhile tour. The tour guide was very friendly, informative and willing to answer any questions. The half day tour is good if you want to spend longer revisiting any of the areas shown in the tour or visiting parts not shown.
August 2013
Our guide Amir (=top of tree) Call Or was great! Provided us so many information with an enthusiastic approach, we learned and appreciated many things. This Jerusalem tour is highly recommended!
November 2011
Excellent guide and tour.
My only problem was that I had not understood that it was my responsibility to get myself back to Tel Aviv.
So be aware of this.
However, the guides provided me with a very creative solution - so it ended well.
May 2015
Guide was informative and interesting. Did a good job keeping a large group together and moving. People who want to pray at every shrine should return on their own rather than delay entire group.
Lunch... Present the options. Buffet was expensive and not very good .
Did full day... Added PM.
March 2015
If you're short on time, it's a good way to hit the major highlights of Jerusalem. The guide was spirited and funny, and made the tour enjoyable.
However, and other reviews mention this too, but I failed to read through... this tour ends in Jerusalem and does not take you back to Tel Aviv. My partner and I were surprised by this as we have taken numerous other tours through Viator before and never had this problem although this was the first half-day tour we had taken. Given that other reviewers expressed surprise at this, it has clearly happened before, so Viator should make it a point to announce on the bus prior to the tour starting that this is a one-way trip so that everyone is aware and can make alternative plans if necessary.
August 2012
This tour started out a bit rocky when my guide inquired as to my plans upon completion of my half-day tour. When I informed him that I intended to return to Tel Aviv and spend the day on the beach, he promptly inquired as to how I planned to return to Tel Aviv, as the half-day tour ends in Jerusalem...YIKES! So, my half-day tour turned into the full-day Jerusalem/Bethlehem tour...LOL! I simply paid the difference between the half-day and full-day tours (which, ironically, woul have been the same price paid had I taken a taxi back to Tel Aviv).
With all of that said, I'm REALLY glad that I took this tour. Jerusalem is TREMENDOUSLY fascinating, and we only visited the old city. My guide was EXCEPTIONALLY knowledgeable and excellent at pointing out various interesting aspects of the city.
From Jerusalem, I journeyed to Bethlehem with the rest of the tour participants, and I'm SOOOO glad I took adventage of this opportunity. While there isn't really anything special in Bethlehem, what I appreciated was the opportunity to see, first hand, the Palestinian perspective (as Bethlehem is a Palestinian territoy)...WOW! EYE-OPENING!
For those choosing only the half-day trip, I simply encourage you to have a plan for getting back to Tel Aviv. Furthermore, I would simply suggest proceeding with the full-day trip. The difference is merely a few hours, and you're returned to your start point in Tel Aviv.
July 2012
I changed it to the whole day excursion to include the transportation back to my hotel. There is never enough time but it is a very good formula for a first time.
Advertisement
Advertisement