Visit holy Bethlehem on this 5-hour tour from Tel Aviv, with an expert guide. Travel by air-conditioned coach to the hallowed city, and visit the Church of the Nativity, built on the site of Jesus' birth. Explore Manger Square and visit the Milk Grotto, said to have been turned white by a drop of Mary's milk while she nursed Jesus. Finally, see Shepherds Fields, where the bible says the shepherds saw the Nativity star, and finish with a drop-off in Jerusalem, leaving you free to explore this ancient city independently.
Highlights
Half day trip from Tel Aviv to Bethlehem

Guided tour of the scenes of the Nativity - including the Church of the Nativity, Manger Square, the Milk Grotto and the Shepherd Fields

Transport by air-conditioned coach

Hotel pick-up

Recent Photos of This Tour
Little Town of Bethlehem Half Day Trip from Tel Aviv
What You Can Expect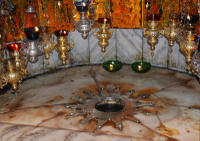 After pickup from your central Tel Aviv hotel, settle into your comfortable, air-conditioned coach with your expert guide. Then, set out on your 5-hour tour as you travel toward the holy city of Bethlehem.
Soak in the scenery on route and hear about Bethlehem's central role in Christianity believed to be the birthplace of Jesus.
On arrival, hop out of your coach and start your visit at the revered UNESCO-listed Church of the Nativity, thought to stand on the site of the holy birth and one of the world's oldest surviving Christian churches.
See where Jesus was laid down after his birth and take a stroll around Manger Square, the center of religious activity in the city.
See the Mosque of Oman as your guide explains its importance to the many Muslims who live in Bethlehem, and explore the chambers of the Milk Grotto, the cavern where it's said that Mary nursed the baby Jesus. Walk over the white-colored floor and hear how tradition holds its color comes from a drop of Mary's milk that fell to the ground.
Finally, drive to the Shepherd Fields, the pastures forever identified with the shepherds who gazed up at the star of the Nativity while watching their flocks.
After visiting this biblical site, drive on to Jerusalem. Your tour finishes here, leaving you free to explore the ancient city independently or get directions from your guide to travel back to Tel Aviv on your own.

April 2014
Dont forgot you passport, you definitely need it as you are entering an Arab city. This was another excellent trip with "Isaac" (Zahi Shaked), and a Palestinian guide, both were very knowledgable and friendly. They took us around Bethlehem, including the lactation grotto church and church of the nativity. They provided local food at a reasonable cost, which we ate nearby and had a chance to buy the locally crafted figures made from the olive trees growing in the picturesque hilly landscape around Bethlehem. This gives you an idea of how the shepherds lived during Jesus's birth and the part they played in communicating the news of the birth of Jesus. As this is a half day tour, you will be dropped off in Jerusalem, so you have to make your own way back to you accomodation.
October 2013
I have been to Jerusalem five times . This by far is the best tour I have taken. The small bus was clean modern and very comfortable . I will return and use this tour again and again
January 2013
Very good. Just don't forget to take your passport. Ossy is a great guide.
Don't miss the chance to buy olive wood stuff - difficult to find it in other cities.
October 2012
Interesting place, but I missed a feeling of authenthicity there, with that church full of icons, decorations and crowds of people. I did appreciate, the fact, that we were transported in private cars, which brought us close to all places. Nice too, that our group was so small, we were allowed to ignore the big queue of people and could squeeze in between. I do have to doubt, if the people in the queue appreciated it too.
July 2011
Best trip that we took in Israel. Guide was terrific.
June 2016
Excellent exploration of three main sites in Bethlehem and usefully dropped off in Jerusalem to make your own way back I recommend the train as it goes through some epic countryside.
June 2014
The half day tour was exciting and the tour guides, especialy the Palestinian guides were excellent. To be commened. The only issues were it was running very late and they forced a certain gift shop and restaurant upon the group. It was as if they were getting a cut of the service. They should have put a time limit on the gift shop and ended the tour immediately after, not forced the restaurant. Not many wanted to go.
November 2011
This was a great tour. The Palentian guide was excellent and we had a really nice time.
Angela B Bulgaria
July 2011
Very quick get in, see the sites and get out again trip. Was a great trip though.
December 2010
A well-organised and enjoyable trip with helpful, friendly and informative tour guides. We had no hold-ups going through the checkpoint as other travellers have reported. Unfortunately I did not read the small print that said the tour started in Tel Aviv but ended, somewhat inconveniently, in Jerusalem. The tour company were going to charge 140 NIS to travel back to Tel Aviv. Luckily we were able to make alternative arrangements.
Advertisement
Advertisement