Embrace the temptations of the West Algarve's coast during a half-day guided tour of Lagos and Sagres, departing from the Algarve. Rich with history dating back to the Portuguese Age of Discoveries, this tour uncovers artifacts, visits statues of great navigators, and explores old fishing villages of the coast. In Lagos, see old remains at the Antonine Museum nestled within the Church of St Anthony and the historic Prince Henry the Navigator statue. This Algarve half-day tour is not complete without breathtaking vantage points atop Sagres pristine cliffside. All entrance fees are at your own expense.
Highlights
5-hour excursion to Lagos and Sagres from the Algarve, led by a local guide
Pay a visit to Antonine Museum inside the Church of St Anthony to see Lagos artifacts that date from Roman days
See the Statue of Prince Henry the Navigator and learn of Lagos' links to the Age of Discoveries
Visit viewpoints of Ponta de Piedade and Cape St Vincent with their dramatic Atlantic Ocean views
Explore the charming fishing village of Sagres on Europe's southwesternmost tip
Make use of a hotel pickup and drop-off service that covers the Algarve region
What You Can Expect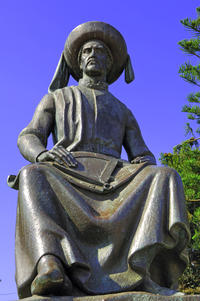 Meet your professional guide at your Algarve hotel for your half-day tour of Lagos and Sagres. Hop into your air-conditioned coach vehicle and cruise to Lagos. Along the way, learn about the Portuguese Age of Discoveries and its pioneers who set sail from Lagos. Arrive in this 2,000-year-old beach town naturally decorated with rock formations and filled with lively restaurants and bars. Then, begin a walking tour of the city center and explore its contemporary and ancient architecture.

Stop and enter the 18th century Church of Santo António (own expense) and notice its interior covered in ornate wood carvings and blue-and-white tiling. Inside, observe Roman artifacts at the Antonine Museum and learn about how Lagos was a commonplace for the 15th century European black slave trade.

Next, stroll to the Prince Henry the Navigator statue and hear the story of this great explorer sailing from Lagos in 1415 to capture the Moroccan city of Ceuta. Learn how this event helped propel Portugal into the Age of Discoveries.

Voyage westward to Sagres and visit this remote village where Prince Henry the Navigator developed the first nautical school in the 15th century. Walk with your guide through the charming village center and treasure the ambiance of the local fishing harbor. Then, stop at Cape St Vincent and capture stunning coastal views of the southwestern tip of Europe. Hop back in the coach and buckle-up as you return to your hotel where your tour ends.

September 2015
A WONDERFUL DAY UNDER THE GUIDANCE OF A VERYLEARNED AND POLITE COURIER' A GREAT EXPERIENCE
pberan Czech Republic
May 2015
Nice trip to the edge of Europe, nice cliffs, it was bit rainy at Sagres.

November 2014
Wonderful day. And lovely scenery. Would definitely recommend. Thank you so much!!
December 2015
We very much enjoyed our visit to Lagos, the photo stop and Cape St Vincent, especially the wonderful sunset. Our guide was very informative throughout the tour. We would have liked more time to wander around Lagos had just over an hour, more time at the photo stop, beautiful scenery, at Sagres we just drove through it, Cape St. Vincent was definitely worth the visit. This was a half day tour but we were picked up by mini van at 12.15 p.m. in Quarteira, met up with the coach in Albufeira at 1 p.m., then made several more pick ups before heading to Lagos. On the return we were transferred in Albufeira to a van and dropped off in Quarteira at 8.30 p.m., making it a day trip. Co-ordination of various pick ups to one coach pick-up in Albufeira and same on the return would have meant less time sitting on the bus and perhaps allowed more time at the stops.
March 2016
Good trip a lot closed on Mondays but worth doing.
I booked late and wasn't picked up by bus but after contacting the tour operator one of the office staff collected us in her own car and brought us to the bus. Appreciated the extra effort

April 2016
This tour could be greatly improved if the number of customers and size of the bus were reduced. For 1.5 hours sightseeing we had to endure 4.5 hours of hotel pick ups and drop offs as well as the travel time to the destinations
April 2015
Tour guide was very rude and unwelcoming ! Most of the trip was spent picking us all up and dropping everyone off again . Very little time in any of the places. Would not recommend this trip to anyone. Waste of everyones time and money !
March 2016
Such a pity a pretty good tour was hosted by the rudest and most unprofessional tour guide we have ever experienced. What a massive dissappointment. I would never recommend this tour because of this disgraceful person.
I have provided a full and detailed communication to Viator.
Advertisement
Advertisement