Take a day trip to the Spanish city of Seville and enjoy a walking tour plus ample free time to see the sights at your own pace! After traveling from the Algarve, explore the city with an expert guide and discover a range of top Seville attractions including Real Alcazar Palace, Seville Cathedral, Maria Luisa Park and Plaza de España. Explore the atmospheric neighborhood of Santa Cruz and learn all about the city history before enjoying 3 hours of free time.
Highlights
Day trip to Seville in Spain from the Algarve, led by a friendly local guide
Explore Seville on a walking tour and see top city attractions such as Seville Cathedral and Real Alcazar Palace
Walk around Maria Luisa Park and visit Plaza de España to see its large courtyard fountain
Visit Seville's Santa Cruz neighborhood and learn about its Jewish history
Enjoy ample free time to sightsee independently and shop
Make use of a hotel pickup and drop-off service that covers the Algarve region
What You Can Expect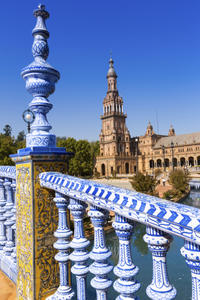 Start your day with a hotel pickup from the Algarve, and travel east to Spain and the southern city of Seville. After roughly two hours on the road from the main meeting point, arrive into the city and set out to discover its famous sights on a walking tour.

Explore Maria Luisa Park, and hear how its centerpiece square and palace complex Plaza de España was created for the 1929 Ibero-American Exposition World's Fair. Set in the middle of the park's elaborate Moorish-style gardens, Plaza de España was built in a classic Renaissance Revival style, and is now home to several important Government buildings.

Head inside the main palace building to see its two towers and the impressive courtyard fountain, and then leave the park to explore the surrounding Seville neighborhoods. Wander around pretty Santa Cruz, admiring its cluster of whitewashed houses and lively tapas bars that spill onto the streets, and then stop for photos outside Seville Cathedral, one of the world's largest Gothic cathedrals.

Walk around the outside of Real Alcazar Palace, home of King Juan Carlos, and admire its array of architectural styles that range from Moorish to Neoclassical. Your walking tour finishes after seeing the palace, where your guide will leave you to enjoy 3 hours of free time.

Sightsee independently, shop for souvenirs or relax over lunch in one of the city's atmospheric tapas bars (own expense); how you enjoy your free time is up to you! Then, meet your guide at the prearranged time and travel back to your hotel in the Algarve where your day trip finishes.
July 2015
Though this is a very long trip from the Western part of Algarve, it is definitely worth the effort. We were picked up from the hotel at 05:55 and returned around 7 pm. We had practically 5 hours of free time to visit the central part of gorgeous Seville, and have a quick snack break along the way it is not worth wasting time in a restaurant when there are so many beautiful monuments to discover in perfect weather!. The guide was pleasant and efficient in managing a big group : she distributed a street map of central Seville so that we could find our way around the town.
November 2014
This was an excellent introduction to this part of the country i had never seen. Seville is beautiful and the highlight was the spanish plaza. Absolutely stunning!! Thank you so much!!
May 2015
Came from Lagos.. So a long drive! But certainly worth it. Savilla is stunning! The city is fantastic!!
There was only 3 hours to spend on your own in the city, after a walking tour with our guide and boat tour we had about an hour to ourselves for lunch and there was so much more to see and do.
June 2015
Seville looks like a very interesting city . Will be back there ,
May 2015
Tour guide was okay. Little bit of a guided tour. Not much free time. Too much time wasted stopping for coffee breaks. Feel like we needed more time in Seville. By the time you grab a bit to eat you basically have an hour and a bit to walk around.
June 2015
Seville is a beautiful city well worth a visit. The day trip only gives you a taste of what the city has to offer. Our tour started badly as the bus did not turn up at the hotel pickup but parked a ten minute walk away and refused to come round to the hotel. When I got to the bus I challenged the tour guide about the pickup point which we had been emailed and faxed as the hotel. He showed complete disinterest. We found the tour guide to be rude and arrogant. It took us three hours on the bus going and four hours on the way back for about four hours in Seville. I enjoyed Seville but it was a long trip spoiled by a poor tour guide. I cannot recommend this tour.
April 2015
My friend and I were staying in Lagos and had no idea it would take 5 hours EACH way to get to Seville. We were on a bus for over 10 hours and only in Seville for 4. Seville itself is lovely but I wouldn't recommend it as a day trip from Portugal. Go and spend the night instead - we wish we did!
Advertisement
Advertisement