Spend a day exploring the flavorful city of Seville during a guided tour from the Algarve. The capital of Spain's Andalucia region is the heart of Flamenco dancing and is brimming with fantastic monuments and attractions. During the tour discover the beautiful Maria Luisa Park set next to Plaza de España. Then see Real Alcazar Palace and Seville Cathedral the largest gothic church in the world. Alongside your expert guide learn history and culture as you traverse the Santa Cruz quarter. Plus, you'll have 3 hours of free time to explore Seville and uncover more!
Highlights
Day trip to Seville in Spain from the Algarve, led by a friendly local guide
Explore Seville on a walking tour and see top city attractions such as Seville Cathedral and Real Alcazar Palace
Walk around Maria Luisa Park and visit Plaza de España to see its large courtyard fountain
Visit Seville's Santa Cruz neighborhood and learn about its Jewish history
Enjoy ample free time to sightsee independently and shop
Make use of a hotel pickup and drop-off service that covers the Algarve region
What You Can Expect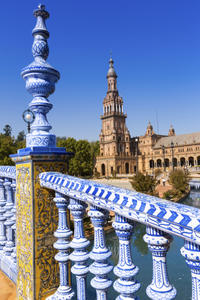 After meeting your guide at your Algarve hotel, enjoy a day trip to Spain's Andalucian gem, Seville. Aboard your air-conditioned coach relish tranquil views as you travel 2 hours east. After arriving, venture by foot to discover the city's top attractions.

First, stroll to beautiful Maria Luisa Park, a public park humming with local picnickers and shaded by a canopy of palm, elm, and mediterranean pine trees. Walk along the park's expansive Moorish-style gardens as you approach the stunning Plaza de España. Learn how this Renaissance Revival style building was built in 1928 for the Ibero-American Exposition World's Fair.

Enter the regal Plaza de España noticing the half circle moat, grandeur walking bridges, and gorgeous twin towers. Head towards the center and see the Vicente Traver fountain. Watch as water soars into the air creating a cooling mist.

Move onward to explore the neighborhood of Santa Cruz. Learn about this former Jewish quarter as you wind your way through narrow cobblestone alleys with Tapas Bars at every turn. After wandering past charming whitewashed houses arrive at the UNESCO World Heritage site Seville Cathedral. Stop for a perfect photo opportunity at the world's largest Gothic cathedral.

Next, head to Real Alcazar Palace (Alcazar of Seville), the oldest royal palace still in use today. Admire its architecture developed by real Moorish kings and learn how the upper levels are still occupied by the royal family. After visiting the palace your tour ends with your guide, but continue for the next 3 hours on your own.

If you're hungry, head to a tapas bar for a wide variety of tasty bites or grab a smooth gelato to cool down (own expense). Perhaps, step into a souvenir shop or just wander corridors taking in the ambiance. After three hours, rendezvous with your guide at a prearranged location and time and return to your Algarve hotel where your day trip ends.

June 2016
So well organised and our guide Ana and driver Pedro were fabulous!
Definitely recommend this trip for a taster of Seville... just long enough to whet your appetite for more.
July 2015
Though this is a very long trip from the Western part of Algarve, it is definitely worth the effort. We were picked up from the hotel at 05:55 and returned around 7 pm. We had practically 5 hours of free time to visit the central part of gorgeous Seville, and have a quick snack break along the way it is not worth wasting time in a restaurant when there are so many beautiful monuments to discover in perfect weather!. The guide was pleasant and efficient in managing a big group : she distributed a street map of central Seville so that we could find our way around the town.

November 2014
This was an excellent introduction to this part of the country i had never seen. Seville is beautiful and the highlight was the spanish plaza. Absolutely stunning!! Thank you so much!!
May 2015
Came from Lagos.. So a long drive! But certainly worth it. Savilla is stunning! The city is fantastic!!
There was only 3 hours to spend on your own in the city, after a walking tour with our guide and boat tour we had about an hour to ourselves for lunch and there was so much more to see and do.
November 2015
June 2015
Seville looks like a very interesting city . Will be back there ,
May 2015
Tour guide was okay. Little bit of a guided tour. Not much free time. Too much time wasted stopping for coffee breaks. Feel like we needed more time in Seville. By the time you grab a bit to eat you basically have an hour and a bit to walk around.
June 2016
This trip DOES NOT include hotel pick up or drop off and DOES NOT include a guided tour of Seville, as advertised. The guide simply drops you off in the center and instructs you to come back to the bus 4 hours later. You can buy a much cheaper ticket on a local bus to Seville instead!
June 2015
Seville is a beautiful city well worth a visit. The day trip only gives you a taste of what the city has to offer. Our tour started badly as the bus did not turn up at the hotel pickup but parked a ten minute walk away and refused to come round to the hotel. When I got to the bus I challenged the tour guide about the pickup point which we had been emailed and faxed as the hotel. He showed complete disinterest. We found the tour guide to be rude and arrogant. It took us three hours on the bus going and four hours on the way back for about four hours in Seville. I enjoyed Seville but it was a long trip spoiled by a poor tour guide. I cannot recommend this tour.
April 2015
My friend and I were staying in Lagos and had no idea it would take 5 hours EACH way to get to Seville. We were on a bus for over 10 hours and only in Seville for 4. Seville itself is lovely but I wouldn't recommend it as a day trip from Portugal. Go and spend the night instead - we wish we did!
Advertisement
Advertisement