Explore secluded coves and great snorkeling spots around the Whitsunday Islands and Great Barrier Reef on a leisurely 3-day sailing cruise. Aboard a luxury yacht, glide over the Coral Sea with an expert captain and crew who provide a personalized tour with ample time to snorkel, kayak, take nature walks and learn about sailing. Travel with a small-group limited to 8 people, which allows for a more customized itinerary. Includes all meals, use of equipment, and hotel pickup and drop-off in Shute Harbour or Airlie Beach.
Highlights
3-day sailing tour of the Whitsunday Islands and Great Barrier Reef, from Shute Harbour

Enjoy plenty of opportunities to snorkel, swim, hike and go sea kayaking

Visit secluded beaches and bays typically only visited by your captain and the locals

Learn from your expert captain about the marine life of the Whitsunday Islands and Great Barrier Reef

Choose to do as much or as little as you like with a customizable itinerary

Enjoy large cabins with shared en-suites, gourmet meals, and all beverages including wine and beer

Small-group tour limited to 8 people provides a more intimate traveling experience

What You Can Expect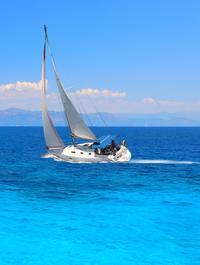 You decide how to spend the three days that you sail around the Whitsunday Islands (see sample activities in Itinerary) in consultation with your expert captain who provides options and recommendations suited to the interests of your group and the weather conditions.

Your sailing tour can be as active or restful as you wish. If you would like to learn to sail, the trip is designed to offer that opportunity. Your captain can teach you how to hoist sails, take the helm and perform basic navigation.

Your captain steers your luxurious 49-foot (14.9-m) sailing yacht to scenic and uncrowded spots known only to insiders. Admire the underwater world when you snorkel and swim at pristine coral reefs. On land, enjoy tropical bush walks on some of the Whitsunday Islands' national parkland, and stop at Nara Inlet to see Aboriginal cave drawings.

Gourmet meals, morning and afternoon tea, and drinks (such as Australian wine and beers) are included. Most meals can be enjoyed on the deck, but there is also an indoor area to lounge about. As for accommodations, there are five cabins on board with shared en-suites that include hotel-style linens and bath towels for your comfort. (See Pricing for details.)

Head to Shute Harbour to board your boat in the morning. Start your 3-day sailing tour with introductions and a safety briefing from the experienced captain and crew. After stowing your bag, grab a seat and get ready to sail the tropical seas!

After an incredible 3-day sail, return to Shute Harbour or Airlie Beach where your tour ends.
Itinerary
Sample Itinerary

(Please note: This can be adjusted according to the interests of the group and the weather conditions.)

Day 1 (L, D)
Free transfer between Airlie Beach, Proserpine Airport and Shute Harbour
Sail to Blue Pearl Bay (Hayman Island) for swimming, snorkeling and other water sports
Enjoy a gourmet lunch at Luncheon Bay (Hook Island)
Visit Nara Inlet to see aboriginal cave paintings
Take an evening swim under the stars in the warm waters of the Coral Sea
Day 2 (B, L, D)
Sail from Nara Inlet to Whitehaven Lookout
Take a bush walk to Hill Inlet Lookout (Whitsunday Beach)
Visit Whitehaven Beach for swimming and snorkeling in paradise
Sail from Whitehaven to Long Island, Daydream Island or Hamilton Island
Play sports on the beach and enjoy the relaxing atmosphere at a resort's pool and bar
Tuck into a gourmet dinner back on board your yacht
Day 3 (B, L)

Stroll to a picturesque lookout on the island
Enjoy leisure time at the resort or enjoy water and sports activities
Sail back to Shute Harbour
April 2015
The only issue was no drinks aboard, which was a bit misleading, but overall a very pleasant trip
March 2015
First day, we met the captain and learned the rules of the boat. We set sail to Whitehaven Beach. It was beautiful with a great lookout to walk up to, warm water to swim in, and sea turtles out by the boat. After we went to Tongue Bay. There is the most breathtaking view here with an even more gorgeous beach you can walk down to on the opposite side. After we went to a bay to stay for the night where we were entertained by jumping fish under a stunning starry night sky.
Second day, we headed out for Blue Pearl Bay Hayman Island. Provided with wetsuits, flippers, and snorkels we jumped off the back of the boat to snorkel with hundreds of fish. After we sailed, sails open and engine off, toward Langford Beach while the captain let us dangle our feet off the side of the boat into the water, giving each of us a chance to steer the boat. At Langford Beach, the other guests decided to stay and relax on the boat so the captain brought me ashore and I had it completely to myself. It was stunning with warm water, several types of birds, and beautiful shells. We settled into another bay for the night where we were greeted by sea turtles, kayaked around the boat, and watched an incredible sunset. We then played drinking games into the night with the captain and the hostess.
The next morning more sea turtles greeted us. We went to Sawmill Beach to do the Ngaro Sea Trail hike. The hike was grueling, especially with the heat, but it is completely worth the view. After, we left for Shute Harbor for the end of our trip.
A few things to keep in mind:
1. Bring more alcohol than you think.
2. The captain smokes when the boat is moving you can't smell it, but when the boat is stationary you can, just in case someone has asthma.
3. The food is excellent, light and filling nothing like you'd expect so if you have an allergy or are very particular, tell them when you book.
4. Use outrageous amounts of sunblock you burn much faster on the boat.
Advertisement
Advertisement