Immerse yourself in Japan's captivating culture on a two-day trip to Nara and Kyoto from Tokyo. Board a high velocity bullet train to discover five UNESCO World Heritage-listed highlights with an accomplished guide as you venture to Kyoto's Nijo Castle and Kiyomizu Temple. Marvel at the sacred majesty of the Todaijii Temple and Kasuga Shrine in Nara and see all of Kyoto's spectacular sights on a guided tour of the Helan Shrine and Imperial Palace. Accommodation, transportation, entrance fees and selected meals are all included in this tour.
Highlights
Two-day trip to Kyoto and Nara by rail from Tokyo
View the stunning, snow-capped peak of Mt Fuji from the Shinkansen bullet train
Take a sightseeing tour of Nara, including UNESCO World Heritage-listed Todaiji Temple and Kasuga Shrine, with a knowledgeable local guide
Visit the Golden Pavilion Temple and Nijo Castle, UNESCO World Heritage Sites, plus the Imperial Palace on a morning sightseeing tour of Kyoto
Admire 1,001 statues at Sanjusangendo Hall, and see Heian Shrine and Kiyomizu Temple on an afternoon tour
Keep an eye out for free-roaming deer at the Deer Park
Why Our Insiders Chose This Tour
High-tech meets ancient tradition as you zip about via bullet train to major landmarks of historic Japan. Get up close and personal with the friendly deer at Nara Park.
Recent Photos of This Tour
What You Can Expect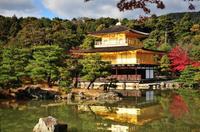 Marvel at the super-fast speed of a bullet train as you venture to Kyoto via the fascinating town of Nara. Depart from your Tokyo hotel in a comfortable vehicle and enjoy either first-class or tourist-class accommodation in your Kyoto hotel. See a spellbinding selection of temples and shrines as you absorb the culture, history and natural splendor of Nara and Kyoto over two days.
Listen to captivating commentary from your guide and gain insight into authentic Japanese culture as you sample traditional food and see some of the country's most significant sights. See the Itinerary section below for detailed information on each day of the tour.
Itinerary
Day 1: Tokyo – Nara – Kyoto (L):After hotel pickup around 9am, transfer to Tokyo Station and board a Shinkansen train with your guide and tour group, headed for the classical city of Kyoto. As you zoom by bullet train to your destination, take in the spectacular views (weather permitting) of impressive Mt Fuji, Japan's highest mountain, which hovers 12,389 feet (3,776.24 meters) above sea level.
Upon arrival in Kyoto, you'll have lunch at the New Miyako Hotel, located in front of the bullet train stop at Kyoto Station. After your meal, travel by coach to Nara – Japan's first permanent capital city, established in 710 AD – located in the Kansai region about an hour from Kyoto. In the afternoon, enjoy a guided city tour of Nara's historical treasures, including some of Japan's oldest Buddhist monuments and UNESCO World Heritage Sites.
First, visit the 8th-century Todaiji Temple, considered one of the country's most historically significant temples, and admire Japan's largest Buddha image – an enormous bronze statue – housed in the Daibutsuden (Great Buddha Hall). Next, visit the colorful Kasuga Shrine with its 3,000 antique stone and bronze lanterns.
Before returning to Kyoto by coach, your guide will take you to the Deer Park, where you can observe more than 1,000 tame deer that freely roam over its 1,250 verdant acres (505 hectares).
Overnight: Kyoto Hotel Okura or Kyoto Monterey Hotel (first class); New Miyako Hotel or Rihga Royal Hotel (tourist class) in Kyoto
Day 2: Kyoto – Tokyo (L) Embark on a morning sightseeing tour around Kyoto, an ancient capital and home to more than 2,000 gorgeous temples, shrines and gardens. Visit Kyoto Imperial Palace, where Japan's emperors once resided, and two UNESCO World Heritage Sites – the gold-plated Golden Pavilion Temple (Kinkaku-ji Temple) and Nijo Castle, noted for its gorgeous interior and 'nightingale' floors, which were designed to squeak in order to warn the castle's Tokugawa shoguns of intruders.
After lunch at a local restaurant, enjoy an afternoon sightseeing tour of the city. Starting at Sanjusangendo Hall (also called Sanjusangendo Temple), Japan's longest wooden structure, admire the 1,001 images of Senju Kannon – the goddess of mercy.
Next, take in the glorious vermilion-hued Heian Shrine (a renowned Shinto shrine) followed by a visit to the UNESCO World Heritage-listed Kiyomizu Temple to enjoy its wooden veranda and classical Japanese gardens.
In the evening, board the Shinkansen bullet train back to Tokyo at approximately 6:40pm, arriving at Tokyo Station around 9pm.
June 2016
organized in an excellent manner, very experienced and polite guides, planned to the minimal detail. I felt very safe and well accompanied, excellent bus and bus driver. The places visisted were extremely interesting, pity that the masses of toursists and students made it hard to walk and see and that the atmosphere could not be enjoyed. Students should be told to be less loud perhaps?
May 2016
We had intermittent rain, but were lucky not to miss anything. Japanese history throughout. 1000 Buddha temple was great.
November 2015
March 2015
First Class experience. Faultless.
November 2014
June 2014
The trip was well planned. We enjoyed the ride on the bullet train. The guides gave us lots of information about the shrines and temples we visited. A good value for the money.
Jose C Rodriguez USA
April 2014
This was a great tour. The tour company used was very friendly, informative, and made you feel comfortable during the entire excursion. Guides are at each end of the train ride. They take you to the proper, platform, make sure you are on the correct train, train car, and seat. When you arrive someone is there to meet you, take you to your hotel, and get you to the correct tour buses. Each tour (Nara, Kyoto morning, and Kyoto afternoon) was informative and wonderful. Getting back to Tokyo included a cab ride from the train station direct to your Hotel. I highly recommend this trip as a quick introduction to Kyoto and Nara from Tokyo.
February 2014
Wonderful tour! Our guides were great. They helped to the bullet train and all along the way. The tours in Kyoto were very fun and we saw a lot of sights in a day and a half. Would definitely do again. Our hotel was very nice too!
April 2016
Very well organized tour. Great tour guides too.
July 2015
Highest ratings to the tour company Sunrise Tours. In Tokyo the agents took great care to make sure we were all secure in moving from bus to bus to train--personal escorts to the door of the bullet train were appreciated. Excellent train ride and superb hotel I upgraded to the Kyoto Okura. The summer season meant some very crowded venues, which was unfortunate but inevitable. One of the tour guides had trouble with her English and was kind of dull, but the other two were excellent in both language skill and personality. The choice of sites was just right. Altogether an excellent tour!
Advertisement
Advertisement