Marvel at majestic Mt Fuji, ride hair-raising roller coasters at Fuji-Q Highland, relax at a natural hot springs resort and peruse an art museum dedicated to Mt Fuji. This 2-day, partially guided excursion gives you a taste of the natural beauty of Mt Fuji along with the fun and thrills of Japan's most popular amusement park!
Highlights
2-day Mt Fuji, Fujiyama Onsen Hot Springs and Fuji-Q Highland tour from Tokyo
Travel to Mt Fuji's 5th station and learn about the revered mountain from your professional guide
Enjoy a traditional Japanese lunch with views of Mt Fuji
Rejuvenate at an onsen (natural hot springs resort) next to your hotel
Ride thrilling roller coasters at Fuji-Q Highland amusement park
Tour includes early admission to Fuji-Q Highland, entrance to the onsen and to the Fujiyama Museum

Why Our Insiders Chose This Tour
Catch a glimpse of Mt Fuji from the top of a roller-coaster at Fuji-Q Highland before plummeting down the tracks at breakneck speeds!
What You Can Expect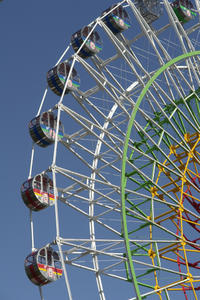 Your overnight trip to Japan's famous Mt Fuji includes a stay at the Highland Resort and Spa with entrance tickets to the Fujiyama Museum, Fujiyama Onsen Hot Springs and admission to Fuji-Q Highland Amusement Park. You'll see Japan's most revered mountain, relax in natural hot springs and ride record-breaking roller-coasters on this 2-day excursion from Tokyo.
Itinerary
Day 1 -- Tokyo to Kawaguchi-ko (L)
After pickup from your hotel, your guide meets you at the bus terminal for a 9am departure on a comfortable coach to Mt Fuji. You'll travel 60 miles (100 km) to the slopes of Mt Fuji and stop in the Fuji Visitor Center where you learn about the geological and cultural history of Mt Fuji. Your coach will take you to the visiting area at 5th station, where more than 200,000 climbers each year begin their ascent to the mountain's peak, Japan's highest at 12,389 feet (3,776 meters).

As you stroll around 5th station, your professional guide shares stories of Mt Fuji's natural history and its role in Japanese culture – it has inspired many pilgrims, paintings and poems over the centuries and was recently added to the list of UNESCO World Heritage Sites. Snap photos of the incredible views from observation points around 5th station. A jacket is handy as it can be cool due to the elevation.

Next, enjoy a traditional Japanese lunch before heading to Highland Resort and Spa, located right next to Fuji-Q Amusement Park. After checking you into your hotel in the mid-afternoon, your guide will depart and you'll have the rest of the day to spend at your leisure.

Take a relaxing retreat next door to your hotel at the Fujiyama Onsen Hot Springs, soaking in their indoor or outdoor traditional wooden baths fed by natural hot springs. If you'd like a view of Mt Fuji over dinner, the restaurant at the onsen has a good one. Or pop over to the Fujiyama Museum where you'll find paintings and illustrations of Mt Fuji. Both the Fujiyama Onsen Hot Springs and Fujiyama Museum entrance tickets are included in your tour.

Day 2 -- Kawaguchi-ko to Tokyo
You will start your day by heading over to Fuji-Q Highland – your tour package includes early admission to this popular amusement park. If you love roller coasters, you'll find plenty of thrills on Fuji-Q Highland's hair-raising rides – the four main ones have set world records!

Fujiyama was the world's tallest and fastest roller coaster when it opened in 1996; with a height of 259 feet (79 meters), it reaches a speed of 81 miles per hour (130 km per hour).

Dodonpa, the park's speediest roller coaster, is the world record-holder for fastest acceleration, going from zero to 107 miles per hour (172 km per hour) in under two seconds.

Eejanaika (2006), a '4th dimension' roller coaster in which the seats do full rotations forward or backward, holds the record for the most number of loops for a roller coaster ride.

Finally, Takabisha, built in 2011, holds the record for the steepest drop.

If you want more thrills and chills, venture into the truly scary haunted house! Or take younger children to the elaborate anime-themed attractions such as the Hamutaro rides – which include a kid-sized roller coaster and pirate ship – and Thomas Land with its Thomas the Tank Engine small rides and 3D theater.

In the late afternoon, catch the bus from Fuji-Q Highland back to Tokyo using the assigned tickets provided to you by your guide. Your tour concludes upon arrival at Shinjuku Expressway Bus Terminal in Tokyo.
July 2014
Mt. Fuji was amazing and awesome!
January 2015
The tour was lacklustre. The view of Mount Fuji was much better seen from the hotel where we were dropped after two hours. Two day tour implies there will be more of a tour than driven to a car park and then dropped off at the hotel.
June 2015
Quite a few issues in this trip.
1 Hotel: I was surprised Viator put me up in a really bad room n the Highland hotel. It was a smokers room for sure cause it stunk. My request to change rooms was denied. And even the hotel itself, did not seem like the hotel you would be expect to put-up after paying Viator what they were asking for the tour. It was not a good hotel. I am betting it is quite old.
2 Orchestration: The tour felt too hurried. We were clubbed with other tour members who were supposed to go onto Lake Ashi. So we got to spend a grand 25 minutes at the 5th station of Mt Fuji! After that, it was a crappy lunch and checking in to the hotel to twiddle thumbs! So I travelled thousands of miles to spend 25 minutes at Mt. Fuji. There was hardly any guide needed for that!
3 Food: I had requested a vegetarian meal. And yeah, I got vegetables and a soup.
More importantly, the food was not good even otherwise. After lunch, most people had left a lot of the food on the table. I spoke to another couple who had the full meal but complained that the food was severely lacking.
4 Timing: Trips like these should not be conducted just because there is demand for it. Viator and its partners should be able to advise its customers whether the trip is worth taking during certain times of the year. For example, June, is probably not a good time to visit the mountain cause the view is most definitely blocked by the clouds. I will also take some blame for this. I should have looked at the weather forecast.
So you can imagine even the Fuji-Q highlands was a wash. Story for another time!
5 Fuji-Q: Viator should give the full day pass and not merely an entry ticket to the park for the price it is charging for this tour. The entry ticket is actually useless unless you just want to see the rides and not sit on them.
Advertisement
Advertisement