Visit one of Japan's most magnificent natural monuments on a 2-day trip to Mt Fuji from Tokyo. Accompanied by a knowledgeable guide, ascend to the summit of the magnificent mountain during the night to watch an enchanting sunrise over the spectacular urban landscape of Tokyo. Soothe aching muscles in the steaming serenity of outdoor hot springs and revitalize with flavorsome and fulfilling Japanese meals throughout the tour. Enjoy convenient round-trip transportation from Tokyo to Mt Fuji on this exhilarating excursion.
Highlights
Overnight hiking adventure up Mt Fuji

Watch the sun rise from the top of Mt Fuji

Relax your tired muscles in an onsen (spa) hot spring bath

Enjoy stunning views across the Japanese landscape

Your Choice of Professional English-speaking or Chinese-speaking Guide

Why Our Insiders Chose This Tour
Much more interactive than a typical coach tour, this excursion features both daytime and nighttime hikes and is an awesome opportunity for adventurous people who don't want to just admire Mt Fuji from afar. Seeing the sunrise from the top is unforgettable!
Recent Photos of This Tour
What You Can Expect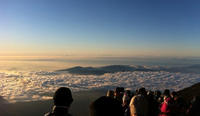 Enhance your experience of the majestic Mt Fuji by ascending to the summit on an overnight hike. After your invigorating climb, watch the sunrise over the spectacular landscape below, casting an incandescent glow onto the surrounding peaks. Return to sea level and succumb to serenity in the relaxing hot springs of Beni Fuji no Yu; indulge further with a massage before concluding your tour with the coach ride back to Tokyo. Revitalize with complimentary meals mentioned in the itinerary and enjoy round-trip transportation from Tokyo on this enriching experience.
Itinerary
Day 1: T
okyo – Mt Fuji Seventh Station (D)
After meeting with your guide, travel by coach to Mt Fuji. On your way, enjoy a drive through stunning scenery that offers magnificent views of Mt Fuji from different angles. On arrival at the fifth station, located at 7,560 feet (2,304 meters), you can relax, have a Japanese-style lunch at the fifth station restaurant (own expense ) and prepare for the climb ahead.
At approximately 1pm, start your ascent of Mt Fuji. The hike has two parts -- the first section to the seventh station from Lake Kawaguchi, Yoshida Exit mountain trail, located at 9,457 feet (2,910 meters), takes about 4 hours along designated paths.
At 5pm, have dinner and rest for a few hours at a
toyokan
(mountain hut) to become acclimatized to the altitude. The huts are very basic and have wooden bunk beds that are more for resting than sleeping.
At 10pm, start the second part of your climb. Be guided by the moonlight and the beam of your flashlight as you walk over steep rocky outcrops to reach the summit of Mt Fuji, where you'll wait for the first rays of dawn to peek through the horizon. This section is approximately 5 hours long.


Day 2: Mt Fuji - Tokyo (B)
Y
ou can't help but feel the thrill of all the mountain explorers who've come before you as you watch the sun rise from the top of Mt Fuji. While you eat your breakfast, take this time to appreciate the natural beauty unfolding as day breaks. If time permits, you can walk the rim of the caldera (90 minutes) before your descent back to the fifth station.
Then, travel to Laka Yamanaka Hot Springs, the famous
onsen
(meaning 'spa') baths at Beni Fuji no Yu to soak your tired muscles. As you relax in the open-air hot spring baths, enjoy the garden setting and the excellent views of Mt Fuji. The
onsen
also has steam rooms, saunas and waterfall showers to soothe your aches and pains. Enjoy lunch at the restaurant (own expense) or have a massage before boarding the coach for the return trip to Tokyo.


Please see below for notes on what to bring and expect on this Mt Fuji experience.

Tour operates only in July, August and early September.

Please note:
The summit of Mt Fuji is 12,388 feet (3,776 meters) above sea level and altitude sickness may occur. The rest stop at the mountain hut is designed to acclimatize you to the altitude so you can avoid altitude sickness.
Mountain Hut :
The sleeping area at the mountain hut is mixed-gender with bunk beds. The space allotted to each participant is typically about 17 square feet (1.6 square meters), so be aware that you may not be able to sleep comfortably. There are no bathing facilities at the lodge. Non-flushing Japanese toilets are located outside the lodge (Western-style toilets are not available).
What to bring:
Flashlight/torch or headlamp
Warm clothing
Good walking shoes or boots
Water bottle
Robert N United States of ...
September 2015
The guides were incredibly knowledgeable, friendly and spoke great English. Definitely worth the money and would do it again.
September 2015
that was a great time! Thank for everyone who led us and gave us such a great opportunity.
I wish it was less smogy so we could see Fuji from the side, but walking above the clouds and below the stars was amazing. Never breathed an air as tasty as at the top of Fuji!

September 2015
September 2015
Best Japan experience. Really good trip and tour. Be prepared though, you will not be sleeping in a 5 star hotel overnight :

August 2015
very professional guides, enjoyed the trip tremendously.
July 2015
Very professional tour guides!
September 2014
Viator contracted the local tour operator. They were incredible...caring folks that explained everything and had all logistics (transpo, trail, hut, food) taken care of. Hike was slow but ensured everyone that could hike did make it. Sunrise made it all worth it. Prepare to spend $5-$6 p/ bottle of water if you don't bring enough. Have gear necessary for 3 kinds of weather (cold, hot, wet)...we hit all three in our trip. Met great folks from around the world...0 complaints. Must do experience....this will thrust you into Japanese culture.
December 2013
The hike and tour guides were amazing! I highly recommend this trip! The onsen after the hike was just what we needed...cannot say enough good things about this trip!
September 2013
The tour was perfect, the English speaking guide really knew her stuff. It's very cold at the top, don't forget hats and gloves! The whole experience was fantastic and one which we will never forget. This trip was in the first week of our three week honeymoon, cannot recommend it highly enough!

August 2013
Advertisement
Advertisement