33 Reviews
Location:

Tokyo, Japan

Duration:

2 days

(approx.)
Combine a visit to Mt Fuji with a bullet train ride and Kyoto sightseeing on this activity-filled 2-day tour from Tokyo. Day 1 introduces you to Japan's natural beauty with a drive up Mt Fuji by coach, a cruise on Lake Ashi and a ride on the Komagatake Ropeway. Experience another Japan must-do with a high-speed adventure on the bullet train (aka Shinkansen) to Kyoto, where you'll spend Day 2 exploring this important city and its many cultural attractions, such as Nijo Castle and the Golden Pavilion. You can either stay in Kyoto on your own after your tour, or return to Tokyo by bullet train. Choose from four hotel options.
Highlights
Overnight guided tour from Tokyo to Kyoto by coach and bullet train
Visit Mt Fuji and enjoy views from the 5th station
Take a sightseeing cruise on Lake Ashi, and ride the Komagatake Ropeway
Watch for views of Mt Fuji on the high-speed ride to Kyoto on the Shinkansen
Enjoy two Kyoto sightseeing tours to see top attractions like Nijo Castle, the Imperial Palace and Kiyomizu Temple

Select a one-way tour to stay in Kyoto on your own, or return to Tokyo on Day 2 by bullet train
Choose a class of accommodation to suit your budget

Why Our Insiders Chose This Tour
It's a winning combination of spectacular scenery, historical sites and Shinkansen train excitement. The flexible travel and accommodation options make this highly detailed tour even more appealing.
Recent Photos of This Tour
What You Can Expect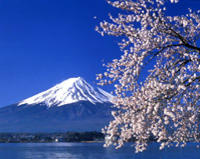 Featuring some of Japan's most iconic experiences, from Mt Fuji to the bullet train, this 2-day tour packs a lot of punch in a short amount of time. Throughout the two days, you'll be accompanied by a guide or escort who can help with translation or provide any other assistance you may need.

You have four hotel options for your night in Kyoto; make your selection when booking. Please also specify if you prefer a single, twin or double room, and provide your accommodation information in Tokyo for the day before and day after this tour.

Day 1: Tokyo – Mt Fuji – Hakone – Kyoto (L)
Your 2-day tour begins with pickup from select Tokyo hotels or by meeting your guide at the Hamamatsucho Bus Terminal. From here, head out of the city by deluxe coach for the scenic drive to Mt Fuji, Japan's highest mountain, about 60 miles (100 km) southwest of Tokyo.

Drive halfway up the mountain to the 5th station, check out the visitor center and admire spectacular views from an elevation of 7,545 feet (2,300 meters). Then enjoy lunch at a local restaurant before continuing your tour to Lake Ashi for a sightseeing cruise. End your adventure in this region with a ride on the Komagatake Ropeway, an aerial tramway on Mt Komagatake that provides views over Hakone National Park.

Next, zoom to Kyoto aboard the Shinkansen, Japan's network of high-speed bullet trains. If the weather is clear, you may catch views of Mt Fuji during the ride. When you arrive in Kyoto, you'll be dropped off at your selected hotel for the evening.

Overnight: Your selected tourist- or first-class hotel in Kyoto

Day 2: Kyoto – Tokyo, if option selected (L)
Enjoy breakfast on your own before meeting your guide to start your morning sightseeing tour of Kyoto. Visit the city's famous historical and cultural attractions like the Golden Pavilion, Kyoto Imperial Palace and Nijo Castle, noted for its gorgeous interiors.

Visit a local restaurant for lunch with your guide, and then continue your sightseeing with an afternoon tour to Sanjusangendo Hall, home to 1,001 images of Buddha; Heian Shrine, famous for its red exteriors; and Kiyomizu, a Buddhist temple with a large veranda built into a hillside.

When your afternoon tour ends, you'll either be dropped off at your Kyoto hotel if you selected the one-way tour option or you'll be transferred to the train station to board the bullet train back to Tokyo.

Hotel accommodation is not included for this night.
June 2015
Great tour when you have a limited time in Tokyo and Japan. Both guides Mickey and Psycho were very friendly and informative. All aspects of the journeys were fully taken care of.
June 2015
This was a very well organised tour from start to finish.
April 2015
August 2014
Enjoyed different views of Mt Fuji, from the drive up, to the 5th station, as well as from the lake. Weather was a touch windy/cloudy but we were still able to get glimpses/photos of the peak. The rail to Kyoto had transfers in it, but a guide met us at each stop to get us through the transfers. Late night into Kyoto, so make sure you pick up dinner before getting on the Train - To eat on the train. We stayed at the New Miyako Hotel, which is conveniently located across the street from the Kyoto station. So, after we arrived, a guide met us and walked us over to check into the Hotel. (Other tour members were staying at the alternate hotels, and they were taken to those via Taxi). The Hotel Room was recently renovated, so, was clean and comfortable. Although it's just for the night, then off to an early morning for the Kyoto tour, which meets at the Hotel Lobby. The Kyoto tour covered a lot of traditional/historical sites, and the tour guides were very knowledgeable and entertaining. Then another train ride back to Tokyo, where we were dropped off at our Hotel there. All in all a good taste of Traditional and Historical Japan. Definitely recommend it.
August 2014
It was fantastic, despite the heat we were still very much enjoying ourselves, all the tour guides we engaged in the entire trip were excellent, will definitely book in with this tour company again.
February 2014
Honestly so much better then I could have imagined. This was my first time to Japan and travelling solo I was a little unsure and worried, however there was no need for worry as everything was taken care off. There was somebody to help every step of the way from waiting with me and making sure I caught the right train and escorting me to awaiting cars. All transfers were taken care of. Very well organized tour and ran to schedule, all of the staff were nice and had good sense of humor which made the tour a lot of fun. The only down side was we didn't make it to the 5th station as the heavy snow had blocked the road. Highly recommended
June 2013
I had a GREAT time on this trip and felt like I got to do a lot and hear a lot I wouldn't have gotten had I tried to organize everything myself (which took a load off me). The tour guides were very friendly, knowledgeable, and entertaining. Great job!
June 2013
Excellent tour guide.Marie our tour guide was very informative and energetic. We started with a bad weather at Mt Fuji but later it cleared out, we had an excenlent view of Mt. Fuji for our cable car. Kyoto also very ice , we really enjoyed all the heritage place in Kyoto.
June 2013
This is a well-planned tour which more than met our expectations. Although the first stop at Mt. Fuji was less than ideal due to weather conditions, this was more than made up during the cable car trip by which time the weather cleared up so that we could see Fuji in all its glory and on the other side could see as far as Tokyo. Our first guide, Marie was a delight and her English was good enough to be understood. The Kyoto guide needs some more training, both language-vise and in her ability to lead the tour. Nevertheless the Kyoto tour was comprehensive and enjoyable. The Okura hotel was splendid. The weather favored us again and we got some splendid pictures of masses of cherry trees in full bloom. We were impressed with the way the guide at the Kyoto railway station took care of us, to make sure we got onto the right car of the right bullet train and the way we were met in Tokyo and taken back to our hotel.
May 2010
The tour was wonderful and very detailed. Lunch was delicious both days and pick-up time was very on time and the tour guide spoke very good English and was very accommodating and knowledgeable.
Advertisement
Advertisement