Tour code:
2142TYO_VJNKH3KNE
See the spectacular sights and historical highlights of Kyoto and Hiroshoma on a 3-day self-guided tour of two of Japan's most famous cities. Ride a super-speed bullet train from Tokyo then embark on independent exploration of the UNESCO World Heritage-listen sites of the alluring areas; see sacred temples and moving shrines in Kyoto; feel emotionally stirred during visits to memorials in Hiroshima; and absorb the beautiful scenery surrounding Miyajima Island. Enjoy the freedom and flexibility of this self-guided tour, on which all accommodation and train tickets are included.
Highlights
Independent 3-day tour of Kyoto and Hiroshima by Shinkansen Nozomi bullet train from Tokyo

Visit top sights in Kyoto listed as UNESCO World Heritage Sites

Learn about the aftermath of the August 6, 1945 atomic bombing of Hiroshima
Hop on a ferry to Miyajima and see the Itsukushima Shrine and its 'floating' torii gate
Have the flexibility of customizing your itinerary

Avoid the hassle of buying multiple train tickets and booking hotels

Why Our Insiders Chose This Tour
You get the freedom to decide which sights to visit and how long to spend at each one, but you don't have to worry about making arrangements for transportation and lodging!
Recent Photos of This Tour
3-Day Kyoto and Hiroshima Independent Tour by Nozomi Bullet Train from Tokyo
What You Can Expect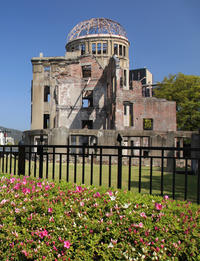 Receive your train tickets and accommodation information at your Tokyo hotel on the day of your departure and embark on your independent exploration of Kyoto and Hiroshima. Ride the super-fast bullet train to Kyoto then discover the exquisite temples and refined restaurants on arrival in the spectacular city.
Continue to Hiroshima to reflect at moving memorials to those killed in the devastating Hiroshima atomic bomb and delve into the city's destruction and rebirth at informative museums. Venture to Miyajima Island at your own expense and enjoy the convenience of pre-booked accommodation and train tickets on this enriching excursion.
Itinerary
Day 1: Tokyo – Kyoto
Choose an early or late morning departure from Tokyo and make your way to the Tokyo Station where you board the Shinkansen Nozomi bullet train bound for Kyoto. You'll arrive in Kyoto approximately two hours later and can leave your luggage at the hotel, then set out to see this lovely city's highlights.

Kyoto flourished as the capital of Japan for more than 1000 years and of its many landmarks, 17 are UNESCO World Heritage Sites. You'll have your choice of which of Kyoto's sights to visit; some of the major ones are the Golden Pavilion, Nijo Castle, Kyoto Imperial Palace and Kiyomizu Temple.

The Golden Pavilion (Kinkakuji Temple) was built in 1224 for an aristocrat and was later converted into a Buddhist temple. The top two tiers of the 3-tiered building are embossed in gold leaf, casting a stunning reflection on the surrounding lake. The gardens are also considered to be one of Japan's finest classically designed gardens.

The Kyoto Imperial Palace was the residence for the Emperor's family until 1868 when the capital moved to Tokyo. Stroll around the grounds or check the Imperial Household Agency website for their tours, which must be booked in advance to see the interior of the Palace.

Nijo Castle was built in 1603 as the Kyoto residence for the Tokugawa Shogun. Whereas the exterior appears solemn, the interior of the complex includes several cypress buildings with lavish decor, including beautiful screen paintings.

Kiyomizu Temple is one of Kyoto's UNESCO World Heritage Sites. A charming lane lined with pottery shops leads you to this famous temple. Enjoy a fantastic view of Kyoto from the temple's veranda.
Overnight: New Miyako hotel in Kyoto

Day 2: Kyoto – Hiroshima
Enjoy a morning in Kyoto at your leisure before heading to Kyoto Station for your mid-day train to Hiroshima. Upon arrival in Hiroshima, you may leave your luggage with your hotel if you arrive before check-in time (times are listed in your itinerary).

Have the afternoon to see Hiroshima's memorials related to the atomic bomb, and to explore the bustling modern city that was rebuilt after the destruction of World War II. Most of the memorials are located in or near the Hiroshima Peace Memorial Park, built to commemorate the dropping of the atomic bomb on August 6, 1945 and to promote worldwide peace.

The Peace Memorial Museum displays the terrible effects of the atomic bomb on Hiroshima in graphic detail that is both moving and depressing. The east building of the museum shows Hiroshima's militarist past and the process that lead up to the fateful bombing.

Take in the skeletal remains of the Atomic Bomb Dome, the iconic symbol of the atomic bombing of Hiroshima and the city's last remaining bomb-damaged building. Nearby there is the Children's Peace Monument where thousands of origami cranes made by children drape the structure.

The Atomic Bomb Memorial Mound holds the ashes of 70,000 bomb victims; many were unidentified or had no relatives to claim their ashes.

For a change of scenery, take a few hours to hop over to Miyajima, a beautiful island reached by train and ferry from Hiroshima. It is most famous for the Itsukushima Shrine and its lovely torii gate, which at high tide appears to float on water. You'll see tame deer roaming about, adding more ambiance to this gem of an island.
Overnight: Hotel Granvia Hiroshima

Day 3: Hiroshima – Tokyo
You'll have time in the morning to catch any sights you still wanted to see in Hiroshima or Miyajima, or take a few hours to stroll around the city and enjoy its many amenities. Pick up a box of Hiroshima's famous maple leaf-shaped momiji manju cakes for a snack on the train ride back to Tokyo!

Mid-afternoon you'll head to the train station to catch the Shinkansen Nozomi to Tokyo, arriving in Tokyo station that evening to conclude your independent tour.

January 2016
to start with the instructions and tickets were waiting for me at my Tokyo hotel before I booked in. The instructions were easy to understand. I opted for the late train time and I thought I would give up some time in each of the cities but this was not the case the way the train times went there was plenty of time to look around. Seating on the train is reserved and they booked window seats on all journeys. The hotels were 1st class and a lot better than I expected, the bonus was they were only 5 minutes from the train stations so not much carrying luggage around. I was only in Japan for 7 days and wanted to see more than Tokyo, if visiting other sites is something you want to do I would highly recommend this tour
November 2015
I would definitely recommend this tour to anyone who would like to experience the real Japan. This was definitely the highlight of our trip. Also, thanks to Walter for being so helpful with our questions. The hotels were amazing and we didn't have to worry about anything as everything was booked for us.
Jan M USA
November 2015
What great value! Everything was straightforward and easy to follow. The hotels were amazing and couldn't have been more convenient. I would recommend taking the early morning trains so you maximize your time in Kyoto and have the option of leaving later in unreserved cars. The cars are all the same beautiful. I would recommend traveling with as little luggage as you can so you can enjoy the experience without the hassle of the bags. I too would recommend going to the Peace Park on day of arrival and utilizing those hours so that you can either return or go to the Island the following day. A good restaurant near the Museum across the street with the Peace Bridges is Mario's Italian! Even National Geographic tourists were eating there! Another day in Hiroshima would have been nice.
October 2015
This trip is fantastic! Arrived Tokyo on Sunday evening and the train tickets were waiting for us at our hotel. From that moment everything worked perfectly, and the hotels were better than I expected. No breakfast included but because the hotels are in or very close to train stations, there are plenty of great food options within reach. For Hiroshima, I would recommend doing the peace park etc on day of arrival and then Miyajima on Day 2. Enjoy!

September 2015
Awesome is all I can say. The hotels were very nice and the staff there were great. The Shinkansen instructions were right in the money. Great trip.
August 2015
A must see, and the experience on the Bullet was amazing. Fabulous scenery and a great train ride
August 2015
Everything went perfect - information, transport and hotels - could not have been better!!!
July 2015
I was traveling to Tokyo alone and was a little bit cautious about paying for something were I did not receive my ticket straight away. However I decided to go ahead, my hotel was not listed so I imputed the address and contact number I received an email a day or two after from a real person asking me to confirm this, payment was then made. The tickets was delivered to my hotel about 3 days before departure and had all the times, schedules and tips needed. It was really easy!! hotels were right next to the train station and the rooms and hotels were extremely nice. Considering I am a massive worrier, I did not panic once as it was so well organised. This was one of the highlights of my trip and would book my trips through Viator again. If you are unsure, I hope I can assure you that if I can do it on my own at 22 being a big worrier then you can!!
Oliver Dawson London
July 2015
Great value, if only for the planning. Not a single problem during the whole 3 days. Tickets, reserved seats on the Bullet Trains and two excellent hotels. The hotel in Kyoto has a Tour Desk where you can book the Morning Tour on arrival for the next day. In Hiroshima, just ask Hotel Reception for a Day Pass JPY400 on the Loop Bus. The Red and Green Routes take you everywhere you're likely to want to visit. Simple!
June 2015
The hotels of this trip are in such great, central locations and were comfortable as well! Shinkansen tickets were easy to use - just know you can't get on any earlier trains if you decide not to use on the pre-reserved seat - you can only get on later trains if non-reserved seats are available.
Advertisement
Advertisement