See the iconic highlights of Japan on a 3-day guided tour to Mt Fuji, Kyoto and Nara. Visit revered Mt Fuji, take a boat cruise on Lake Ashi and an aerial tram ride up Mt Komagatake. Head to Kyoto on the bullet train and take in the beautiful city on a morning tour to the Golden Pavilion, Nijo Castle, and Kyoto Imperial Palace. Then see Nara's famous sites including Todaiji Temple, Kasuga Taisha Shrine, and Nara Park (Deer Park). Stay two nights in Kyoto with optional return to Tokyo.
Highlights
3-day tour to Mt Fuji, Kyoto and Nara with guide, from Tokyo
Take in spectacular views of Mt Fuji when you visit the mountain and surrounding areas
Soar above the stunning scenery of Hakone National Park, Owakudani Valley and Lake Ashi in an aerial tram
Visit UNESCO World Heritage-listed highlights such as Kinkakuji Temple, Todai-ji Temple, and Kasuga Taisha Shrine
Admire the stunning architecture of Nijo Castle and the Imperial Palace in Kyoto
Travel by bullet train (Shinkasen) to Kyoto with optional return to Tokyo

Enjoy the ease of included tours with expert guide, transportation, lunch, and accommodations
Why Our Insiders Chose This Tour
Three cities in three days! You'll love visiting the park in Nara with more than 1,000 freely roaming deer and sailing on Lake Ashi aboard a double-decker pirate ship replica.
Recent Photos of This Tour
3-Day Mt Fuji, Kyoto and Nara Rail Tour by Bullet Train from Tokyo
What You Can Expect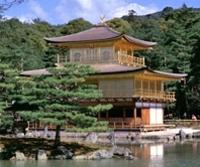 Your 3-day tour includes all transportation, two nights in Kyoto in your choice of tourist class or first class accommodations, a professional guide in the daytime, and the evenings free to spend at your leisure. Your guide and hotel are happy to offer recommendations for restaurants and other places to see in your free time. Have the option to return to Tokyo late on the third day or remain in Kyoto, the choice is yours.

Occasionally weather conditions at Mt Fuji may necessitate itinerary changes. If an activity is not possible, a substitution will be provided. If any sites in Kyoto or Nara are closed on the day of your visit, a substitute site will be visited. Both cities have a wealth of amazing places to see.
Itinerary
Day 1: Tokyo – Kyoto (L)
After morning pickup, enjoy a scenic 2.5-hour drive by deluxe coach to the Mt Fuji Visitor Center. Spend approximately 20 minutes learning from your guide about the history and geological details of Japan's highest mountain. Browse informational displays about the revered mountain and get amazing views from the second floor observation deck.

Then continue halfway up the mountain to Mt Fuji's 5th Station at 7,545 feet (2,300m). Follow your guide on a stroll around the area's shrines, torii gates and souvenir shops as you take in more views of Mt Fuji and nearby lakes (visibility is weather dependent). Afterward, enjoy a typical Japanese-style lunch at a restaurant that looks out on Mt Fuji.

Continue to nearby Lake Ashi in Hakone National Park for a boat cruise on a pirate ship! Relax as you glide across the water, taking in views of Mt Fuji, Mt Komagatake and other mountains that surround the lake. Then, take the Hakone Ropeway, an aerial tram with amazing vistas over sparkling Lake Ashi, the Izu islands and majestic Mount Fuji.

After visiting Hakone, your guide transfers you to a Shinkansen train (bullet train) bound for Kyoto. When you arrive in Kyoto, a driver takes you to your hotel where you have the evening free to spend at your leisure.

Overnight: Kyoto (tourist class: New Miyako Hotel, Rihga Royal Hotel or similar; first class: Kyoto Hotel Okura, Hotel Monterey Kyoto or similar)

Day 2: Kyoto and Nara (L)
After morning pickup from your hotel, experience Kyoto on a guided morning tour of the highlights of this beautiful city. First, stop to peruse Nijo Castle, built in 1603 for the Tokugawa Shogun. Continue to one of the most popular Kyoto temples, Kinkakuji Temple, where you see the celebrated Golden Pavilion and exquisite gardens. Then head to the ancient Kyoto Imperial Palace and learn from your guide about the architecturally stunning complex where the Emperor of Japan once lived with his family.

Have a Japanese-style lunch at the Kyoto Handicraft Center before proceeding to Nara, where the first permanent capital of Japan was established in 710. Visit one of Japan's most beloved and historically significant temples, the 8th-century Todai-ji Temple. Follow your guide to the Daibutsu-den (Great Buddha Hall) and marvel at the enormous bronze Buddha statue. Next, visit Kasuga Taisha Shrine, a famous Shinto shrine with 3,000 glowing antique bronze and stone lanterns. Wrap up your afternoon at the Nara Park (Deer Park) where hundreds of tame deer freely roam; you can even feed them if you wish! Then return to your Kyoto hotel for an evening at your leisure.

Overnight: Kyoto

Day 3: Kyoto – Tokyo (optional return)
Spend the day sightseeing at your leisure and return to Tokyo by bullet train in the evening, or choose to stay on in Kyoto. If you choose to return to Tokyo, your train arrives into Tokyo Station in the late evening. Please see Additional Info for details.
June 2016
We loved this trip! It was the easiest, most enjoyable way to hit places we never could have gotten to on our own. We were so grateful to our tour guides, who guided us through every step. A guide met us at every arrival point and showed us the way. Everyone we spoke to felt the same way. Thank you!
June 2016
Excellent trip. Well organised, english speaking guide, decent food. Tour ends on the third day in the morning, which was great and allowed us to explore Kyoto on our own. I would recommend this tour if you have a tight schedule.
May 2016
The tour was excellent and well organised by the operator, I would recommend it to anybody who is interested in this area

May 2016
Faultless! So meticulously organised and thoughtfull to the point where guides ensure they see you on and off the train. Highly recommended for travellers of all ages and solo travellers.
April 2016
This is an amazing tour !. The detail in the booking was not clear and I was ambivalent at first since the tour was expensive. However, it is worth every single penny. I was picked up at Sheraton hotel on time and brought to transportation center at 9. I was able to see Mt. Fuji after the rain. Lunch was at a hotel and then I did the afternoon activities outlined in the tour. Unfortunately, it was foggy so we did not see Lake Asha while on the boat and cable car. After the activities were done, I was dropped off at the train station where a staff member waited with you , and actually stayed and led you to the shinkasen heading to Kyoto. There was one transfer at Nagoya and there was only 4 minutes in between. However, there was staff ready for you to lead you to the next shinkasen on same platform. For this trip, I checked out of my hotel so there was luggage that I had to carry with me. I arrived Kyoto at 10:15 PM and there was staff waiting to lead me to hotel at New Miyako for readers of this review, try to stay at this hotel since it is across the Kyoto station. I did the activities as outlined in the tour on second day. I selected the three day tour and it was great because the following morning of the third day, I signed up for the Arashiyama walking tour. In the afternoon, I had my own time to explore this wonderful city. I was arranged to go back to Tokyo on the Nazomi shinkasen at 6:45 arriving in Tokyo at 9:15PM. There was staff picked me up and brought me to taxi prepaid by tour companypromptly. I was not the only one on the tour who was so elated by this arrangement since Tokyo station is huge and one would be easily got lost in this station. I stayed at Westin on the way back, so you just need to inform staff so correct hotel drop off could be made. Overall, this tour was wonderful, and I hope more details would be outlined in the tour activities, especially drop off points to allay traveler's anxiety.
November 2015
Unfortunately the weather was not in our favour to see Mt Fuji. The views of the lake from the cable car were spectacular and the tour guide was wonderful. The bullet train to Kyoto was an experience not to be missed. Kyoto was wonderful.
david Chien Australia
November 2015
Organised and faultless......would book again.
June 2015
June 2015
Knowledgable guides, very friendly and helpful. Very well organised eg staff members on the platform to put us on the next train and very punctual. Comfortable clean buses and good choices of accommodation and places of interest to visit. Well done Viator
from_sri Australia
May 2015
The tour was amazing. With limited time we had, this was what we needed. Everything was organized for us so that we don't have to stress about anything. Highly recommend. You won't get disappointed.
Advertisement
Advertisement