Immerse yourself in the captivating history and rich culture of Nikko on a partially guided full-day tour from Tokyo. Delve into the eventful Tokugawa era during a guided tour of the UNESCO World Heritage-listed Nikko Toshogu Shrine, and then venture to the extravagant Edo Wonderland, a colorful enclave in which geishas, samurais and ninjas roam amid period villages. Watch an entertaining theatrical show to catch a glimpse of Japanese culture and enjoy convenient round-trip transportation from your Tokyo hotel on this tour.
Highlights
Full-day trip from Tokyo to Nikko National Park, the Toshogu Shrine and Edo Wonderland
Learn about the venerable Toshogu Shrine from your knowledgable local guide
See the famous carving of the three wise monkeys depicting 'hear no evil, see no evil, speak no evil'
Take in the natural beauty of Nikko National Park and look for wild monkeys
Step into the past with a visit to Edo Wonderland, a 17th-century theme park
Watch performances of traditional Japanese theater as well as samurai and ninja demonstrations
Rent ninja, samurai or geisha costumes to wear
Recent Photos of This Tour
Best of Edo Japan: Nikko National Park and Edo Wonderland Day Trip from Tokyo
What You Can Expect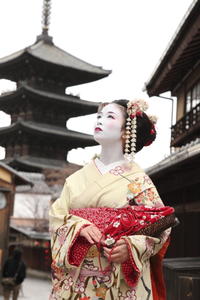 Greet your knowledgeable guide at your Tokyo hotel and depart to Nikko on a comfortable, air-conditioned bus. Head first to the Nikko Toshugo Shrine, a monumental mausoleum of the first Tokugawa shogun, and roam the captivating complex alongside your accomplished guide. See intricate Buddhist scripting and intriguing carvings of the 'hear no evil, see no evil, speak no evil' monkeys.
After gazing at the impressive Yomeimon Gate, begin your journey out of the beautiful Nikko National Park, famed for its wild monkeys and verdant scenery, and bid farewell to your guide. Continue onto one of many excellent eateries for lunch (own expense), then climb aboard the complimentary shuttle to Edo Wonderland, a historical amusement park bursting with color and charisma.
Stroll the antique streets of the wonderland and travel back in time to 17th-century Tokyo; greet geishas and pass samurais and ninjas as you capture photographs of the impressive surroundings. Watch performances of traditional Kabuki shows in a selection of six theatres and see the atmospheric shadow picture shows that influenced modern anime.
After spending a couple of hours in Edo Wonderland, return to Tokyo by bus following explicit instructions given to you by your guide.
December 2015
This tour is good. Edo Wonderland is a much if you want to see Geishas and Maikos in their kimonos and Samurai. It's a traditional Japanese theme park where they have shows to enjoy including comedy show in JAPANESE that we didn't understand any word haha! You also get to do Japanese traditional activities.
November 2015
Good trip, very nice guide and good comfortable bus. It was a long trip, that was the only downside, but we have seen some Amazing views here. Edo wonderland is also fun, especially for my 8 year old son!
June 2015
Edo Wonderland was a great experience. The ninja shows are a must-see.
November 2014
Edo Wonderland really lives up to its' name. Beautiful and amazing place!

Massahide Namba Brazil
April 2014
Nikko has a very gorgeous shrine extremely rich in details. Edo Wonderland is fantastic. Overall great experience. Highly recommended.
December 2013
THIS TOUR IS EXCELLENT! THE RAIN SPOILD A BIT INSIDE THE PARK BUT OVERALL WAS FANTASTIC!. ITS A EXPERIENCE SEEING THE GEISHA and PLAYING NINJA IN THIS PARK. IF YOU HAVE KIDS OF FAMILY TRAVELING IN JAPAN, THIS TOUR IS ONE I RECOMMEND. I'LL TELL YOU, IT MAKES YOU FEEL YOUR ARE IN THIS EDO ERA. THE TOUR TIME WAS PERFECT EXCEPT THE FEW RAIN THAT DROPPED WHEN WE ARRIVE IN THE AFTERNOON BUT IT WAS OK COZ IT WAS HOT and HUMID . TRAVELLER: BENJIE FROM SYDNEY AUSTRALIA
Tyre D USA
July 2010
Tremendous! The ninja tour is a hidden gem. The live shows and interaction from the performers is top notch. A true highlight of my week long Japan vacation!
April 2016
We had a really nice day and enjoyed this tour. Our tour guide was Amy and she was wonderful. Very friendly, helpful and knowledgeable. Her attitude and attention to detail really ensured that our day was all that we hoped it would be. Nikko National Park was beautiful and the tour commentary interesting. It was raining when we arrived at Edo Wonderland so some of the shows were cancelled but this didn't really spoil the experience and there were still some shows to go to. We did leave the park before it closed because of the rain and because we were hungry. We were told that time frames on the tour were tight at the start of the day so buy food to eat on the way to the park which we did, so it was no fault of the tour that we were hungry, but seeing that we were hungry we decided to go to the train station a bit early to eat before our train trip back to Tokyo. As we were ready to head back to Tokyo before the designated trip time we asked if we could take an earlier train back and were told one change was allowed which really worked for us as we got back to Tokyo by 7.30pm.
October 2015
This was a very well organised, enjoyable tour. Unfortunately the weather was not good, however we were able to do everything that was planned. Our tour guide was lovely. She gave us a lot of information about the history and culture of Japan which really enhanced our understanding of the places we visited. Thank you very much.
October 2015
the tour itself was ok.. Nikko National Park was amazing but since we had to hurry to get to Edo Wonderland, it took away from Nikko. Really wanted 2 hours at Nikko before heading to Edo Wonderland. I loved Edo Wonderland - nothing but positive things to say here. Def want to go back.
just fyi.. for future travelers, you only have a tour guide at Nikko National Park. once you leave Nikko you are on your own with other travelers.
Advertisement
Advertisement