Explore the exciting district of Harajuku, renowned worldwide for its mix of youth culture and extreme street fashion. See where rock stars and fashionistas shop to create new styles and trends -- for music videos and magazines. Browse the high-end fashion stores at Omotesando Hills and look for a bargain at the 100 yen shops (dollar stores). This is the must do tour for all trend setters and fashion lovers.
Highlights
Walking tour of Harajuku, the center of Japan's street fashion

See Japanese teenagers in cosplay (costume play)

Shop for a bargain at one of Tokyo's largest 100 yen stores

Browse Omotesando Hills shopping mall with its luxury designer brands

Visit Kiddy Land toy store famous for its celebrity clients

Why Our Insiders Chose This Tour
A must-do for fashionistas, this tour takes you to Japan's fashion epicenter, Harajuku, where you'll see young people dressed up in costumes, shop dollar stores and get your fill of local color.
Recent Photos of This Tour
Harajuku Fashion Walking Tour
What You Can Expect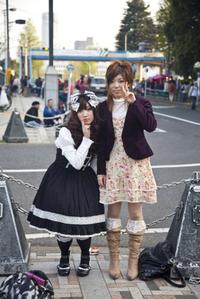 Meet your guide at the Keio Plaza Hotel in Shinjuku and travel like a local by train to Harajuku Station. Harajuku is one of Tokyo's most eclectic shopping districts and home to a distinctive style of urban fashion. If you've ever wondered where those strange outfits featured in music clips and magazines come from, well wonder no more -- it's right here in the subculture world of Harajuku.

Explore Takeshita and its side streets, which are lined with fashion boutiques, used-clothing stores and up-and-coming designers. Browse the aisles of one of the largest 100 yen shops (dollar stores) for a bargain. See the local teenagers engage in cosplay (costume play) where they dress up to resemble anime (Japanese cartoon) characters, celebrities or their own styles.

After a clash of color and riot of fashion, wander down to the posh end of town to Omotesando Hills shopping mall. Here you can browse the high-end fashion stores featuring the designer brand names of Louis Vuitton and Prada to name but a few.

Visit Kiddy Land, a famous toy store that has stood on Omotesando for decades, although these days it is known more for its Hollywood celebrity clients, before continuing to Jingu Crossing which houses the more affordable brands of H&M and Forever 21.

Your tour ends at Harajuku Station where you can take the train back to Keio Plaza Hotel.
May 2015
I am giving this tour a high recommendation more for the quality of the guide than for the tour itself--we had a sharp, young male guide who was very well informed. However, much of this tour is just walking past the stores in the Harajuku area, so there wasn't much for him to inform us about. The part of the tour we enjoyed more than Harajuku was the Otosando area, with its swanky stores and great people watching.
June 2014
John M USA
July 2013
This was a fantastic tour. I took my daughter to Japan as a college graduation present, and she loved the shopping and food in Harajuku. Our tour guide Meka was truly wonderful. Meka was knowledge and friendly and even helped us with navigating the subway and the Japan Rail (JR) lines. If you are going to Japan you should take this tour, and ask for Meka.
January 2015
Takako was our guide, and she was quite polite and knowledgeable. She met us promptly at the designated meeting point (Shinjuku Keio Plaza Hotel lobby). We then took the train to Harajuku to what around the area. We started at Takeshita Street and wondered through a variety of stores and streets, with Takako asking us for inputs as to what we wanted to see. Unfortunately, my 10-year old son wasn't in the mood for this type of tour. Had my wife been there, she probably would have enjoyed it more. It was earlier in the day, so not many cosplay kids around. If you wanted to shop, it would have been more enjoyable. Overall, the sightseeing was good. The stores we visited, from 100 yen stores to high-end, name brand stores, and large malls, were worth checking out. I'd recommend not going with a young kid unless it's later in the day when more cosplay kids are out and about.

April 2015
it rained so bring umbrella. Short walk with ice cream. crowded.
January 2014
Our guide was wonderful but the tour was not good value as it is easy to get around on your own in Harajuku.

October 2013
July 2012
A good snap shot of Harajuku. If you want to shop you have plenty of time to do that after the tour
June 2014
Thought it would be more than it was. I know how to shop and I know how to walk, so I am not sure what the tour was about. I know it was frustrating walking for 5 minutes then stopping for 10 minutes at each shop. No culture or interesting landmarks/people. We left after 30 minutes. AWFUL
Advertisement
Advertisement