Get up close to Japan's most iconic mountain with a drive up to Mt Fuji's 5th Station, and embark on an afternoon nature walk to several attractions. After a tasty Japanese-style lunch, stroll with a nature guide to Kawaguchi Sengen Shrine and Lake Kawaguchi, both part of a UNESCO World Heritage-listed protected area around Mt Fuji. You'll stop at Hahanoshirataki Falls as well as the Mt Fuji Visitor Center. Learn about the natural and cultural heritage of the mountain and see stunning sights of surrounding Hakone from every angle!
Highlights
Mt Fuji day trip from Tokyo with nature walk
See exhibits and movies at the Mt Fuji Visitor Center
Take in breathtaking views from the observation deck
Discover Japanese torii gates and shrines at Mt Fuji's 5th Station
Walk with a nature guide to Kawaguchi Sengen Shrine, Hahanoshirataki Falls and Lake Kawaguchi
Enjoy Japanese-style dishes for lunch
Round-trip coach transport from Tokyo included
What You Can Expect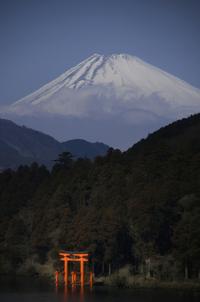 Depart from Hamamatsucho Bus Terminal by comfortable coach and enjoy a scenic drive from Tokyo to the Mt Fuji Visitor Center. You'll spend approximately 20 minutes learning about the current weather conditions, history, and ecological formation of Japan's highest mountain through a variety of exhibits and films. Be sure to head to the second floor observation deck for amazing up-close views of Mt Fuji!
Re-board the coach for an ascent up the mountain, climbing 7,546 feet (2,300 meters) above sea level to Mt Fuji's 5th Station – referred to as the border between the heavens and the earth. Explore the area's torii gates, shrines and souvenir shops with your guide as you take in more breathtaking views of Mt Fuji and the surrounding lakes (visibility is weather dependent).
After a typical Japanese-style lunch, take a 15-minute shuttle to a scenic spot and disembark for a 1.5-hour guided nature walk through a cedar forest. Visit Hahanoshirataki Falls as well as UNESCO World Heritage-listed Kawaguchi Sengen Shrine and Lake Kawaguchi. Built in 865, the Kawaguchi Sengen Shrine is dedicated to the Shinto deity Konohana Sakuyahime and draws many visitors. Stroll to Lake Kawaguchi, the second largest of the Fuji Five Lakes and the most accessible due to its low elevation.
Following your natural and cultural heritage walk, hop aboard the shuttle bus for Fuji-Q Highland, where you'll transfer to a highway bus and return to Tokyo on a 2-hour drive. (Please note: There will be no time for sightseeing or other activities at Fuji-Q Highland on this tour.) Your full-day tour is complete upon arrival at the Shinjuku Highway Bus Terminal (JR Shinjuku Station) in the evening.
April 2014
Considering the number of people at the bus station, the tour is rather well organized. I'm sure they have done it many many times.
We had a perfect day for the tour. A bit disappointed that we couldn't go up beyond station 1, but it's not within the control of the tour operator. After lunch, we were handed to another operator to guide us for the heritage walk which was a bit short. So at the end, we had to wait for the returning bus for 1.5 hours.
Despite all these, still worth the time to go and see Fujisan.
December 2013
nothing much to see..hence this tour is strictly for nature and heritage lovers..the short climbing was great
make sure youre fit before choosing this tour..our tour guide was good and kind we had a great time
October 2014
Good to go up Fuji on a beautiful cear day. Lunch was very good. But tor guide spoke English with a very heavy accent and much too fast. Even for English speakers she was hard to understand. Most talk was about tour arrangements rather than relevant information. Talk was non stop to the extent of being annoying. After lunch was supsed to be a 2 hour nature walk. Instead, the walk to a temple and then a geat Fuji viewpoint and a waterfall suddenly ended and we were left to cool our heels in town and waiting for a return bus for well over an hour. A longer walk in the beautiful forest was expected.
April 2014
Very disappointing. Bus left 30 mins late. We had arrived at the bus 10 mins before the scheduled departure time as requested, so by the time of the first stop we had been sitting for 2hr 15 mins. Only allowed 20 mins at Mt.Fuji Visitor Centre, which is no way enough time. The video they show in the centre is nearly 15 mins long. I consider 45-60 mins should be the time allowed which we could have done if the coach left on time. Only the 1st station at Mt Fuji was open, so we only got up to 1250m height. No snow on roads, so why the authorities had the road closed was anyone's guess. But guide knew this before we got there, so why we could not have stayed at the visitor centre, who knows. Meal at hotel good. Afternoon heritage walk. Would have liked a guide with better English. Scenic views good. But left at return point with 90 mins to wait for our bus. Too long. Then just dropped at Shinjuku Station with no instruction how to get into metro part or anything. For the small extra it is I would do the personal guide tour next time. That is what I wanted originally, but it was not available. Weather was good for good views and photos of Mt Fuji, but overall, it was a very disappointing day out.
Advertisement
Advertisement