Immerse yourself in the natural and cultural splendor of Japan on a full-day trip to Mt Fuji from Tokyo. Ascend to Mt Fuji's vertiginous 5th Station for sweeping vistas of its scenic surroundings, pleasure your palate with a 5-course lunch on the banks of Lake Yamanaka or Lake Kawaguchi, and cruise Lake Ashi in a model pirate ship. Then, visit Hakone Open-Air Museum before traveling first-class back to Tokyo on the super-speed Shinkansen bullet train.
Highlights
Deluxe Mt Fuji day trip from Tokyo
Take a scenic coach drive to Mt Fuji's 5th station
Enjoy the spectacular Hakone Open-air Museum
Explore the thermal landscape of Owakudani Valley
Cruise over Lake Ashi with views of Mt Hakone
Enjoy a European-style lunch by a scenic lake
Private taxi pickup and first-class return via Shinkansen bullet train included
Recent Photos of This Tour
Mt Fuji, Lake Ashi and First-Class Bullet Train Day Trip from Tokyo
What You Can Expect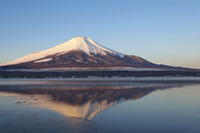 Depart from your Tokyo hotel in a private taxi and then board an air-conditioned coach in Shinjuku and travel to Mt Fuji's 5th Station. Admire the splendid scenery during the 1.5-hour drive and feel your excitement heighten as you ascend to 7,546 feet (2,300 meters) above sea level.

Absorb sweeping vistas of the iconic peak from this incredible vantage point and explore your surroundings in search of sacred shrines and impressive torii gates. Purchase special souvenirs from the ubiquitous stalls and then return to your vehicle for the short and scenic journey to Lake Kawaguchi or Lake Yamanaka.

On arrival, take a seat and enjoy a European-inspired feast of gourmet dishes; as you dine, admire the gorgeous lakeside landscape. Sated, proceed to Togendai and climb aboard an amazing model pirate ship to enjoy a tranquil cruise of Lake Ashi, a beautiful body of water nestled in the caldera of Mt Hakone.

After, visit Hakone Open-Air Museum, where you'll find beautiful sculptures on display in the grounds and an impressive collection of works by Pablo Picasso. When the time comes, head to Odawara Statuon to travel back to Tokyo on the renowned bullet train. Luxuriate in the lavish facilities of the first class section and marvel at the high velocity of the train.

On arrival in Tokyo, make your own way back to your hotel following your guide's instructions.
May 2016
Very organized, fun, a wide variety of experiences.....the open air museum was a surprise....we could have stayed twice as long.....our guide was terrific.....
May 2016
What a day!!!!
We had a gorgeous day to visit the Mountain and to see the sights around Mt. Fuji. The premium tour provided us with an outstanding guide and the bus itself was spacious and comfortable. Lunch at the Mt. Fuji hotel was wonderful as were the views... Just outstanding. We were so lucky with the weather. Next few days it was rainy and cloudy... Maybe the best tour we took our entire trip.
April 2016
Guide was very good, very knowledgeable and her English was stellar. The Ropes tour gondolas was closed due to seismic and volcanic activity substituted was the Hakone Open Air Museum, a large outdoor sculpture exhibit. I was initially skeptical but it turned out to be one of the most enjoyable parts of the trip. Would definitely go for the premium tour as the bus was much nicer than the others we saw including a lav on the bus!. Mika was also very helpful making sure we exited the bullet train at the station closest to our accommodations.

April 2016
Beautiful day, great views of mountain while heading towards it and also when we reached the 1663m observation no where near 4th or 5th Station - apparently didnt wish to lineup with other buses, excellent coach - comfortable and with WiFi, amazing restaurant with exquisite food and classic japanese view Mt Fuji and Cherry Blossoms, lake cruise was more like a lake crossing but the view were great.
NEGATIVES advertised and on confirmation voucher Hakone Ropeway which apparently does not form part of the tour anymore
My sister who did a cheaper version more people, standard bus through Sunrise same tour operator on the same day, got to go to 4th Station and did Ropeway in the area.
When I pay 3 times more, I expect more than a luxury coach.
May 2016
It was not as advertised. The Cable Ride was replaced with a Museum tour. No explanation was give. The guide was delightful and extremely entertaining and knowledgeable. Everything was very well organized. But that is what a tour is. I would be hesitant to sign up again because the description didn't match the itinerary.

April 2016
No rope way tour, as tour went only to met Fuji first station, tour should have diverted to lake but was shown only from bus

lilbeth USA
April 2016
Not anyone's fault but the weather prevented us from seeing the mountain it was in clouds. The advertised cable car ride was NOT included, instead a visit to a museum was substituted and the guide said it's been this way for a year Viator needs to update specs on trip and on the way back there was a traffic jam so we had to take the long way which was VERY windy and made my daughter car sick.
Advertisement
Advertisement