Ride a mountain bike around Lake Kawaguchi at Mt Fuji, one of Japan's most prominent national icons. Depart from Tokyo by coach to the Visitor Center and view the magnificent natural surroundings of Hakone from Mt Fuji's 5th Station. Following a delicious Japanese-style lunch, your knowledgeable guide takes you on an easy 2.5-hour bike tour around the second largest of the Fuji Five Lakes, where you'll see some of the area's UNESCO World Heritage Sites!
Highlights
Mt Fuji day trip from Tokyo with mountain bike ride
Watch informational videos at the Mt Fuji Visitor Center
Explore Japanese shrines at Mt Fuji's 5th Station and see amazing views
Tour Lake Kawaguchi by mountain bike on an easy 2.5-hour ride
Enjoy a Japanese-style lunch
Round-trip coach transport from Tokyo included
What You Can Expect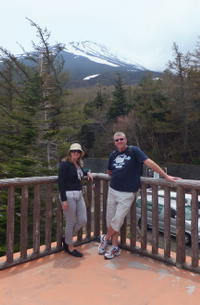 Board your comfortable coach at Hamamatsucho Bus Terminal in Tokyo at 9am and take a scenic drive to Mt Fuji, affectionately called 'Fuji-san.'
Your first stop is the Mt Fuji Visitor Center, where you'll have approximately 20 minutes to explore on your own. Find out the current weather conditions and see exhibits and films to learn about Mt Fuji's ecological formation. Don't miss splendid views of Japan's highest mountain from the second floor observation deck!
Re-board the coach, which climbs 7,546 feet (2,300 meters) above sea level to Mt Fuji's 5th Station. At this 30-minute stop along the towering mountain, you'll see why it is often referred to as the border between heaven and Earth. Your guide will point out the Japanese torii gates, shrines and souvenir shops, as well as the surrounding lakes (visibility is weather dependent). If it isn't enshrouded in clouds, catch another glimpse of the mighty mountain before lunch.
After enjoying typical Japanese dishes, take a 15-minute shuttle to Lake Kawaguchi, the most accessible of the Fuji Five Lakes due to its low elevation. Hop on a mountain bike and begin your 2.5-hour leisurely ride around the lake, part of a UNESCO World Heritage-listed area around Mt Fuji. Follow your guide past beautiful scenery around the lake on an approximate 15-mile (25-km) ride – a great way to take in the sights!
After your cycling tour, take a shuttle bus for 30 minutes to Fuji-Q Highland, where you'll transfer to a highway bus for the 2-hour return to Tokyo, arriving at the Shinjuku Highway Bus Terminal (JR Shinjuku Station) in the evening. (Please note: There will be no time for sightseeing or other activities at Fuji-Q Highland on this tour.)
September 2014
April 2015
The trip was great, a well needed break from the hustle of Tokyo. I am not a big fan of the hop on-hop off bus tours and the time allowed at the visitors centre was far too short. Lunch was lovely and very well organised and our tour guide was great. The cycle tour around the lake was really good, even though Mt Fuji was hiding. We were in a small group of good cycling ability which meant we made enough progress to be able to stop at the temple for a while. If people are planning on taking children, particularly those riding on their own not in a chair on a parent's bike be aware that some of the route is on a road, and although it was not busy if your children are not yet road cycling proficient it may not be suitable.
Overall an enjoyable day out and the guides for the cycle tour were great.
November 2014
We were lucky to have seats at the front if the bus and to see Mt Fuji in all it's glory. The time at the 5th station was ok.
The lunch was good.
Re the bike ride, it is a ride not a tour as such, it would be more enjoyable if some time was spent explaining the local area / towns etc. The time at the mt fuji shrine was great as we're the views of Mount Fuji. the guide was very nice, friendly took photos and sent them to us that night, that was really nice.
We were the only people on the ride and we set a reasonable pace.
Would be much better if there was a tour component.
August 2015
First part of the tour was very much a tick the box experience. We were driven from gift shop to gift shop and allowed 20 minutes at each place. Not great. The cycling was pleasant although we expected a little more riding in the forest and some dirt road rather than around a walking path on the lake. The guide was nice and spoke english well. I would not do it again for the cost.
Advertisement
Advertisement