Tour code:
2142TYO_BUSS10
Spend the day exploring the Mount Fuji and the surrounding area during this 12-hour day trip with visit to a hot spring resort (onsen) from Tokyo. Ascend the slopes of Mount Fuji, reaching its 5th Station, for amazing views. Then descend to enjoy an invigorating hot springs soak at a nearby resort. You'll conclude your excursion with shopping time at Gotemba Premium Outlets. Your Mount Fuji experience also includes Wi-Fi on the bus, an optional lunch inclusion, a guide and GPS-based audio guidance for several additional languages.
Highlights
Full day tour of Mt Fuji, Yamanakako Onsen (hot springs resort) and Gotemba Premium Outlets from Tokyo
Travel to Mt Fuji's 5th station and catch stunning views of the revered mountain
Learn from your local guide about Mt Fuji's place in Japanese culture
Relax at an onsen near Lake Yamanakako at the base of Mt Fuji

Shop for name brands on sale at Gotemba Premium Outlets
Why Our Insiders Chose This Tour
From the 5th station post office you can send postcards to your friends and family postmarked from one of Japan's most iconic locales.
Look for the shop with the clever Mt Fuji-shaped cake, complete with a dusting of powdered sugar snow!
Recent Photos of This Tour
Mt Fuji, Yamanakako Onsen Experience and Outlets Shopping Day Trip From Tokyo
What You Can Expect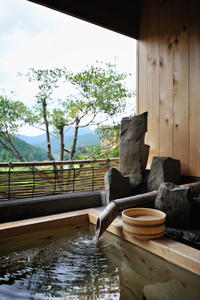 Enjoy a visit to the majestic Mount Fuji along with a chance to explore some its best nearby attractions during this 12-hour daytrip from Tokyo. In addition to exploring the beautiful views from up high on this famous peak, you'll also get a chance to soak in a traditional Japanese hot spring resort and do some shopping at a premium outlet mall.
Start your Mount Fuji excursion in the morning at the Keio Plaza Hotel's South Wing on the 3rd Floor in front of the World Clock. Continue by coach bus for a 60 mile (100km) ride to the mountain's famous 5th station. As you take a few photos and admire the stunning views, listen as your guide details the mountain's fascinating history, including its role in many famous poems and paintings. You'll also hear about the more than 200,000 climbers that attempt to scale Mount Fuji's 12,389-foot (3,776m) peak each year, beginning their ascent from the 5th station. Make sure to bring a coat for your visit, as the high altitudes can often be colder.
Continue next to a nearby restaurant, where those who have selected the lunch option will enjoy Japanese meal served on a plate made from stone collected on Mount Fuji. Those who have not selected the lunch option are free to explore the nearby restaurants and shops at their leisure.
Proceed next after lunch to the village of Yamanakako, which sits beside the shore of a picturesque lake of the same name. In Yamanakako head to Beni Fuji no Yu, a hot springs (onsen) resort where you can relax in one of the site's outdoor pools, surrounded by lush gardens and views of Mount Fuji. The resort also offers saunas, steam rooms and waterfall showers as well.
Finish your Mount Fuji experience with 2 hours for shopping at Gotemba Premium Outlets. Offering 210 retail shops from brands including Yves Saint Laurent, Dior, and Ray-Ban, you're sure to find a few items of interest. At the conclusion of your trip, head back by coach to the Shinjuku district of Tokyo.
Shirley Jean J. United States of ...
March 2016
It was definitely worth it. What sucked though was that it started raining and snowing so it was too dangerous for us to go farther than the first stop at Mt. Fuji and the Onsen experience just felt too short, but at the same time well worth it BECAUSE of all the rain and snow happening. The staff were very well prepared and explained everything in detail, even in a situation should we be left behind by the bus. Amazing trip and fun tour.
March 2016
We really enjoyed our tour guide who spoke very good english and told us a lot about Japan while we were on the bus. We didn't get up to fifth station but that's ok and it was clear that there may be issues reaching it in the tour information. We did get some beautiful views of mt fuji.
November 2015
Was a really fun day. Got to see alot. The tour guide was helpful and the driver was awesome!
November 2015
The staff were friendly, hospitable and accommodating. Unfortunately, we didn't have the chance to see Mt. Fuji because when we were at the 5th Station, heavy rain and gusty wind welcome us! We enjoyed the Onsen and Gotemba Outlet.
October 2015
Awesome tour guide. Comfortable itinerary. Great Day, Great Tour.
September 2015
Fantastic trip!! Visiting mount Fuji was amazing. We didn't get much time there 30 mins but it was just enough to wonder around and visit the shrine at 5th station. We didn't do the Onsen as were not keen on getting naked. However, we were able to do a massage which was fab!!
Lunch was not the Japanese BBQ that is advertised in listing which was annoying as we were looking forward to it. It was seafood which we don't eat so ended up with a veg option which was OK but not quite the BBQ we were expecting.
Shopping was excellent...bit of a rush around but was nice to end the day with a few bargains!
August 2015
Excellent tour and tour guide.Our tour guide of the day was Motoko Abe,she was very knowledgeable,informative and helpful.Would recommend this tour company to anyone travelling to Japan.
June 2015
The whole experience was excellent and different. It was a very comfortable journey to all the places.
May 2015
The tour was great! We had a pleasant time during the tour. The tour guide, Anne, was a Japanese lady. who spoke English clearly, friendly and helpful. The weather was clear on this day and we were able to see Mt. Fuji. We were at 5th station. The view of Mount Fuji was spectacular! The Onsen experience was relaxable Overall, the tour was excellent.
May 2015
We had a pleasant time during the tour. Our guide, Shima was very informative, friendly and helpful. The view of Mount Fuji was spectacular! The onsen experience was one of a kind for sure too bad it was a little bit rushed. Overall, the tour was great!
Advertisement
Advertisement