Take a quick nature-lover's day trip to the majestic Mt. Fuji and forest of Aokigahara, offering the perfect break from Tokyo's fast-paced hustle and bustle. Enjoy the impressive views from Mount Fuji's 7,610 foot-high (2,305 meter) 5th Station and join a guide for a one-of-a-kind visit inside an ice cave typically off-limits to the public. Your excursion includes pick-up in Tokyo (at select hotels), transport and entrance fees, local guide and evening drop-off in Tokyo's nightlife hotspot of Shinjuku.
Highlights
Full-day tour from Tokyo to Mt Fuji and Aokigahara Forest
Stop at the Fuji Visitor Center to see exhibits about the mountain
Travel up the mountain to Fuji's 5th station — the highest point a vehicle can go
Explore the Narusawa Ice Cave in Aokigahara Forest
End your tour at Tokyo's vibrant Shinjuku nightlife precinct
Great tour if you're short on time but want to check Mt Fuji off your list
Why Our Insiders Chose This Tour
It's great for nature lovers who want to enjoy some quality time admiring snowcapped Mt Fuji and exploring the lava-formed caves at its base. This tour was made for visitors who are short on time and only have one day to get to and from Mt Fuji.
Recent Photos of This Tour
Mt Fuji and Aokigahara Forest Day Trip from Tokyo
What You Can Expect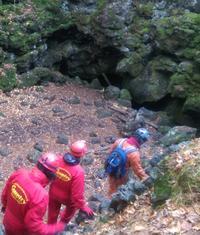 For anyone short on time, this combination Mount Fuji and forest day trip is the perfect way to sample of the scenic beauty of Japan's great outdoors. The morning of the tour, your transport will pick you up at your hotel (please refer to hotel pickup details), driving two hours west towards the snow-capped Mount Fuji, Japan's most-famous peak.
Spend the first part of your morning at the Fuji Visitor Center, enjoying the site's educational exhibits, photo-taking opportunities and a variety of refreshments available for purchase. From there, the tour drives ever-further up the slopes of this iconic mountain, eventually reaching the 5th Station, the highest point reachable on Mt. Fuji by vehicle. Take the next 30 to 40 minutes to savor the breathtaking views, camera at-the-ready, or check out the on-site gift shop for a souvenir.
The second half of your day begins at the Sea of Trees, known officially as Aokigahara Forest. The striking landscape is the result of thousands of years of volcanic activity, creating the area's exposed lava flows, exposed tree roots and eerie caves formed by explosions of volcanic gas. The day's final activity takes you on an adventure inside Narusawa Ice Cave with a local guide, an activity normally off-limits to most visitors. Your insider's exploration weaves through the slippery surfaces of this subterranean space, revealing the cave's surreal ice formations.
End your tour with a drop-off at the bus stop of the Fuji-Q Highland Amusement Park to wait for a bus back to Tokyo, with a ticket given to you by your guide. Pass the time with activities including bowling, a gift shop and concession stand. The two-hour bus ride back to Tokyo drops you off in Shinjuku, one of the city's best nightlife areas, where you can continue the fun.
Noel S Australia
April 2016
Despite the uncooperative weather, this tour was a highlight of our trip because of the caving experience. The forest is stunning, and the cave itself made us feel as if we were in Raiders of the Lost Ark.A warning though, shoes with a good grip are essential as it is dark, rocky, and very slippery inside the cave.
March 2016
The trip was amazing, Mt Fuji was awesome but a bit more time at the top would have been good. Lunch was great and our trip to Aokigahara Forest was the best. The guide was friendly and very informative. His knowledge of the area was very interesting and i would recommend the Aokigahara Forest trip to everyone that visits Japan. It was good to see the countryside of Japan. It was a bit of a wait for bus back to Tokyo but that would be my only issue with the whole trip.
March 2016
Best experience ever!!! This is the second time I have done the forest/cave tour, this time I took my friends. They loved it too. Best of all it was snowing when we got back out from the cave. Totally made the trip, thanks!
February 2016
Although the view of Mt Fuji cannot be guaranteed, it cleared up in the end and was fantastic. They split you up into groups - one that does the cave and the others do the lake. So glad we chose the cave! It was an amazing experience. Both guides were absolutely wonderful. Our cave guide was really funny and helpful and had a lot of interesting facts to tell us about the forest and cave. Our Fuji guide was a lovely lady who knew a lot about Japan so it was very educational. Definitely worth booking!
June 2015
The tour was amazing to Mt. Fuji and the ice cave. It was awesome that Mt. Fuji was visible that day so I got some great pictures and the ice cave was more than we expected, so neat climbing 100meters down into it. Would recommend to anyone wanting a fun day.
May 2015
Great tour! The best part was definitely the forest / cave tour, amazing! need to be fit to enjoy the climb and wear good water proof hiking boots because it's wet and slippery.
May 2015
This was amazing fun! The ice caves were the best part, being both beautiful a terrifying. Both our tour guides were friendly and went above and beyond to make it enjoyable.
April 2015
We were exceptionally blessed to be able to see Mt Fuji during our trip apparently it is only this clear 30 of the year. The coach ride was pleasant, but we didn't get enough time at each station to really savour the beautiful sights only had abt 15 mins. The ice cave is definitely a MUST-TRY for the adventurous folks out there! The guide was extremely engaging, humorous, and helpful.

December 2014
This tour was great! The guide on the bus to Mt Fuji was very informative and provided all sorts of trivia beyond what most people expect on a coach tour. We lucked out and visited Fuji on a super clear day, but cold day. Bundle up nicely if you're going during the autumn/winter months as it's much colder once you start gaining altitude. The stops may be short for some, but keep in mind that the destinations visited are not typically done in one day. The cave was awesome as well. We were provided coveralls and a spelunker's helmet. Watch your step as the cave is frozen year round and the floor collects layers of ice. At one point in the cave, there is 0 visible light, which was thrilling when we all turned off our helmet lights for a few minutes. Our guide Utaemon, who grew up in the area, was very passionate about the nature and local geology of the tour and was very educational. After getting back to Shinjuku we went out on our own and lived it up in the bright city lights. 5 star plus.
July 2014
The trip from Tokyo to Mt. Fuji by bus is a long one, but our fantastic guide was so interesting that we hardly noticed. She taught us some Japanese, gave a a brief history of the country, commented on the culture, and explained the superstitions surrounding Mt. Fuji. We went in July, and it was cloudy for most of the morning. We were afraid we wouldn't get to see the peak of the notoriously "shy" mountain. However, we lucked out around 1:00 p.m. during our descent from the 5th station; the sky cleared and Fuji-san made a spectacular appearance! Our guide immediately pulled the bus over and we were able to take a ton of pictures. Please be aware thought that this is often not the case. There is a chance you will not get to view the summit due to constantly changing weather patterns, but the tour is still interesting and fun, especially the cave exploring!
After lunch, which was decent, we separated into a smaller group and were picked up by a different tour company for our forest and ice cave exploration. The forest was beautiful and the caves were amazing! However, you do need a good bit of agility. This is real cave exploring: climbing over rocks, sliding down slopes on your bum, and walking across extremely icy surfaces - all in the dark with just a helmet headlamp! Proper footwear and dexterity are highly recommended, but it is totally worth the effort. The ice formations are amazing, and our guide was funny and so nice. Don't worry about the chill in the caves because the guide provides coveralls to wear over your clothes plus gloves and helmets. We didn't notice the cold, but it was also mid-July and very hot and humid outside. It felt good inside the caves to us!
I highly recommend this tour to the young and agile who want to have a little adventure while learning about Mt. Fuji.
Advertisement
Advertisement