Take a quick nature-lover's day trip to the majestic Mt. Fuji and forest of Aokigahara, offering the perfect break from Tokyo's fast-paced hustle and bustle. Enjoy the impressive views from Mount Fuji's 7,610 foot-high (2,305 meter) 5th Station and join a guide for a one-of-a-kind visit inside an ice cave typically off-limits to the public. Your excursion includes pick-up in Tokyo (at select hotels), transport and entrance fees, local guide and evening drop-off in Tokyo's nightlife hotspot of Shinjuku.
Highlights
Full-day tour from Tokyo to Mt Fuji and Aokigahara Forest
Stop at the Fuji Visitor Center to see exhibits about the mountain
Travel up the mountain to Fuji's 5th station — the highest point a vehicle can go
Explore the Narusawa Ice Cave in Aokigahara Forest
End your tour at Tokyo's vibrant Shinjuku nightlife precinct
Great tour if you're short on time but want to check Mt Fuji off your list
Why Our Insiders Chose This Tour
It's great for nature lovers who want to enjoy some quality time admiring snowcapped Mt Fuji and exploring the lava-formed caves at its base. This tour was made for visitors who are short on time and only have one day to get to and from Mt Fuji.
Recent Photos of This Tour
Mt Fuji and Aokigahara Forest Day Trip from Tokyo
What You Can Expect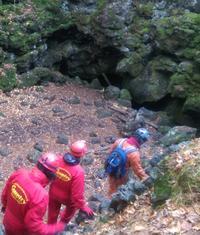 For anyone short on time, this combination Mount Fuji and forest day trip is the perfect way to sample of the scenic beauty of Japan's great outdoors. The morning of the tour, your transport will pick you up at your hotel (please refer to hotel pickup details), driving two hours west towards the snow-capped Mount Fuji, Japan's most-famous peak.

Spend the first part of your morning at the Fuji Visitor Center, enjoying the site's educational exhibits, photo-taking opportunities and a variety of refreshments available for purchase. From there, the tour drives ever-further up the slopes of this iconic mountain, eventually reaching the 5th Station, the highest point reachable on Mt. Fuji by vehicle. Take the next 30 to 40 minutes to savor the breathtaking views, camera at-the-ready, or check out the on-site gift shop for a souvenir.

The second half of your day begins at the Sea of Trees, known officially as Aokigahara Forest. The striking landscape is the result of thousands of years of volcanic activity, creating the area's exposed lava flows, exposed tree roots and eerie caves formed by explosions of volcanic gas. The day's final activity takes you on an adventure inside Narusawa Ice Cave with a local guide, an activity normally off-limits to most visitors. Your insider's exploration weaves through the slippery surfaces of this subterranean space, revealing the cave's surreal ice formations.

End your tour with a drop-off at the bus stop of the Fuji-Q Highland Amusement Park to wait for a bus back to Tokyo, with a ticket given to you by your guide. Pass the time with activities including bowling, a gift shop and concession stand. Take the two-hour bus ride back to Tokyo and continue the fun.
June 2016
Mt Fuji was good. Dropped off at Welcome center for view of mountain and vistas. No hiking involved. The Aokigahara forest was excellent. It's a large park. We hiked for about twenty minutes to the wind cave. Be prepared for close quarters and wear appropriate clothing and shoes.
June 2016
June 2016
Amazing experience! Really loved it!
Thought the line of buses on Mount Fuji was long, but we got there and the guide was super nice and helpful!
The cave is really scary and not for the weak! LOL
We had a great time!
Noel S Australia
April 2016
Despite the uncooperative weather, this tour was a highlight of our trip because of the caving experience. The forest is stunning, and the cave itself made us feel as if we were in Raiders of the Lost Ark.A warning though, shoes with a good grip are essential as it is dark, rocky, and very slippery inside the cave.
March 2016
The trip was amazing, Mt Fuji was awesome but a bit more time at the top would have been good. Lunch was great and our trip to Aokigahara Forest was the best. The guide was friendly and very informative. His knowledge of the area was very interesting and i would recommend the Aokigahara Forest trip to everyone that visits Japan. It was good to see the countryside of Japan. It was a bit of a wait for bus back to Tokyo but that would be my only issue with the whole trip.
March 2016
Best experience ever!!! This is the second time I have done the forest/cave tour, this time I took my friends. They loved it too. Best of all it was snowing when we got back out from the cave. Totally made the trip, thanks!
February 2016
Although the view of Mt Fuji cannot be guaranteed, it cleared up in the end and was fantastic. They split you up into groups - one that does the cave and the others do the lake. So glad we chose the cave! It was an amazing experience. Both guides were absolutely wonderful. Our cave guide was really funny and helpful and had a lot of interesting facts to tell us about the forest and cave. Our Fuji guide was a lovely lady who knew a lot about Japan so it was very educational. Definitely worth booking!
June 2015
The tour was amazing to Mt. Fuji and the ice cave. It was awesome that Mt. Fuji was visible that day so I got some great pictures and the ice cave was more than we expected, so neat climbing 100meters down into it. Would recommend to anyone wanting a fun day.
May 2015
Great tour! The best part was definitely the forest / cave tour, amazing! need to be fit to enjoy the climb and wear good water proof hiking boots because it's wet and slippery.
May 2015
This was amazing fun! The ice caves were the best part, being both beautiful a terrifying. Both our tour guides were friendly and went above and beyond to make it enjoyable.
Advertisement
Advertisement