Uncover the secrets of mysterious ninjas during a private 2-hour ninja workshop in Tokyo. Gain fascinating insight into the history of the stealthy assassins and spies and listen to captivating tales of the secret society delivered by an expert guide. Don disguising dark clothing and receive hands-on instruction on weaponry, fighting techniques and meditation during this enriching workshop. Relish the undivided attention of your instructor during this private experience.
Highlights
Private 1.5-hour ninja workshop in Tokyo
Disguise yourself in the dark clothing of a ninja
Practice meditation and hand gestures to calm the mind
Learn the secret arts of the ninja from your private instructor
Try grappling, self-defense, weaponry and other ninja techniques
Recent Photos of This Tour
Ninja School: Ninja for a Day
What You Can Expect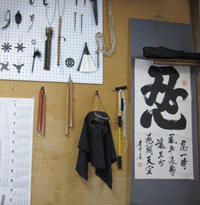 Greet your expert instructor at a central Tokyo location and don your disguising 'doji' (training clothes) before your ninja training commences. Calm your mind and sharpen your focus during meditation practice and hear about why 'kujikiri', a method of using hand gestures to strengthen the mind, is integral to a ninja's success.
Once mentally prepared, immerse yourself fully into the secret world of the 'shinobi' (ninja) and learn the secrets behind their impressive fighting techniques. Choose to practice one of a selection of ninja skills under the guidance of an expert instructor, opting to try grappling, self-defense, and swordsmanship or rope techniques.
Return to your original departure point with your guide after completing your lesson.

April 2016
WOW!!! possibly the best experience we had in japan. all thanks to the tour translator, we were running late and showed up at meeting point 15 minutes late, but tour translator still waited for us. she walked us to the ninja school which was a 5 minute walk. and proceeded to learn ninjaness. very intense at the beginning but ninja lightened up after performing for us. after ninja school was over translator gave us a tour of ueno park and asakusa. she was extremly nice and very helpful. she made the whole experience a 5 star. unfortunately i cant remember her name.
November 2015
Had a great time learning the art of being a ninja. The teacher and interpreters were fantastic, and the activities were excellent.
August 2015
This was one of the best experiences I had while staying in Tokyo. Everyone one involved from the translator to the instructor were extremely polite and helpful. I would recommend this to anyone interested in learning about the ninja history!!
August 2015
Ninja school was one of those experiences that will never be forgotten, without hesitation I would give it 10/10. The ninja master was both encouraging and supportive. I would do it again and if they had a longer course I would do that as well. It gave a glimpse of ancient / traditional Japan and how those values still influence Japan today.
June 2015
Great class. We learned about the history of Ninja and then practiced as one. Throwing stars, blow darts and swords. Had a blast. Translators were great.
March 2015
very interesting and thorough demonstration of ninja skills very patient instructor and top notch translating i recommend this activity to everyone alot of fun and very nice people
December 2014
Very cool experience. A sense of wonder enveloped me from the moment I approached the nondescript dojo. There's a chance to buy some cool ninja items afterwards, too. FYI: The tour guide translates everything the ninja says (if you don't speak Japanese).

December 2014
Really good activity. I was initially worried the it would be too cheesy or would pander to tourists too much. However our instructor had the right balance of history, fun and hands on experience. Our instructor didn't take himself too seriously either which made the whole thing more enjoyable.
One thing to note, the instructor does not speak much English but out interpreters did a great job throughout the entire session.
Pauline G United Kingdom
September 2014
Booked this especially for my teenage son and although they found the location of the session a bit of a surprise (its in a slightly industrial area) both he and my husband really enjoyed their session.
June 2014
Highly recommend this experience if you have some time spare in Tokyo. When booking I was a bit concerned that it would be a bit silly and gimmicky, but the time we spent in the dojo was anything but. We learned about the weapons and techniques of a ninja before getting to have a go ourselves. Informative, fun and I can now defend myself with a chopstick, can't say fairer than that.
Advertisement
Advertisement