Immerse yourself in Japanese culture on a private four-day tour of Japan's greatest cities – Tokyo and Kyoto! Visit both modern and ancient attractions with a knowledgeable guide, exploring each city for two days by bike and on foot. In Tokyo, feast Izakaya-style, enjoy beer tasting, try fresh sushi at Tsukiji Market and bicycle to the sumo area of Ryogoku. Then travel one-way by Shinkansen bullet train to Kyoto, where you'll view gorgeous temples and shrines as well as discover the highlights of Gion – Kyoto's famous geisha district.
Highlights
Four-day private tour of Tokyo and Kyoto including Shinkansen bullet train
Tour popular Tokyo neighborhoods at night, with views from Shinjuku Skyscraper and singing at a karaoke bar
Visit Tsukiji Market – the world's largest seafood mart – and take the subway to the Sapporo Beer Museum for beer tasting
Ride past Zozoji Temple, Kabuki Theatre and Ryugoku Bridge on a bike tour of Old Tokyo
View the red gates of Fushimi Inari Shrine and the Zen garden of the 13th-century Tofukuji Temple in Kyoto
Walk through Gion to see geisha homes and traditional teahouses, and enjoy sake tastings at a sake brewery
Bike along the Path of Philosophy in Kyoto and see the Nanzenji Temple, Heian Shrine and the UNESCO World Heritage-listed Shimogamo Shrine
Why Our Insiders Chose This Tour
Bicycling in Tokyo is unbelievable, as there are many areas seen best by riding a bike – and the drivers are polite! In Japan, karaoke is done in private soundproof rooms, so you can sing your heart out. At Fushimi Inari, thousands of torii (gates) make this place look and feel magical.
Recent Photos of This Tour
Private Tour: 4-Day Best of Tokyo and Kyoto Including Tsukiji Market, Gion and Fushimi Inari Shrine
What You Can Expect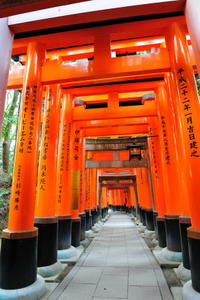 Discover traditional and modern Japan on this private four-day tour of Tokyo and Kyoto, exploring the heart of Japanese culture by bullet train, subway, on bike and on foot. Your private guide will introduce you to Japans' culinary delights with a variety of meals such as a sushi breakfast and a bento box lunch, plus tastings of sake and Sapporo beer. Accommodations include two ryokans (traditional Japanese inns).
Accompanied by a private guide, enjoy a customizable itinerary with several optional activities to choose from each day. Please list any special interests you have (art, architecture, history, culture) at time of booking to alert your guide, so that he or she can better prepare for your private tour.
Itinerary
Day 1: Tokyo (D)
When you arrive in Tokyo, check in to your hotel any time before your group meeting at 4pm. During this orientation, inform your private guide if you'd like to participate in any optional activities while in Tokyo, including a visit to a sword museum or a lesson in ikebana (flower arrangement) or aikido.
Afterward, your guide will lead your small group on a two-hour night tour of Tokyo on foot. Walk to the popular Shinjuku and Shibuya neighborhoods to find Tokyo's young people enjoying the lively atmosphere and local nightlife. Head to some great bars where you can sample tasty snacks and beer (own expense) before taking in the panorama of Tokyo at night from the 45th floor of the Shinjuku Skyscraper.
Next, head to the Karaoke Kan, a local karaoke bar (venue may change, subject to availability) for a chance to sing your favorite tunes in a private room with your companion(s). Stay for an hour, or longer at your request, enjoying your choice of songs and a set number of beverages (karaoke and drinks at own expense).
Your night in Tokyo concludes with dinner at the local restaurant Wara Wara (restaurant may change, subject to availability). Dine as the Japanese do – seated on tatami mats at low tables – and share a delectable selection of Izakaya-style dishes from the following sample menu:
•
Yakitori
– grilled chicken skewers
•
Kushiyaki
– grilled meat or vegetable skewers
•
Sashimi
– slices of raw fish
•
Karaage
– bite-sized fried chicken
•
Edamame
– boiled and salted soybean pods
•
Hiyayakko
– chilled silken tofu with toppings
•
Agedashi
tofu – deep-fried tofu in broth
As you top off your meal with noodle dishes like yakisoba and rice dishes such as ochazuke, your guide will enlighten you about Japanese food culture. Learn why shushoku – staple foods – are sometimes eaten at the end of the meal rather than with alcohol since sake, a drink brewed from rice, traditionally takes the place of rice.
Overnight: Sakura ryokan or similar accommodation

Day 2: Tokyo (B, L)
Take a private food tour of Tsukiji Market – the largest wholesale fish and seafood market in the world – and watch fishmongers selling the morning catch, following sushi breakfast. Before your exploration, seat yourself at a counter and observe expert chefs prepare mouthwatering local sushi like maguro (yellowfin tuna), ikura (salmon roe), ika (squid) and more! When you've had your fill, follow your guide through a maze of some 1,700 stalls and learn about Japan's fascinating market culture as you watch shoppers inspect row upon row of seafood.
Back at your accommodation, choose a bicycle in preparation for a three-hour bike tour around Old Tokyo. Following your guide along old streets, ride past houses, temples, gardens and shrines dating back 400 years. Pedal alongside the river on a flat, 9 mile (15 km) route to the sumo area of Ryogoku, and see Asakusa, Tsukiji, Zozoji Temple, Hamarikyu Garden and Ginza along the way. After cycling past the Kabuki Theatre and around the Ryugoku Bridge area, where the sumo stables are located, enjoy a traditional Edo-style lunch.
Then, try your hand at Japanese calligraphy during an informal private lesson offered by your guide. Learn the proper tools and techniques long practiced by aristocrats, Samurai and Buddhist monks, and make an attempt at a masterpiece that you can take home with you.
When you're ready for some beer tasting, your guide will take you by subway to the Sapporo Beer Museum, located in the three-story red brick former factory of the Sapporo Sugar Company in Sapporo Garden Park. Learn about the history of Japan's beer industry and enjoy a tasting of three to four beers in the beer garden as your guide introduces you to a selection of dark and light lagers, hops beer and ale.
After returning to your ryokan for a rest, head out again to Shinjuku or Shibuya for a yatai (street-food style) dinner including a selection of noodles (ramen, soba or udon), grilled chicken, beef and vegetables.
Overnight: Sakura ryokan or similar accommodation
Day 3: Tokyo – Kyoto (B, D)
Head to Tokyo Station and board the Shinkansen bullet train at 9am for a 2.5-hour ride with your guide. Enjoy a bento box breakfast aboard the train and take in gorgeous views of Mt Fuji en route to Kyoto (weather permitting). Let your guide know if you'd like to participate in any optional activities on offer while in Kyoto, such as a tea ceremony, archery lesson or river rafting.
When you arrive in Kyoto, embark on a unique, 3.5-hour guided walking tour of the city, exploring the temples, shrines and gardens that make Kyoto Japan's cultural capital. Founded more than 1,200 years ago, Kyoto developed as a center of aristocratic culture and remains famous for its Zen gardens and geisha traditions.
On the outskirts of the city, visit the Fushimi Inari Shrine, home to a seemingly endless stretch of torii (gates) that spread across a thickly wooded mountain. Walk through snaking corridors of red gates, made famous in the film Memoirs of a Geisha, and stop to admire the shrines and many fox statues.
After a morning spent on the mountain, head to another of Kyoto's must-see sights, the Tofukuji Temple. Originally built in the 13th century, and famous for its traditional but modern Zen-style garden, Tofukuji is a great place to soak up the relaxed atmosphere of the city. Learn about the origin and inspiration for the garden, and hear about its significance to the Buddhist monks who continue to live and study here. Afterward, your guide will accompany you to a sake brewery called Fushimi-yumehyakushu for three or four tastings, followed by a picnic lunch.
In the early evening, leave the tranquil gardens behind and head to Gion, famously known as Kyoto's geisha district – also a model for Memoirs of a Geisha. As the area comes alive with people and lights, stroll past the charming restaurants and teahouses, many of which have been exclusive establishments for geisha entertainment since the 17th-century. See the theaters and traditional shops, and enjoy the ambiance of this historical quarter.
Enjoy a Kyoto-style okonomiyaki dinner followed by a night walk with your guide, taking to the backstreets of Gion for approximately 1.5 hours. View lovely old houses, geisha homes and cherry tree-lined streams as you stroll, and then go for round two of karaoke at a local bar before retiring at your ryokan.
Overnight: Heianbo ryokan or similar accommodation

Day 4: Kyoto (B)
Hop on a bike in the morning and see the best sites of Kyoto on a four-hour bicycle tour through the city. Discover the real Kyoto while coasting along the streets and relax over a picnic breakfast at a riverside garden with great views. Cycle along the Kamo River, taking in the views of the city's downtown and passing a wealth of traditional riverside restaurants. Stop by the Heian Shrine, built in 1894 to commemorate the 1,100th anniversary of the capital's founding.
Next, weave your way along the quaint canals to reach the impressive Nanzenji Temple, one of Japan's most important Zen temples. Admire the temple's spacious grounds and gardens, with the Higashiyama Mountains as their impressive backdrop. Delight in the surrounds before jumping back on your bike and heading off down the Path of Philosophy.
Arguably the most popular walking path in Kyoto, the Path of Philosophy is shaded by hundreds of cherry trees that bloom each spring. A great place to contemplate the tranquility and beauty of the area, the path was named by Nishida Kitaro, one of Japan's most famous philosophers, who walked the route on his daily commute to Kyoto University.
Finally, follow your guide to the UNESCO World Heritage-listed Shimogamo Shrine in a unique forested setting that was preserved during the modernization of Kyoto. End your cycling tour of the city back at the Kyoto Station around 4pm.
Advertisement
Advertisement