Wander the neon-lit alleys of Tokyo's Shinjuku and Kabuchiko areas after dark on this 2-hour nocturnal adventure with a guide. Your visit to these two intriguing Tokyo neighborhoods, among Tokyo's busiest for food and nightlife, will allow you the chance to sample hole-in-the-wall restaurants, enjoy the quirky bars of the Golden Gai and explore Kabuchiko's infamous red-light district.
Highlights
Two-hour evening walking tour of Shinjuku entertainment district

See the department stores catering to the latest trends and subculture fashion

Walk through the candle-lit Hanazono Shrine

Explore the small alleys and lanes of Golden Gai

Hear the risqué stories of the Kabukicho red light district

See the historic wooden shacks of Omoide Yokocho

Why Our Insiders Chose This Tour
Your guide will make sure you don't miss a thing as you stroll through the Shinjuku entertainment district and the Kabukicho red-light district. All the neon and LED signboards, not to mention the wild fashions, make for endless photo opportunities!
Recent Photos of This Tour
What You Can Expect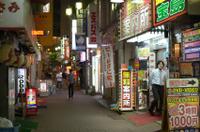 Explore the legendary back alleys, drinking dens and street food of Tokyo's Shinjuku and Kabuchiko neighborhoods, enjoying a visual and culinary feast of sensations along the way. This nighttime adventure into Tokyo's fascinating neon underbelly is a great opportunity to dig deeper into the legendary nightlife and food culture of modern Japan.
Meet up with your guide in the early evening at the Keio Plaza Hotel, continuing to the shopping section of Shinjuku, where you can explore the area's mish-mash of trendy boutiques and fascinating shops of subculture fashions. Then head over to the Suehirotei Vaudeville Theater, one of the country's most prestigious, before proceeding to the Hanazono Shrine, to admire its candle-lit interior and architecture, which dates to the mid-17th century.
From there you'll continue on to the Golden Gai, a fun-filled area on the eastern edge of Shinjuku that's home to hundreds of miniscule bars, each of which can hold no more than a handful of patrons. Then continue your walk with a visit to Kabuchiko district, home to a warren of streets packed with Japanese "salary men" in dark suits on the prowl food, drink and other pleasures of the night. The air is thick with the chants of touts looking to lure customers behind the closed doors of this area's many risqué establishments.
Conclude your wanderings with a stop at Omoide Yokocho a picturesque street lined with traditional wooden shacks that are home to a variety of restaurants and bars. It's a taste of old-world Tokyo from the 1940s, a time when the area's dimly-lit streets were filled with black marketeers and intrigue. Feel free to enjoy drinks or dinner at one of the many restaurants at your own leisure.
May 2016
We had a great time on the tour. Our tour guide was great and would highly recommend it for anyone visiting Shinjuku for the first time

May 2016
The tour conducted by our english guide was very polite and knew her way around. Recommend this tour if your ever in Japan.
April 2016
Highly recommend this tour for those who are interested in finding out more about this bustling city and do not have the energy to do so yourselves. The host was delightful - informative and enviously energetic as are most Japanese. Even though it was a crush of people on a Saturday evening we did not rush at any stage, the tour even extended for nearly an hour longer.
April 2016
This was a fantastic tour around Tokyo with a local who knew a lot about his city and a lot about the history of Japan.
I am glad I did this tour - I learned a lot about Japanese culture and saw some parts of the city I would have missed if I walked around alone.
February 2016
The guides were wonderful. We walked all over - into a department stsore - through a temple - into a tiny bar for a drink - walked through Drunkard's Alley. They ghlped me buy a ticket for the Metro and made sure I got on the right train to return to my hotel. I loved this tour.

November 2015
It was a very informative tour and a good introduction to Shinjuku and Kabukicho. There were only three of us on the tour. We got to see quite a bit in two hours. On our walk through Shinjuku, we visited a video game arcade, a pachinko parlour, and a department store selling anime fashions. We also walked by a capsule hotel on our way to the Hanazono Shrine and Golden Gai.
In Kabukicho, we walked by numerous bars and all the neon signs. We had our photo taken by the arch marking the entrance to Kabukicho and walked by the famous Robot Restaurant. Last stop was for a snack of takoyaki.
The tour guide was friendly and knowledgeable. I would definitely recommend this tour.
July 2015
We throughly enjoyed the tour, our tour guide took us to all the right places and had all the knowledge that we enjoyed hearing about through the city. Thank you
July 2015
great tour. got to see a lot of the great things that make Shinjuku such a popular area of Tokyo!
July 2015
Great tour. Our tour guide was awesome can't remember her name. So many cool things in this area that you get to see, and get insight from a local. Highly recommended.

March 2015
It was everything and more. Enjoyed every moment.
Advertisement
Advertisement