Get a glimpse into the world of sumo on a 3-hour tour of the sumo training stables. A local and knowledgeable guide takes you around the site during tournament season for a chance to observe these mighty men in action. You'll learn about this fascinating society where sumo wrestlers live and train. Then slurp up a hearty hot pot lunch — sumo-style! Receive personalized attention from your guide on this small-group tour, limited to 8 people.
Highlights
3-hour tour of sumo training stable in Tokyo
Visit the sumo stables with a knowledgeable local guide
Keep an eye out for sumo wrestlers in training
Learn about sumo traditions and culture
Enjoy a hearty sumo-style hot pot lunch
Receive personalized attention on this small-group tour, limited to 8 people
What You Can Expect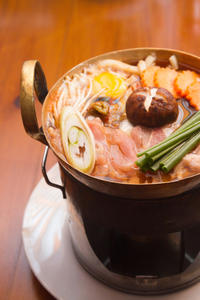 Meet your guide at Ryogoku Station in the morning and walk to the nearby sumo training stables. The Ryogoku district is the center of the sumo world, and these massive wrestlers have challenged one another in the sport for centuries — first at shrines and temples, and later inside halls and stadiums.
Throughout your 3-hour tour of the stables, where the wrestlers live and train, your informative guide shows your small group around the area and offers insight into the daily life. You'll tour just one of dozens of sumo stables located in the Ryogoku district, where these powerful men are put through their paces as they prepare to compete in the next tournament.
Learn about the lifestyle and cultural traditions of these sumo athletes, from the Edo period to present day. If you're lucky, you may see some of them in training, but sightings are not guaranteed.
If you want to watch sumo wrestlers at a tournament, your guide will explain the ticketing system and help you to buy tickets (own expense). Please note that tickets are generally purchased for a match scheduled the day after your tour.
Complete your tour with a traditional sumo-style lunch: a chanko hot pot. This mainstay for sumo wrestlers is filled with fish, vegetables, meat and tofu, and is generally accompanied with rice and beer.
After eating like a sumo wrestler, walk back to the station for your onward journey.
November 2014
March 2015
Interesting tour round the sumo stables, watching the wrestlers training and learning about the lifestyle
December 2014
Very good tour by the tour leader Meg. Very informative and gave us an excellent overview of the background and history of Sumo wrestling. Enjoyed the lunch afterwards. I would recommend the tour. The only point to make is that a maximum of 2 hours amply covers the visit to gage stables.
September 2014
Great experience to see sumo fighters up close during training. Sadly, our original sumo stable was not available so we visited another one.
April 2014
We met at 9.30am at the train station and started walking. No briefing of the tour was given and when I asked, I was told the plan was to walk around the area and tried our luck to see if any stables would allow us in. So after 2 hours of walking around, no one would let us in. I felt embarrassed for our poor guide and all of us. We bumped into 4 sumo wrestlers resting outside their stable and took some pictures. That was all we got from this tour. There was a plaque outside a stable introducing the history of the stable but our guide can't read Japanese. The lunch was just a shabu-shabu style meal that you can get anywhere. A real waste of time. :(
Advertisement
Advertisement