Enjoy the perfect sushi-lover's experience during this 4.5-hour visit to the world-famous Tsukiji Fish Market, followed by a sushi-making class led by master instructor and lunch. Get lost in the labyrinth of seafood stalls with your guide at the world's largest seafood market, then head to your cooking workshop, where you'll learn to make sushi favorites including rolls and nigiri alongside your class of Tokyo locals. Your combined Tsukiji and sushi-making class also includes subway transport to the market and pickup from select Tokyo hotels.
Highlights
4.5-hour sushi tour in Tokyo
Tour the outer portion of Tsukiji Fish Market, the world's largest seafood market, with a guide
Experience Japanese culture and cuisine in a hands-on environment
Learn how to make sushi from a sushi master

Eat your own sushi creations for lunch
Pickup from select Tokyo hotels included
Why Our Insiders Chose This Tour
This tour is a fun way to get a taste of local Tokyo culture and savor some freshly made sushi!
Recent Photos of This Tour
Sushi Making and Tsukiji Fish Market Morning Tour from Tokyo
What You Can Expect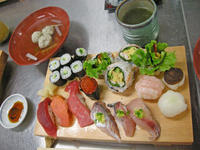 Uncover the fascinating world of sushi, as you explore the entire process of creation, from sourcing ingredients to the proper techniques behind the perfect roll, on this sushi tour in Tokyo. It's the perfect excursion for sushi die-hards, as well as anyone simply looking to better understand the culture and cooking behind this unique Japanese cuisine.
Start your sushi immersion in the morning at the city's Hamamatsucho Bus Terminal, or with a pickup from select hotels in Tokyo. Proceed with your guide by subway to the world-famous Tsukiji Fish Market, the world's largest marketplace for seafood and one of the biggest wholesale centers anywhere on earth.
This fascinating center of seafood commerce is divided into two sections, split between an outer section that features food vendors, restaurants and Japanese cookware stores, along with an inner section for wholesalers that is restricted to visitors. Spend 45 minutes exploring the market's outer section with your guide, marveling at the strange marine creatures for sale and learning about the many ingredients you'll be working with later in the day at your cooking session.
Head next to a well-known sushi restaurant popular with both locals and visitors alike, near the market to start your day's course. Follow along with your instructor as their instructions are translated into English by your guide, trying your hand at making both sushi rolls and nigiri (single ingredient pieces over rice). Once you've had enough time to get the hang of this unique Japanese culinary art, you'll sit down for a lunch of your hand-made creations.
Finish your tour back at Tsukiji station, where you can make your way to your next destination or back to your hotel.
June 2016
Excellent tour. Walked around the fish market, similar to an open bizarre. The sushi class was fun and very informative.
June 2016
It was fantastic! Everybody's reviews I'd read prior to booking stated how good this tour was and they were right! I'm really glad I did it. The walk around the Tsukiji Fish Market - although fairly quick, was enough I went back afterwards but really we saw most of it and the tour really was enough. It was good to stay with the group even though we were offered the opportunity to go through the inner market and meet up with the tour guide afterwards although it was busy and I and a couple of others didn't want to get lost. The outer market is interesting and we got to see the small kitchens the cooks work in in the restaurants. It was good having someone in the know and someone whose English was very good guide us through the market as well as keep us safe from the whizzing forklifts and other vehicles.
The sushi workshop was excellent! I would definitely find a way to include it in the next school trip as I think students would love it. I loved it. I had originally thought I knew how to make sushi, but learning it from a real Japanese chef and trying not only maki zushi rolled sushi but also hand rolled sushi and nigiri fish on rice and learning and trying the proper technique. It was fun, engaging and was lovely meeting people from other cultures.
May 2016
This was a very special tour with the wonderful Miki as our guide translator of both the Tsukiji Fish Market and the surrounding local shops. After these tours we arrived at our hands-on sushi making class. Our chef was so very patient and generous with his help. We absolutely loved this tour and would highly recommend it!

April 2016
Stephen B Australia
March 2016
So much fun. We really enjoyed this!
March 2016
the sushi class exceeded my expectation!
February 2016
Great tour, fun and insightful. Would highly recommend MAKE and EAT YOUR OWN SUSHI!!!
November 2015
Wonderful experience - fantastic guide - sushi making great fun and the food delicious . A must when in Tokyo!!!

November 2015
It was a very enjoyable, informative, and delicious tour. We toured the outer part of the Tsukiji Fish Market first then our guide provided a map of the market and we were given time to explore the market on our own.
Afterwards, we went for our sushi making lesson in Ginza. A brief history of sushi was given and a sushi chef demonstrated how to fillet a fish. We were then taught how to make sushi rolls and nigiri sushi. At the end of the lesson, we were given a certificate for completing the class. Along with the sushi that we had made, we were provided with three pieces of tempura to eat. It was very filling.
At the end, our guide also provided a map and directions on how to return to our hotel by train. Our guide was friendly, knowledgeable, and very helpful.
August 2015
An excellent guide with good English made for a very pleasant half day.
Advertisement
Advertisement