329 Reviews
Location:

Tokyo, Japan

Duration:

90 minutes

(approx.)
Special Offer
Save 16% by booking 9:45pm show time. See pricing options for complete details.
Prepare for an eclectic evening with a Japanese cabaret show at the Robot Restaurant in Tokyo's Kabukicho red-light district! Each entertaining 1-hour show features fun – and sometimes campy – performances full of flashing lights, taiko drums and techno music. See glitzy girls dance with a giant panda, dinosaurs, ninjas and (of course) robots on stage! Your entry ticket includes one drink of your choice (beer, sake, mineral water or soft drink).
Highlights
Robot cabaret show in Tokyo
Enjoy an unforgettable evening at Robot Restaurant in Kabukicho's red-light district
Watch an entertaining live show including robots, samurais, dinosaurs and dancers
Enjoy the show with a complimentary drink
Choose from three evening start times
Why Our Insiders Chose This Tour
Watch as the neon-clad performers save the world from tanks, robot samurais and... a giant panda riding a cow?
Recent Photos of This Tour
Tokyo Robot Evening Cabaret Show
What You Can Expect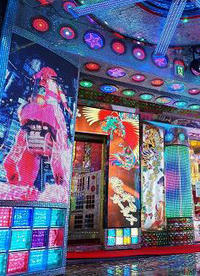 Arrive half an hour early at the Robot Restaurant in the red-light district of Kabukicho for a show at 6:30pm, 8:30pm or 9:30pm (depending on option selected). After checking in and selecting a drink, wait in the lounge until you are escorted to your seat for the evening entertainment known as the robot cabaret.
Watch in amazement as neon tanks come out to battle alongside Godzilla, robots, samurais and ninjas. Dancing girls in colorful outfits join dinosaurs and pandas on stage against a backdrop of video screens. Flashing lights, accompanied by taiko drums and loud techno-style music, illuminate the performance of massive female robots – truly a spectacle not to be missed!
Revel in this one-of-a-kind cabaret show for about one hour and enjoy a drink of your choice. Drinks include draft beer, canned beer, sake, canned alcopops, mineral water and various soft drinks. (Additional beverages available for purchase.)
You'll have plenty to rave about at the end of this highly entertaining musical show!
July 2015
I went into this very unsure of what to expect, but it was actually a great experience. The show actually tells a bit of a story, and the robots are fantastic. I don't want to give away too much, but if you are coming to Tokyo, this is a must see.
July 2015
The show is great. We had the best time. Place can be hard to find. I would do this again when I go back to Toyko.
July 2015
Brilliant really enjoyed the robot show a must if in Tokyo!
July 2015
psychodelic flashback , jurrasic park gone amok vs. transformer character, live bizarre theatre at its best.
July 2015
what is there not to like about this show? robots and hot babes! great experience!
July 2015
More than Vegas, Comicon and Battle Bots combined, this family-friendly experience is one of those must-dos that not so many people know about - but should!
We had made the booking with Viator for the 9pm show ahead of time - but were so tired after a day of getting lost in Tokyo, we just had to try to exchange for the 5pm show. The staff was most accomodating - WHEW!
The only annoyance was having to stand in line outside, where just about every vendor was smoking. That is probably the least enjoyable thing in noisy, blinding-bright, crazy Tokyo.
Once we got our official tickets, we moved across the street through the alleyway to a hidden basement ... no, first, we went upstairs: it was like Ali Baba and theCave of Wonders! You have to see to believe the gaudy chandeliers and maniacal colour scheme - even the toilet was like Picasso on acid!
A Japanese band warmed us up with covers of 70s night lounge music - but nothing could've prepared us for the chaos, cacophony and sheer entertainmrnt value that awaited us in the basement. Even the vendors who re-stocked our drinks and popcorn were a show in themselves.
The vignettes we enjoyed included: Women Warriors at War Sea vs. Land and Forest Fight of the Titan Bots and something related to the traditions of an American marching band - sort of ... The costumes were wild, the sounds were loud and Liberace would've been proud!
While we thought the wait in-between acts was a little long, and the pressure to buy drinks and snacks a little stressful, it may have been just because we caught the show on a weeknight, and it was the first show of the evening. Would absolutely recommend it for people wanting to take in some Shibuya nightlife but who don't enjoy the more risque. This is great for PG-14 - edgy, daring, over-the-top - but fairly politically-correct, nonetheless. Like Pandora's box, it was, but alot, LOT more wondrous!
July 2015
Greatest show ever. Everyone must see this at least once.
July 2015
Wow ! This show was awesome! Crazy and insane but full of very talented people! Definitely worth seeing! Hard to find location, if you see Godzilla you know you are close!
June 2015
Just brilliant and Epic!!! Loved every moment of it!
June 2015
The robot cafe was awesome, really different to anything I have experienced before. Must see.
Advertisement
Advertisement