Special Offer
Price displayed includes a 10% discount off the local admission price!
When in Tokyo, don't miss an evening of eye-popping entertainment at the Robot Restaurant. Located in the Kabukicho red-light district, Robot Restaurant puts on an eclectic 1-hour cabaret show with performances full of flashing lights, taiko drums and techno music. Your entry ticket includes one drink of your choice (beer, sake, mineral water or soft drink), perfect to sip as you experience a fun, and sometimes campy, neon-lit show where glitzy ladies dance with dinosaurs, ninjas, a giant panda and (of course) robots.
Highlights
Robot cabaret show in Tokyo
Enjoy an unforgettable evening at Robot Restaurant in Kabukicho's red-light district
Watch an entertaining live show including robots, samurais, dinosaurs and dancers
Enjoy the show with a complimentary drink
Choose from three evening start times
Why Our Insiders Chose This Tour
Watch as the neon-clad performers save the world from tanks, robot samurais and... a giant panda riding a cow?
Recent Photos of This Tour
Tokyo Robot Evening Cabaret Show
What You Can Expect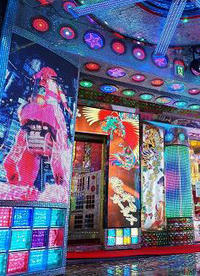 Give yourself time to make your way to the Kabukicho district where the Robot Restaurant is located, arriving approximately 40 minutes before the show starts to check in and order a drink. Take a look around the fabulously decorated lounge as you wait to be escorted to your seat for the robot cabaret show.
When the entertainment starts, prepare to be amazed by this one-of-a-kind cabaret show that lasts about one hour. Neon tanks come out to battle alongside Godzilla, robots, samurais and ninjas. Lights flash to the beat of live taiko drum performers and loud techno-style music. Dancing girls in colorful outfits and massive female robots join dinosaurs and pandas on stage against a backdrop of video screens.
Enjoy one complimentary drink of your choice, choosing from a menu that
includes draft beer, canned beer, sake, canned alcopops, mineral water and various soft drinks.
Additional beverages are available for purchase.

With multiple start times, the show is easy to fit into your sightseeing schedule. Be sure to catch this highly entertaining and original Tokyo experience!
May 2016
May 2016
What can I say that the other people who have reviewed the robot show have not said already...IT IS THE NEW MUST SEE event in Tokyo!
However, do not both buying the dinners....they are just average.
Drinks are available during the show as well as the waiting area before the show.
I would go and see this show again and again!

May 2016
ROBOT RESTAURANT! It's completely crazy and worth your time and money. I've never seen anything like it and probably won't again, unless I go back. Which I might. Be sure to get there early so that you can take pictures with the robots outside and have a seat in the lounge, which comes complete with a robot band playing lounge music. I was mystified the entire time and absolutely loved it. Flashy flashy lazers lights bad acting fireworks pew pew everyone happy happy crazy good happy forest time evil robot ladies snakes gorillas robots mechanical sushi taiko kinda things and...well, you should check it out.
May 2016
Fantastic! Absolutely, idiotically wonderful. Just a crazy, fun experience.
May 2016
This was really amazing. I wasn't sure what to expect but glad we booked this and had loads of fun! Only in Tokyo!
April 2016
April 2016
Amazing experience - little bit difficult to find, but the staff are amazing. Food is pretty average but drinks are good and you're not there for the food, you're there for the show.

April 2016
Campy, even a little stupid, and I loved every minute of it. This is absolutely one of the most enjoyable things I did on my vacation to Japan.

April 2016
A fantastic introduction to the Japanese culture and a great night out. We had an absolute ball.

April 2016
One of the coolest things to do as a tourist in Tokyo! Took my wife and kids age 11 and 15. Yes, the place is in a shady area in Shinjuku but, if you don't read Japanese, you wouldn't really know it. The show was perfectly fine for kids. We would all go again. Its really just very different from everything else we've done.
Special Offer
$74.47 Save $7.45
Advertisement
Advertisement