431 Reviews
Location:

Tokyo, Japan

Duration:

90 minutes

(approx.)
Special Offer
Save 16% by booking 9:45pm show time. See pricing options for complete details.
Prepare for an eclectic evening with a Japanese cabaret show at the Robot Restaurant in Tokyo's Kabukicho red-light district! Each entertaining 1-hour show features fun – and sometimes campy – performances full of flashing lights, taiko drums and techno music. See glitzy girls dance with a giant panda, dinosaurs, ninjas and (of course) robots on stage! Your entry ticket includes one drink of your choice (beer, sake, mineral water or soft drink).
Highlights
Robot cabaret show in Tokyo
Enjoy an unforgettable evening at Robot Restaurant in Kabukicho's red-light district
Watch an entertaining live show including robots, samurais, dinosaurs and dancers
Enjoy the show with a complimentary drink
Choose from three evening start times
Why Our Insiders Chose This Tour
Watch as the neon-clad performers save the world from tanks, robot samurais and... a giant panda riding a cow?
Recent Photos of This Tour
Tokyo Robot Evening Cabaret Show
What You Can Expect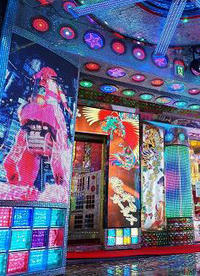 Arrive half an hour early at the Robot Restaurant in the red-light district of Kabukicho for a show at 6:30pm, 8:30pm or 9:30pm (depending on option selected). After checking in and selecting a drink, wait in the lounge until you are escorted to your seat for the evening entertainment known as the robot cabaret.
Watch in amazement as neon tanks come out to battle alongside Godzilla, robots, samurais and ninjas. Dancing girls in colorful outfits join dinosaurs and pandas on stage against a backdrop of video screens. Flashing lights, accompanied by taiko drums and loud techno-style music, illuminate the performance of massive female robots – truly a spectacle not to be missed!
Revel in this one-of-a-kind cabaret show for about one hour and enjoy a drink of your choice. Drinks include draft beer, canned beer, sake, canned alcopops, mineral water and various soft drinks. (Additional beverages available for purchase.)
You'll have plenty to rave about at the end of this highly entertaining musical show!
November 2015
Quite possibly one of the most fun I've ever had at one place! It was a little difficult to find, so definitely plan to arrive 45-60 mins early as space in the waiting room before the show is limited. I wouldn't recommend the show for epileptics or the faint of heart.
November 2015
Absolutely brilliant.
One of the highlights of our trip.
November 2015
This was a fun experience, Something totally different nothing that you could have imagine to expect.
November 2015
This is probably about the most touristy thing that you can do in Shinjuku and it's worth every single penny. It's hard to describe other than that it is amazing as hell. Photos and video do not do this show justice.
November 2015
Fun show. Never a dull moment,
November 2015
This is an absolute must see if you are visiting Japan. The lights, costumes, performances and of course, the robots were utterly incredible. This was by far the coolest thing I did when I was in Japan and cannot recommend it enough!
November 2015
Totally recommend this. Completely over the top and ridiculous but so much fun although some people in the audience obviously didn't 'get' it!. From the moment we arrived in the crazy bar upstairs with live music from the robot band, to the 4 acts of the show itself, it was just a blast and left a grin from ear to ear. Each act is about 15 minutes long. They feature dancing, singing, musical instrument playing, robots, moving floats, crazy costumes, pyrotechnics and lasers.
Go with an open mind, be entertained and have fun.
Top tip: we booked through Viator and saved 1000 Yen each on the door charge!
Warning: if you're in the restroom when an act starts you will NOT be allowed back in until the act finishes as you have to access your seat from the floor where the performance is.
November 2015
Hilarious, amazing, mind melting. Would do it again, and would recommend it to friends. Tip: there's only really popcorn, so expect that, and have a few brews beforehand. Best experienced with a slight buzz!
November 2015
The place was nuts, in a good way. I have never been anywhere like this in my life so it was totally worth it. The neighborhood is a bit sketchy but I still felt safe. Eat, drink, and watch a mermaid on a giant mechanical shark. Where else but Tokyo...
November 2015
Completely different experience that I have never seen anywhere. I was hesitant, but really glad we did this - very interesting!
Advertisement
Advertisement