Get a unique perspective on Tokyo on this 6-hour bus tour of the city's top must-see sights, culminating in a visit to the Tokyo Skytree, one of the world's tallest towers. Start in central Tokyo, where you'll drive past the Imperial Palace Plaza, National Diet Building and State Guest House, then head to the city's Ginza and Akhibara districts. Then check out Buddhist shrines of Asakusa before getting a sky-high view of Tokyo on top of its towering Skytree attraction. Your excursion also includes hotel pickup, a guide and Skytree admission.
Highlights
Asakusa and Tokyo Skytree tour
See the Imperial Palace Plaza, National Diet Building, State Guest House, Ginza and Akihabara

Visit the Asakusa district in Tokyo and discover the ancient Senso-ji Buddhist temple

Enjoy panoramic views from Japan's highest structure at the Tokyo Skytree
Recent Photos of This Tour
Tokyo Skytree, Asakusa and Central Tokyo Sightseeing Tour
What You Can Expect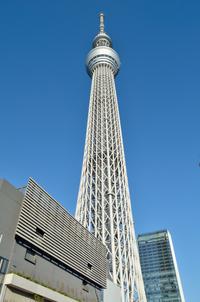 Get a taste for all that Tokyo has to offer on this 6-hour bus tour, sampling the Japanese capital's top sights and neighborhoods and finishing with unbelievable views from the top of Tokyo's Skytree monument.
Start your excursion with pickup from select hotels, arriving at the Tokyo Hamamatsucho Bus Terminal where you'll begin your tour in the afternoon. Climb aboard and proceed to Tokyo's city center, where you'll get a taste for the city's contrasting mix of ancient tradition and modern glamour. See the Imperial Palace Plaza, with its manicured grounds, then check out art deco-style National Diet Building and the sprawling State Guest House.
Moving on, your bus passes through the commercial district of Ginza, one of Tokyo's top spots for entertainment, shopping and eating, and the neon-lit Akhibara, where electronics vendors ply their wares. You'll arrive next at the Asakusa neighborhood, home to many of Tokyo's most famous temples and shrines. Stop by Asakusa's Senso-ji temple, the city's oldest Buddhist religious center, where you will admire its giant Thunder Gate and the striking five-story pagoda. On your way up to the temple, make sure to browse food stands and souvenir vendors lining the alley just out front.
Continue next to the Sumida district to experience one of Tokyo's newest and biggest attractions, the Tokyo Skytree. This 2,080-foot (634m) tower has been designated the world's tallest. Ascend to the Skytree's Tembo Deck, reaching an altitude of 1,148 feet (350m) to enjoy an incredible bird's-eye view of this sprawling urban center. Feel free to stop by the Tembo Deck's on-site restaurant, café and shop, or purchase an optional extension to climb even higher up this giant monument to the Tembo Galleria. This upper viewing deck offers hyperbole-worthy views of Tokyo from a height of 1,476 feet (450m).
Finish your tour back at Tokyo Station, which provides easy access to the Imperial Palace Plaza and to nearby Ginza.
June 2016
Amazing and fantastic trip, but one issue to address is hotel drop off

June 2016
An excellent tour. Started with a drive to some of the tourist attractions, to Asakusa Temple and shopping precinct and then to the Tokyo Skytree for a magnificent view over Tokyo. Time to catch dinner own expense and we then negotiated the underground rail system back to our hotel.
May 2016
It was very informative, good tour.
May 2016
Excellent tours.The day for the Tokyo Sightseeing tour was raining. Only my wife and me went to take the tour. And we had the tour! Many thanks, Julio
May 2016
wow what an experience very good tour, we were wait for and everything was very nice,,,,,10 plus
May 2016
This tour was wonderful! Our guide was very informative. On the bus ride to the temple, she explained the city and it's history. The temple is more touristy than I expected with various shops and restaurants. That was a bonus because we were starving by the time we got there! The Skytree has a grocery store, a mall and plenty of food vendors - too much for the inner fat me to take! After the Skytree tour, the guide let us know it was ok to leave and go off on our own. This is why the guide's explanation of the city on the bus tour was so amazing. We went back to the temple and explored more on our own time, we then explored Asakusa a bit more where the guide explained, then we went to back to Akihabara we passed there on our way to the temple and the guide told us about the specialty shops and alleyways and explored a bit more. Being anime and manga fans we actually went back to Akihabara a few times during our one week stay in Tokyo. It's really an all day tour if you go to all the places explained by the guide. I feel like we really got the most out of this tour. And a few souvenirs to remember our time here.

April 2016
temple wasreally worth the visit, such a worth while trip views are amaizing from skytree, our guide Noritake fabulous

April 2016
Splendid tour. It was our first day in Tokyo and we wanted to learn and see as much as we could. This tour gave us an insight into the history of the city, its spirituality and its demographics and a magnificent view of the city from the observatory located in the skytree.
April 2016
This tour was a great introduction into seeing what Tokyo has to offer. The tour was very well organised and our guide Atushi was very knowledgeable and friendly. At each stop your were given your own time to explore and my Husband and I thought that it was well structured and also informative! 10/10 :)
April 2016
Great tour, guide and highly recommended!
Advertisement
Advertisement