204 Reviews
Location:

Tokyo, Japan

Duration:

5 hours

(approx.)
Don't miss the opportunity to see a traditional sumo tournament when you're in Tokyo. Ride the subway with fellow sumo fans to the 'kokugikan' (sumo amphitheater) and enjoy several sumo-wrestling matches in the afternoon. Beforehand, visit the fascinating Sumo Museum to see sumo-related objects from the Edo period to the present. Upgrade your experience to include dinner at a chanko restaurant with delicious Japanese stew.

Available dates for the 2015 tournament season are now sold out. You can now pre-book your tickets for the 2016 season. Available dates in 2016 are Jan 10-24, May 15-29 and Sept 11-25.

Highlights
Ride the metro to Ryogoku Station, accompanied by a local guide
Watch a Japanese ceremony and sumo matches at a traditional arena
Join locals in B-class reserved seats
Hear English commentary via FM radio with audio headphones
Enjoy dinner at a chanko restaurant (if upgrade selected)
Hotel pickup from selected Tokyo city hotels

Why Our Insiders Chose This Tour
Here's a chance to get beyond the touristy stuff and witness a traditional and unique part of Japanese culture. Opt for the hearty chanko dinner for a true taste of the sumo wrestler lifestyle.
Recent Photos of This Tour
Tokyo Sumo Wrestling Tournament
What You Can Expect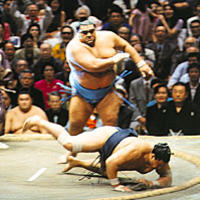 Meet your group at Hamamatsucho Bus Terminal after pickup from selected hotels in the afternoon, and ride the subway or JR line to Ryogoku Station.

Stop by the Sumo Museum where you can learn about this 1,500-year-old Japanese cultural tradition before you continue to the arena to watch the real thing. See important sumo-related items on display, such as woodblock prints, folding screens and ceremonial aprons from as far back as the Edo period.

Next head into the the Grand Sumo Tournament at Ryogoku Kokugikan. Feel the excitement during an opening ceremony called dohyo-iri, where your guide will start to explain what's happening at the amphitheater.

You'll watch a series of sumo wrestlers grapple in the elevated ring — made of clay and covered in a layer of sand — from your B-class reserved seat on the second floor. Consult your brochure and sumo-ranking list for the day's events; junior division sumo matches are held first, proceeding the higher-ranked matches slated for later in the day. Another way you'll know when the big matches are on: the makuuchi (senior-division wrestlers) wear kesho-mawashi, or ceremonial apron.

Put on your headphones and listen to English commentary throughout the approximate 2.5-hour match, following along during each lightning-speed match of one minute or less.

Watching the sumo matches is the main event, but there are other things to enjoy at the arena. Check out the championship flags in the entrance lobby, purchase a bite to eat from one of the vendors at any time, and don't forget to browse the various sumo-related goods on sale.

Afterward, your guide accompanies you to Hamamatsucho Bus Terminal and explains directions back to your hotel. If you select the dinner option, you're taken to a nearby restaurant.

Optional Upgrade: Dinner
Upgrade your experience to include dinner at a local chanko restaurant, most likely run by a former sumo wrestler. Enjoy chankonabe, a hearty stew that is the traditional food of sumo wrestlers. Your guide will not join you for dinner, leaving you to make your own way back to your hotel.

Please note: You may have to wait to be taken to your seat if a sumo match, ring-entering procession, ritual stomping ceremony or a speech by the Sumo Association is already underway.
October 2015
A must see when in Japan.
October 2015
Fantastic day out - our guide, Hiro, was excellent at explaining all the intricacies of sumo and the atmosphere was terrific. A must see if you're in town during a big tournament.
September 2015
Watching sumo live in Japan is a once-in-a-lifetime opportunity. A must do! Our guide helpfully explained the rules and who's who etc which helped it all that much more enjoyable. Only suggestion, get the mid-range seats for better viewing. It's worth it!
September 2015
This was an amazing tour! Miki, our tour guide was very knowledgeable on the topic and you could tell she had a genuine interest in the sport. Just seeing her enthusiasm was infectious and made me really enjoy the experience all the more. All the information provided to us by Miki, including what the rituals mean, the weight of the aprons, the history of the sport really created an extra depth to the sport and to be honest, helped me appreciate Sumo Wrestling all the more. I don't think I would have had as an amazing experience if I had not attended the tour. Thank you for this unforgettable memory!
September 2015
September 2015
Great experience that gets right to the heart of a uniquely Japanese cultural phenomenon. Really interesting, well organised, and one of the highlights of our recent trip to Tokyo.
September 2015
September 2015
Incredibly informative and entertaining! Really felt like I understood the basics of Sumo after this tour. Watched another day of the tournament waiting for our airplane the next day because we now knew the wrestlers and were very interested in the outcome!
September 2015
Our guide Miki was the best. This tour did not feel so much like a tour, but rather like we went to a sumo tournament with a friend who happened to know a lot about the event and its history. Miki was so nice, and it was a pleasure spending the afternoon with her. It was obvious she put a lot of effort into the program. She even made a chart for us which listed all the wrestlers and some fun facts on it for example, that so-and-so was Mongolia's best hope, that another wrestler's signature move was his forearm, and that everyone thinks one guy looks like Nicholas Cage, which definitely made things more interesting/fun. This tour was the absolute highlight of our entire trip, and I can't imagine not going on it. If you are lucky enough to be in Tokyo for a tournament, you absolutely cannot miss this. Next time we go back to Japan, we will plan our trip around this event.
September 2015
Informative and exciting tour. Highly recommended!
Advertisement
Advertisement