See the city of Toronto and the surrounding region on this stunning 7-minute helicopter flight. Soar over the largest city in Canada with an exclusive sightseeing tour of Toronto's downtown skyline and beyond, including the iconic CN Tower, the Canadian National Exhibition grounds and the beautiful Lake Ontario waterfront. This incredible flight covers almost nine miles and includes one keepsake digital photo (delivered online) plus a printed souvenir picture. A variety of departure times are available throughout the day to fit into almost any schedule.
Highlights
7-minute helicopter tour over Toronto
Enjoy breathtaking views of downtown Toronto, including the CN Tower

Admire Fort York and the Lake Ontario waterfront from above

Souvenir photo included

Choose from five tour times in the afternoon and evening to suit your schedule

Recent Photos of This Tour
What You Can Expect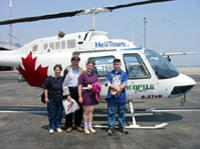 You can see Toronto from eye level on the street. You can climb the famous CN Tower to see it from above. You can even take a boat around the waterfront. But nowhere else can you experience a view of Toronto from the sky like this one, on board a helicopter flying high above the largest city in Canada.
Begin this Toronto helicopter tour at the Toronto City Center Airport, located downtown, just minutes west of the shoreline from the CN Tower.
This flight is the showcase flight of downtown Toronto. The tour takes place at 2,000 feet, covering almost nine miles in approximately seven minutes. Marvel at the sights from this height and the distance that can be traveled without battling with the congested streets and traffic lights below. Discover Toronto by flying over the Canadian National Exhibition grounds in the west to the Don Valley Parkway in the east; and from the Lake Shore in the south up to Bloor Street in the north before heading back downtown to complete this breathtaking aerial adventure.
April 2016
This was a great tour and the 7min one was enough to give you a great experience as well as the best view of the city. According to them they are the only one allowed to go near the CN tower aside from military aircraft.
Highly recommended.
August 2013
Whole experience was great. The staff were great and eager to make sure customers were taken care of. Pilot was very professional and friendly. The only drawback was trying to find the office to check in. Not clearly marked.
May 2012
hello!
I had to young lady assist me I had inform them that I was doing in memory of my mom so they very accomdating to me and very commpasionate towrds my feeling making sure that my helicopter ride was cherish a life time !
June 2011
The tour was amazing! We got a great view of Toronto and of the CN Tower. It was a very memorable experience overall. Viator was very reliable and easy to book with.
June 2011
Nice experience! Highly recommended, I went for the 9 minute option, wish I chose the longer one!
Vladislav M USA
December 2009
The helicopter tour was an unique experience!
April 2009
A wonderful experience...we could have stayed up there all day!
Jules W United Kingdom
August 2008
You have to see Toronto like this!
Julie H United Kingdom
August 2008
What a fantastic way to start our holiday in Toronto. The helicopter flight exceeded or expectations and rendered my daughter speechless. The flight itself was a first for us all in a helicopter and thanks to the skills of our pilot was as smooth as silk. The views of the Toronto city skyline were simply breathtaking and gave us the opportunity to get some fantastic photos that we simply couldn't have got any other way. I would wholeheartedly recommend this incredible flight experience to anybody visiting Toronto.
Nicola M Ireland
August 2008
Wow! What an experience! This gave us a fantastic view of city and surrounding area. We were lucky enough to get a small plane. The pilot was fantastic. He even gave my fiancée the controls for a while, which he loved! I would highly recommend this. We did it on our first day in Toronto, and it was a fantastic introduction to a fabulous city.
Advertisement
Advertisement