Discover one of Toronto's most unique neighborhoods — Greektown or Leslieville — on this guided, 3- or 3.5-hour, small-group walking food tour. Led by a local professional chef, enjoy the sights, sounds and smells of either Greektown, one of Toronto's most vibrant and cosmopolitan areas or Leslieville, which has emerged as one of the city's hippest place to dine, drink, shop and live. Enjoy multiple food and wine tastings and get behind-the-scenes access into some of the best and busiest kitchens in Toronto.
Highlights
3- to 3.5-hour food walking tour in Toronto

Discover one of Toronto's unique neighborhoods: Greektown or Leslieville

Follow a local professional chef through the neighborhood of your choice to find the best foods

All food and wine samples are included

Not to be missed by any foodie!

Small-group size limited to 12 ensures a more personalized experience

What You Can Expect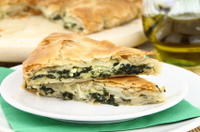 Select from either Greektown or Leslieville, then prepare to be amazed by some of the finest food Toronto has to offer.
In Leslieville, embrace the essence of a community that began as a small village back in the 1800s and has since completely transformed itself into one of Toronto's hippest new neighborhoods — as well as the headquarters of the city's burgeoning film industry. Walk along historic Queen Street East, sampling Ontario wines, sustainable seafood, organic artisan breads, homemade shortbread and ice cream and a light lunch at one of the area's most-popular restaurants. Along the way, learn about Leslieville's history and culture and how its local citizens helped to shape the city of Toronto as it exists today.
In Greektown, experience the largest Greek neighborhood in North America and one of the most cosmopolitan areas of Toronto — an area bustling with outstanding restaurants, boutiques, shops, markets and cafes. Stroll along Danforth Avenue, home of the annual Taste of the Danforth, Canada's largest street festival. Sample Shanghai dumplings, Turkish pizza (also known as pide), Greek wine and homemade Greek dishes created from family recipes that have been handed down from one generation to the next. Along the way, hear from some of the locals who helped shape this exciting and growing area.
May 2016
Excellent!! Excellent!! You really get your money's worth for the Leslieville tour! Great food selection!! Our guide Ian was very nice and knowledgeable! A great experience!

May 2016
I highly recommend this tour on your stop in Toronto!
November 2015
From our first coffee stop, to sampling local shortbread cookies, local mission breads, a great fish market, Mediterranean lunch, famous canadian bacon sampler, to a finishing local gelato...we had a great experience in Leslieville. A welcoming neighborhood, rich in history and the perfect Chef as our guide, we had an amazing experience
November 2015
Chef Scott is very knowledgeable, entertaining and provided information on the history and personalities of the Leslieville area.
Generous amounts of food samples.
Will recommend this tour to my friends.
September 2015
Fun and informative stories re neighborhood Leslieville great food sampling/lunch venue plenty to eat!
August 2015
A wonderful tour! We had the good fortune to have the Fonder and CEO Chief Eating Officer lead us. Chef Scott Savoie was informative and lots of fun. I highly recommend this tour.

August 2015
We both really enjoyed the two tours we took one in Greektown and one in Leslieville. In both cases our guide was knowledgeable and entertaining. The tour was a nice mix of the history of the area as well as an introduction to the types of food.
June 2015
Fantastic guide. Good selection of food. Beautiful weather. Would highly recommend.
November 2014
We had a wonderful time on the Leslieville tour. Guide Joanne provided lots of interesting information on the local neighbourhood. We had a good variety of stops along the way. Food and drinks were enjoyed by all.
September 2014
Had an absolutely amazing Leslieville tour, with a fun and informative guide with a lot of knowledge and experience. Definitely worth every penny.
Advertisement
Advertisement