Special Offer
Price displayed includes a 11% discount off the local admission price!
Jump inside the world's biggest box of LEGO bricks with a general admission ticket to LEGOLAND Discovery Centre, an indoor kid's attraction with a 4-D cinema, rides and more. Visit MINILAND to see the city of Toronto and its most popular landmarks made out of LEGO bricks. Zap the bad guys on the Kingdom Quest Laser Ride and strive to pedal the fastest on Merlin's Apprentice Ride. Designed for children ages three to 10, this dynamic playground is perfect for birthday parties or simply a day of creative, educational fun.
Highlights
Admission to LEGOLAND Discovery Centre Toronto
Explore 15 attractions including games, rides, and film
See how many Toronto landmarks you can spot in the detailed LEGO buildings inside MINILAND

Build LEGO towers that will withstand an earthquake test at one of the interactive zones
Become part of the movie in the 4D Cinema experience

Help Merlin conjure his magic on Merlin's Apprentice!

Choose from activities suitable for different ages, fun for the whole family!
What You Can Expect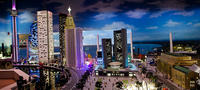 Use the general admission ticket to enter LEGOLAND Discovery Centre in Toronto anytime during normal operating hours.
A day at LEGOLAND offers a wide variety of educational and entertaining possibilities.
Learn how LEGO bricks are made on the LEGO Factory Tour, where Professor Brick-a-Brack provides a tour through each stage of the creation process. Experience wind, rain, lightening, snow and more and watch as favorite LEGO characters come to life in the LEGO 4-D Cinema. Then take on the ogres, rats and cats in the Kingdom Quest Laser Ride. Zap them all and the Princess will be saved. Also, pedal as fast as possible to lift off the ground and look out over the rest of LEGOLAND Discovery Centre. Beat everyone else and become the next Merlin's Apprentice.
Don't forget to visit MINILAND, where the city of Toronto and landmarks like the CN Tower are transformed into miniature replicas made out of millions of LEGO bricks. Also, children can learn building tricks and tips in workshop classes at the LEGO Master Builder Academy.
Head to the Café for food favorites like pizza, hot dogs, salads and other bites. And stop by the LEGOLAND Discovery Centre Shop to see close to 1,000 products, including all the latest LEGO building sets.
Adults must be accompanied by a child to enter.
September 2015
It was an AMAZING day. I went with 5 kids ages 14-5 and they ALL had a blast and so did I We spent about 6hours there!!! and the kids did not get board. Food was reasonably priced.
August 2015
it was a lot smaller then we thought.... Not enough for our money
The quality of their pictures were very very poor and the pictures were expensive
I recommend for children not teen
Special Offer
$19.56 Save $2.26
Advertisement
Advertisement