Savor desserts from around the world on this guided, 2-hour, small-group walking food tour of downtown Toronto's popular Kensington Market neighborhood. Learn about Toronto's fascinating food history. Roam the streets of this colorful, multicultural district, sampling Mexican churros, handmade chocolate truffles, Chinese egg tarts and more from six of the area's best vendors, stores and bakeries. All tasting fees are included. Reserve a spot on this tasty Toronto tour today.
Highlights
2-hour food tour of Downtown Toronto's Kensington Market
Explore the popular multicultural neighborhood by foot and visit six local stores, bakeries and vendors
Indulge in sweets from all over the world including churros, chocolates and Chinese pastries
Learn about Toronto's fascinating food history from your guide
All tastings included
Small-group tour limited to 10 people ensures a more personalized experience
Recent Photos of This Tour
What You Can Expect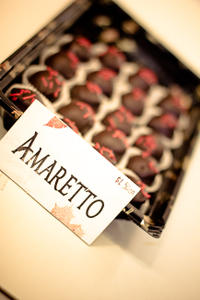 Begin this Toronto food tour at Ding Dong Pastries and Café for a taste test of egg tarts, then venture along into Kensington Market, a distinctively multicultural neighborhood in downtown Toronto and one of the city's oldest and most well-known regions. In fact, it has been designated as a National Historic Site of Canada.
Kensington Market evolved from a working-class Jewish market into a working-class bohemian market. With so many different immigrants settling here over the past century, there is now an ample variety of colors, sounds and flavors from all over the world. Witness the vintage shops, cafes, bakeries and bars, plus the plethora of bare brick walls that have been artfully covered with stunning graffiti murals and street art.
Visit six diverse stores, bakeries and vendors on this unique tour, from Akram's Shoppe, serving authentic Middle-Eastern food like baklava and halva, to the fun and quirky Blue Banana Market. Enjoy sweet treats from around the world, like Mexican churros and marshmallows, delicate handmade chocolate truffles and more.
Between stops, learn about the history and culture of food in Toronto and find out the little-known secrets behind the sweets we eat everyday.
June 2015
This is an awesome tour if you like sweets! It also is great for helping you to find amazing stores like Toronto Popcorn Company that you may not have discovered on your own. Well worth it!
September 2013
Our tour was led by a really lovely young girl called Phoebe. I liked her sense of humour. She wasn't to intense as a tour guide like a wannabe actor like some guides tend to be, she was chilled out.
GO HUNGRY!!!! You get a nice little amount of snacks on your way around. Although would have been nice to have a sample of something for us to take home.
As a part of toronto I really liked Kensigton Market. It's kinda like Camden, in London. Quirky stores, organic cheap food markets, multi cultural cafés etc. ithey don't allow any corporate shops there so everything's unique and family run. It's got graffiti everywhere and is quite run down but it's all part of the charm
I don't want to go through too many details as I liked not knowing what we were going to try next.
But the only thing I will say is that I would have liked to hear a bit more about the neighbourhood/Toronto than the history of chocolate.
It's a nice way to spend a chilled out afternoon.
Oh and also if you want to buy anything from the Bakery at the beginning buy it before as you end somewhere different.
September 2014
Interesting enough, but a tour isn't necessary. You can do the Kensington markers on your own.
Advertisement
Advertisement