Explore one of the Caribbean's most accessible and colorful coral reefs on a glass bottom boat tour from Trinidad and Tobago. Set out from Scarborough in Tobago and cruise the Caribbean to Buccoo Reef, known for its vast array of hard and soft corals and sea life. Marvel at the underwater world of green loggerhead turtles, endangered leatherbacks and giant manta rays—as well as exquisite reef formations—beneath you from the comfort of above. Afterward, stop at the island's popular 'Nylon Pool' for a swim in its shallow sandbar waters.
Highlights
Day trip to Buccoo Reef
Breathtaking scenic views and spectacular sights
Coral Gardens
Cruise on a glass bottom boat
Wide variety of fish, turtles and corals
Swimming in Nylon Pool
What You Can Expect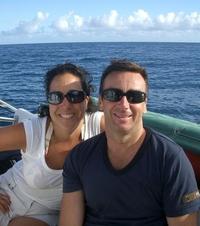 The island of tranquil Tobago, whose famous "Buccoo Reef" was visited by Jacques Cousteau, has many breathtaking views for photographic opportunities. Cousteau rated Tobago's Buccoo Reef as the number three spectacular sight to behold in the world.

Your tour begins from Scarborough with a drive along the Claude Noel Highway before entering "Buccoo Bay Beach Resort" where you will board a glass bottom boats, to the Coral Gardens and Buccoo Reef.

You will be treated to many species of fish life and natural formation of the reef. Buccoo is one of the major reefs easily accessible to non-swimmers. All the known hard corals and most of the soft ones can be found around Tobago as well as hundreds of different reef fish including the giant manta rays. Turtles species such as the endangered leatherback, the green loggerhead and the hawksbill all nest on beaches along Tobago's west coast.

After visiting the reef on the glass bottom boat, your tour continues to the "Nylon Pool", where you can disembark and swim on this sand bank, with water not exceeding 2.5 feet high.
March 2016

mikerichard USA
July 2015
While the reef tour itself was good, the Nylon Pool was by far the best part of the cruise! Our guides were very laid-back, helpful, and courteous. Would definitely recommend to anyone traveling to Tobago!

May 2015
March 2015
Great tour. Captain Jack really got into it and made it enjoyable. Weather made it a bit tough, but on the whole great.
February 2013
Great but only problem was that I did not receive any joining instructions. I only managed to find tour because a kind taxi driver took pity on me and made several phone calls for me.
August 2011
Excellent. Guide met us at pier head as promised. Unfortunately, sea was choppy with strong current, so snorkelling was limited. (Only strong swimmers). View from glass-bottomed boat was great.
December 2013
Ship was late letting us off because of immigration. When we got outside gates, no one waiting even though I rang the day before to confirm. Eventually we found a representative of Trinidad and Tobago Sightseeing Tours who then sorted out the transport because their man was stuck in traffic. The taxi who took us to the boat came and picked us up and returned us to the port. Boat ride was great with lots of information about the reef and fish. Drinks and nibbles were provided. However when we got back to port the head of the taxi group wanted me to pay for the taxi. After much heated discussion and his realisation I was not going to pay I left him to sort it out with Trinidad and Tobago Sightseeing.
Advertisement
Advertisement