Discover the charming Italian city of Turin on a hop-on hop-off sightseeing tour on a distinctive double-decker bus. From a panoramic top-deck vantage point, see all of Turin's spectacular sights while listening to informative audio-commentary. Cruise past landmarks like Parco del Valentino and Museo Scienze Natural and disembark whenever an attraction captures your attention. Enjoy a 24-hour validity period of your ticket and hop-on or hop-off the bus at nine conveniently located stops.
Highlights
Turin City Hop-on Hop-off Tour
Set your own itinerary, and explore Turin at your own pace
Full commentary provided as you see the city's top attractions
Hop on and off at nine stops around the city

See sights like the Museo Scienze Naturali and Parco del Valentino
Sightseeing pass valid for 24 hours from time of first use
What You Can Expect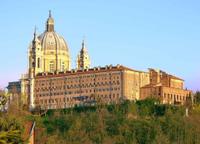 With your 24-hour sightseeing ticket in hand, head to one of nine conveniently located bus stops on either Route A or Route B and climb aboard a distinctive double-decker bus to begin your sightseeing tour. As you cruise past Turin's popular landmarks, listen to informative audio commentary that provides an objective picture of the city's rich history.
Hop-on and hop-off at any stop located along either Route A or Route B, each route of which have nine conveniently placed stops. Visit historical and cultural monuments like Plaza Castello, Mole Antonellina, Parco del Valentino and Piazza San Carlo.
Upgrade to enjoy a combination tour that allows you to explore both routes in the 24-hour validity period of your ticket. See all of the city's most prominent sights with this comprehensive combination tour.
Please see the Itinerary section for a full list of all of the stops serviced.
Itinerary
Turin City Hop-on Hop-off Tour
stops: Line A
Piazza Castello
Mole Antonellina
Villa della Regina
Monte dei Cappuccini
Borgo Medievale
Parco del Valentino
Via Roma
Parco Archeologico
Piazza San Carlo
Turin City Hop-on Hop-off Tour
stops: Line B

Piazza Castello
Museo Scienze Naturali
Parco del Valentino
Museo dell'Automobile
Pinacoteca Agnelli-Lingotto-Arco Olimpico
Stadio Olimpico e Palaolimpico
Officine Grandi Riparazioni
GAM - Corso Vittorio Emanuele II
Mastio della Cittadella
August 2012
An underrated city which we enjoyed very much. The bus tour provided a guide to the scope, historically and physically, of the city and provided much insight for first time visitors. Recommended.
November 2015
This gave us the opportunity to see some of the sights of Turin that were less central and allowed us to travel out of the rain. We'd have preferred the buses to run more frequently but thought the tour provided good value for money.
September 2015
Beautiful city and wish we could have spent more time here. Was a good way to get a glimpse

April 2015
the but was great, you get to see most of the important places in Torino and a chance to take pictures. Didnt hop off and on because 1 hour seemed too long. I would recommend this for anyone who wants to see Torino and doesnt have too much time.
October 2014
Used both routes. Stupingini Palace was a great view. So must do the second route also. First route however had more hop on hop off to do.

March 2014
Again problems with Russian language which was really bad but English is great again

Katherine R New Zealand
September 2013
This tour was a fantastic idea and i am so pleased I decided to do it. It gave a very good knowledge of where everything was so you could choose where you wanted to visit. It also gave me a great idea of the layout of beautiful Turin so I could wander around on my own time after the tour. I highly recommend!

September 2013
Great orientation to the city and its many historic attractions.
November 2012
Very interesting good commentary
November 2015
This is a good tour to get a general layout and brief history of the city. The buses run three separate routes. Our tour included two of the routes. One route was shorter and stayed near the central area of the city. The other route took us near the city perimeter, and to the outskirts to drive by a large mansion. The bus routes run on the hour. Every 30 minutes would have been better. We really enjoyed the city. It has wonderful architecture and culture. It's apparent the city is in the midst of a revitalization effort. A great mix of new verses old made the trip worthwhile.
Advertisement
Advertisement