If you want to be captured by a secret Turin you can take part in a guided tour of underground Turin. Beneath the hectic and bustling city of Turin lies another mysterious and unknown world where time seems to stand still. Fifteen meters below the city, the tunnels of the citadel and the sub-cellars of the Baroque palaces are waiting to let you discover their mysteries, on sites of ancient murders which have never been solved.
Highlights
Evening tour of Turin

Delve 50 feet (15 meters) below the city

Explore Turin's underground tunnels

Visit air-raid shelters and sub-cellars of Baroque palaces

Great tour for history buffs!
What You Can Expect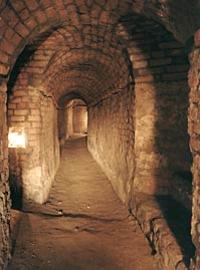 The journey goes down into an air-raid shelter and includes the Royal ice depots of Porta Palazzo. Just another way to show you an unusual and exciting historical aspect of our city!
May 2010
It was great having a guide that really spoke English. Most tours have guides that think they speak English but we can not understand them. The tour was great. They really know what they are doing and we learned a lot about the city and its history. Definitely a great tour.
May 2010
our tour guide was outstanding
November 2012
The Tour Guide was super nice and friendly, chatted away the whole time, gave us lots of tips and recommendations for what we could do in the city even outside of the tour and took lots of trouble to explain even small things. it was a very enjoyable experience! But a bit expensive for students!!!
March 2011
Very interesting, excellent English speaking guide - would recommend it to anyone who wants to see a different side to this city
August 2014
Our trip was shared between Italian speakers and English speakers, It was difficult to hear our guide through the ear piece as the Italian guide was using the coach's load speaker system. When the English tour at the tunnels finished we had to sit on the bus for ages as the Italian tour (supposedly identical to ours) was more detailed and took longer. Never the less the tunnels were interesting.
August 2011
Excellent English speaking guide who told a good story and kept us engaged. The transport and organisation was fine too. BUT! The tour itself is arguably not worth it as you can see two of the four sites elsewhere for cheaper: the Pietro Micca museum (excellent); and the small ice deposits are substantially available to view in a carpark near the central market. The underground church is of minor interest (and the special performance there is only relevant to Italian speakers) and the air raid shelter is just a room, though unavailable elsewhere and representing just 30 minutes of the entire tour. Go for the story from the engaging guide, but the sights seen are not worth the price. Further, our tour started at 20:00, which meant it was very difficult to arrange dinner in an Italian city as most restaurants do not open until 19:30. A 20:30 or 21:00 start would certainly make eating arrangements easier.
Advertisement
Advertisement