Get underneath the skin of Turin with this guided tour of underground Turin. The capital of Piedmont is a city that has long been shrouded in mystery. From the occult to black magic, Turin has long been known as a mysterious place. And now you can literally go underground to explore the tunnels that run beneath the ancient palaces and churches and hear stories of unsolved murders and ghostly intrigue.
Highlights
Evening tour of Turin

Delve 50 feet (15 meters) below the city

Explore Turin's underground tunnels

Visit air-raid shelters and sub-cellars of Baroque palaces

Great tour for history buffs!
What You Can Expect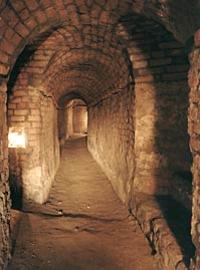 Go underneath Turin, or, as the Italians call it, Torino. Uncover the mysteries of this city which has long been associated with the occult, black magic and even Satanism. In the city that holds the Holy Shroud, it's important to get a sense of Turin's shady side: Perambulate the tunnels that run under the city, listening to your guide regale you with tales of unsolved murders and occultist intrigue. Visit an air-radi shelter as well as the royal ice depots of Porta Palazzo.
Advertisement
Advertisement