Explore the rich artistic heritage of Ubud, including painting, wood carving, crafts and architecture, during this 7-hour tour. Join a guide on this investigation of an area frequently known as Bali's cultural heartland, stopping in several highlights in Ubud along with its surrounding area. Admire Balinese-style woodcarvings and paintings at Puri Lukisan Museum, before visiting Ubud's royal residence at Puri Saren Ubud. Then check out handicrafts at the Ubud traditional market and discover Petulu Village, famous for its white herons. This art-themed Ubud tour also includes round-trip transport from your hotel and entrance fees.
Highlights
Full-day Ubud tour of cultural arts and nature
Tour the Puri Lukisan Museum and Ubud Palace with a professional local guide
Admire Balinese arts and crafts at the Ubud traditional art market
Visit nearby Petulu Village to see the herons that nest in the trees
Hotel pickup and drop-off included
What You Can Expect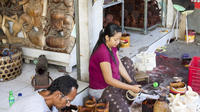 Take a deep dive into the artistic traditions of Bali as you explore the artisans and markets around the city of Ubud. Admire some of this island's most impressive artistic traditions as you explore its diverse output of woodcarvings, paintings, architecture and more.
Begin your artistic trip in Ubud with pickup from your hotel at 1pm. Please note that some pickups will commence before this time. Continue your trip with your guide, driving towards Central Ubud. Take a break on the way to admire some traditional Balinese houses, a unique architectural style that has inspired countless designers around the world.
Reach the Puri Lukisan Museum, exploring its various exhibits on famous Balinese sculptors and painters. You'll also learn about Bali's wayang-style painting technique, a method that constituted the majority of the island's output prior to the 1920s. Check out works by contemporary Ubud artists, and then see examples of traditional artistic styles such as Batuan (typical of Brahman artists) and Sanur, which uses a highly-stylized technique to depict various animals.
Head next to Puri Saren Ubud, the former residence of Bali's last monarch. Explore the intricate architectural style of the compound's traditional buildings, then proceed across the street to Ubud's art market, to find a few bargains on a wide range of Balinese paintings and wood carvings, spanning both new and old styles.
Leave central Ubud behind as you continue to Bali's lush countryside, where you'll make a stop in Petulu Village. Gaze at the village's community of gorgeous white herons (kokokan) who have called the area home since 1965. You'll see literally thousands of the birds nesting in the trees during the months of October through March, when their chicks hatch. Then make a return trip back to Ubud for drop-off at your hotel.
December 2015
I highly recommend this tour. The temple is beautiful. Most of all this tour explains the history and culture of Bali. The paintings of the local Ubod artists took our breath away. We did not go home without bringing 4 pieces paintings. Weda our guide is a very good guide. He is knowledgeable of the messages he wants to impart. Most of all he has good manners and right conduct.
December 2014
Really enjoyed the tour. The guides were helpful and made it an extra special day for me. Lovely!

May 2014
Great guide. Got a great sense of the culture
June 2015
This was a good tour but be careful of tour guide bothering you to do private tours with them.

March 2016
I wouldn't recommend this tour, it's not a good value for the price. One would be better off getting a driver from the hotel who will take you to the most interesting parts, instead of so called galleries where you are expected to make a purchase.
April 2015
The tour was pretty basic. It was actually boring and we could go to the uBud palace and puri lukisan museum by ourselves. Our guide explained some things but it was not enough to make it interesting and worthwhile.
Advertisement
Advertisement