Discover the mountains and lakes of Patagonia on this full-day tour of Lake Fagnano and Lake Escondido from Ushuaia. Visit the southernmost corner of Argentina and learn about the history, geology and wildlife of this stunning area in the Feugian Andes. Follow the narrative of your guide as you enjoy this comfortable coach tour that includes hotel pickup and drop-off.
Highlights
Full-day tour to Lake Escondido and Lake Fagnano from Ushuaia

Enjoy breathtaking views of Southern Patagonia

Local guide and round-trip hotel transportation included

Recent Photos of This Tour
Full-Day Tour to Lake Fagnano and Lake Escondido
What You Can Expect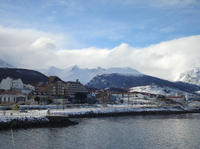 Meet your local guide at your hotel in Ushuaia, then board the coach for your full-day trip into Patagonia's stunning scenery. Pass the peat bogs of the southernmost Feugian Andes as you learn about the geology, history and wildlife in the region. Explore several valleys, including the Huskies, Carbajal, Las Cotorras and Carbajal.
Cross over the Andes through Garibaldi Pass at an altitude of 1,476 feet (450 meters) where you will glimpse your first views of Lake Fagnano and Lake Escondido. As the coach descends into the valley toward the glassy lakes, enjoy the fantastic alpine scenery.
Visit Lake Fagnano's defunct Martinez Sawmill, which provides insight into local history and how the area's residents once lived their lives. After strolling around the lake and enjoying the views, re-board the bus bound for Las Cotorras Valley, where you will have the opportunity to indulge in an authentic Feugian lamb feast (own expense).
Your full-day tour of the lakes of the Feugian Andes finishes with drop-off at your Ushuaia hotel.
April 2014
Excellent trip - beautiful lakes / mountains etc. Visit to see some huskies…………..where lunch stop was = really delicious!!! Excellent tour guide…………everyone spanish speaking except my friend + I - it was like having a private guide - great - learnt lots!
March 2015
An excellent tour - very good guide with plenty of stops to break the journey. Good Value.

March 2015
Tour guide was a little impersonal. The scenery was stunning but perhaps it'd be better to hire a care and do the drive all you need to do is follow highway 3, which is the main road, north of town and you're there. And you can make your own stops along the way. I was a solo traveller on a tour with no one I had anything in common with, so perhaps my opinion is a little jaded by that. Either way, whether you do this tour through Viator, or hire a car and head to the lake by yourself, the scenery is worth it.
January 2013
I wish I could walk around more.
February 2015
The area is absolutely beautiful, but the tour was only ok. There really is no walking around. The positives were the scenery and a nice stop for lunch. The negatives included the tour guide only summarizing the information in English and not offering a hotel drop off (although the guide was nice and paid for my cab to my hotel).
Advertisement
Advertisement