Enjoy the many attractions of Victoria, the charming capital of British Columbia, during this 2-day overnight tour from Vancouver. Take an included ferry ride to Vancouver Island, enjoying the scenery and spotting for whales on the way. Then enjoy included admission to Butchart Gardens and a short sightseeing tour before checking into a 4-star hotel in central Victoria. You'll have the next 24 hours to spend as you wish before heading back to Vancouver on a scenic float plane ride. Your Victoria excursion also includes round-trip hotel transport from Vancouver, one night of accommodations.
Highlights
Overnight tour to Victoria from Vancouver

Spend the afternoon exploring the stunning Butchart Gardens

Enjoy a 90-min ferry ride through the Gulf Island - keep your eyes open for whales!

Take a scenic float plane ride back to Vancouver

Round-trip transportation from Vancouver to Victoria

Recent Photos of This Tour
2-Day Victoria and Butchart Gardens Tour with Overnight at the Inn at Laurel Point
What You Can Expect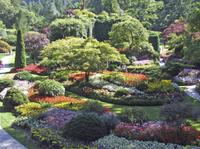 Experience the delights of Victoria, the capital of British Columbia that combines small-town charm with big-city attractions, on this 2-day overnight trip. This relatively quiet city packs in more museums, history, restaurants and shops than many urban areas twice its size.
Begin your trip with a morning pickup from your Vancouver hotel, choosing from between two departure times, proceeding to the Tsawwassen ferry terminal where you'll board your ship for the 90-minute ride to Vancouver Island. Enjoy a laid back ride past the scenic Gulf Islands, keeping alert for whales, which are known to frequent the waters of the area. Whale sighting or no, you're sure to enjoy the incredible scenery of this beautiful crossing.
Spend the start of your time in Victoria with an included visit to the lush Butchart Gardens, a 55 acre (22 hectare) nature sanctuary that harbors a wealth of plant life. Snap some photos before boarding your coach for a short sightseeing trip through the city. Around 3:30pm you'll be dropped off at your included 4-star hotel, the Inn at Laurel Point, which has received high marks from Condé Nast Traveler for several years running.
You'll then have the next 24 hours to spend as you wish. Take a short stroll downtown, check out the capital's Parliament Buildings, Beacon Hill Park, the Inner Harbor, or any of the town's charming range of shopping, eateries or museums. You can also grab food back at your hotel's restaurant, Aura, offering fantastic views of the city and its Inner Harbor.
Continue your exploration the next day, using your included taxi voucher to return to Victoria's seaplane terminal for the flight back to Vancouver and drop-off back at your hotel in Vancouver.
September 2015
excellent trip, well coordinated wish I had more time there
October 2014
This was a great tour, starting with afriendly, informative tour guide, Mike. He guided us from the ferry to Buchart Gardens in the sunshine, and dropped us at our comfortable hotel.
We had time during the next day to look round Victoria and themagnificent BC Museum before an unforgettable float plane ride back to Vancouver.
Everything had gone smoothly until then, but we were then met by the shuttle who refused to take us back to our hotel, and rather than be abandoned in an underground carpark, we had to agree to be dropped at the taxi rank. What a pity tnat the final stage should be so disappointing.
October 2014
Absolutely spectacular. The one day tour could not possibly be enough to see all Victoria has to offer. A lovely drive to catch the ferry to Vancouver Island. Mike, our guide, was brilliant giving us non stop information and history of the area without ever sounding dry or tedious! Saw seals and a whale from the ferry. We had a good 2hrs at Butchart Gardens then on to Victoria. Accommodation at Laurel Point was centrally located and comfortable. Flew out of Victoria Harbour at 6pm next day on a twin engine float plane. Smooth flight. Highly recommended!
September 2014
Had a wonderful time. The Butchart Gardens were magnificent. Met some lovely people. Craigdarroch Castle was amazing. Everything was so well organised. Thank you.
August 2014
We loved this tour. It would have been nice to have 3 hours in the Butchart Gardens rather than only two as one of us has hip/knee problems and walks rather slow. But the Gardens were so beautiful. The drive around Victoria with the tour guide giving history was great. We learned a lot. The Inn at Laurel Point has a lovely view, and is a lovely place. The staff are so friendly and helpful. We were glad we stayed overnight because next day we had a horse and carriage ride, we walked through Chinatown, and we went through the Robert Bateman Museum which is a must see if you like wildlife. We were booked to take the float plane back to Vancouver, and somehow our driver forgot to pick us up at the Inn. But Haydee got on the phone, and within 30 minutes everything was straightened out; a cab picked us up, and free of charge took us to the place where the float planes leave, there we were already booked on the next flight and everyone was so cheerful and helpful about getting us on this floatplane. We loved the flight across; seeing where the people lived on the islands, and the trails going to their house, and their boats used for transportation. This is one awesome tour, and it was almost worth being forgotten just to find out how fast and seamlessly the problem can be sorted out. I already had a sincere apology on my iPad before I returned to my temporary home at White Rock. I would love to do this tour again.
July 2014
Fabulous driver Andy, wonderful tour and destination. Only problem was that our hotel room booking was made for the incorrect night so we ended up in a crummy room (with no view as promised), lucky it was only for one night!
June 2014
Everything went well. We enjoyed our trip. For me I knew the float plane would be a little scary. I would have liked the option of using the ferry back also. It was raining so the view was not as good as a sunny day would be. The hotel and restaurant were lovely. The walk way to downtown was great. The tour was a little pricey, but the convenience of having everything go well was worth it.
October 2013
This was an awesome experience!!! So worth the money!!! The room I got had a gorgeous view!!! I would do it all over again!!!! Beautiful!!!
August 2013
My visit to Victoria included one night in Victoria. A lot of my fellow travellers were doing a day trip from Vancouver. I can't imagine that the day trip could do justice to this beautiful city and island. Starting with Butchart Gardens set the tone for this trip. The gardens are staggeringly beautiful. The tour around Victoria revealed a city that hasn't changed as much as Vancouver and which retains some old world charm. It was fun to watch the comings and goings of boats and float planes in the inner harbour. The atmosphere in Victoria seemed slower and less frenetic than Vancouver. The overnight stay was at the Inn at Laurel Point which also did not disappoint in any way. My return trip to Vancouver was via float plane which was in itself really amazing. Again, the local tour company provided a tour guide and driver that really enhanced the experience of this trip. This trip has it all - ferry ride through the Gulf Islands, Butchart Garden tour, Victoria tour, nice overnight and float plane back to Van. What's not to enjoy?
July 2013
I was very impressed with the entire trip. It was very well organized, the accommodations you chose were wonderful, our driver was courteous, friendly and knowledgeable. My mother and I had a wonderful time, thanks to your professional handling of our trip!
Advertisement
Advertisement