Tour between a day of city sightseeing and nature excursions? Do it all on this full-day tour of Victoria! From Vancouver, cruise the Strait of Georgia for some epic whale-watching, take a self-guided tour of Victoria and soak up the perfumed beauty of Butchart Gardens! At the end of your full day, relax and take in stunning coastal mountain views as you cruise back to Vancouver at dusk.
Highlights
Ultimate day trip from Vancouver
Spot marine life on an exciting whale-watching cruise
Enjoy commentary about the region's wildlife from your naturalist guide
Create your own itinerary to sightsee around Victoria independently
Explore Victoria's world-famous Butchart Gardens at your own pace
Relax on a scenic sunset cruise back to Vancouver
Recent Photos of This Tour
Best of Victoria Tour: Whale Watching, Butchart Gardens and Sunset Cruise from Vancouver
What You Can Expect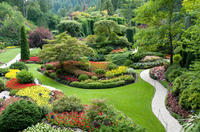 Your action-packed day begins at the Westin Bayshore Hotel in Vancouver. Make your own way there in the morning, meet your naturalist guide and board the 60-foot (18-meter) boat for an exciting wildlife-spotting expedition. Aside from magnificent orcas and humpback whales, you may also see seals, sea lions and sea otters.
Leave behind Vancouver's bustling harbor for the dramatic beauty of the Straight of Georgia. You'll have nearly four hours to soak up stunning views of the Gulf Islands, snow-capped mountains and verdant coastline before landing in Victoria's Inner Harbour. From there, you'll have the afternoon to explore British Columbia's capital!
Perhaps start with a self-guided tour of the city, exploring Victoria's central neighborhoods and parks, browsing independent boutiques, and visiting landmarks like the Royal British Columbia Museum. When you're ready, hop aboard the complimentary scheduled shuttle from downtown to the world-famous Butchart Gardens — a National Historic Site of Canada. Take a couple of hours to explore flower-lined paths, discover the many themed gardens and admire the remarkable landscaping. Pop into one of the garden cafes for a cup of tea or lunch (own expense).
After your tour, head to the garden's private dock for your sunset cruise to Vancouver.
Itinerary
7:30 Check in at the Vancouver office
8:30 Salish Sea Dream departs Coal Harbour
12:30 Arrival in Victoria's Inner Harbour
12:30 – 14:30 Time to explore Victoria and to catch a shuttle bus to The Butchart Gardens
(customizable based on the shuttle time chosen)
14:30 – 16:30 Time to explore The Butchart Gardens (customizable based on the shuttle time chosen)
16:15 Meet at the dock in Butchart Cove
(located at The Butchart Gardens near the Japanese Gardens)
16:30 Salish Sea Dream departs Butchart Cove
19:00 Salish Sea Dream arrives in Vancouver at the Westin Bayshore docks in Coal Harbour

*Flexible guided shuttle options depart downtown Victoria at 1pm, 2pm and 3pm to the Butchart Gardens
December 2015
This was an fantastic tour. We were on the last tour of the season and the weather was not co-operating but our captain and crew did an outstanding job. We did see multiple whales and got some great pictures. We would definitely do this tour again.
September 2015
Excellent trip. I would give it 6 stars if I could.
Pros: Abundant wildlife bald eagles, killer whales, humpback whales, whale watching tour guides were experts, Victoria is an excellent destination, bus tour operator to Butchart was friendly and informative, the Butchart Gardens are gorgeous.
Cons: Difficult to balance time between Victoria and Butchart Gardens an additional half-hour in each would have been great the morning check-in process could be a little more efficient
August 2015
Outstanding tour experience from scheduling to actual trip. Professionally done all the way through the hole experience. Will highly recommend to friends and family members.
JOHN S USA
August 2015
Let me tell you, just getting to go on this tour was an adventure in itself. Knowing what I know now I would not book this through Viator but would instead go directly to Prince of Whales to book this tour. We arrived on Friday morning and planned to take this on Saturday morning, not being familiar with the area we decided to walk to the hotel mentioned in the brochure to see how long it would take us to get there from where we stayed. Glad we did. We had booked through Viator a good 4 months prior because we really wanted to do this tour, we even received daily reminders as the trip got closer that we need to remember our voucher. Yet we got to the place only to discover that Viator never made the reservations and the tour that day was full. This could've totally destroyed the Vancouver part of the trip as we were looking forward to the whale watching and seeing the gardens which was why we booked so far in advance. The staff of Prince of Whales was very apologetic and helpful and at least fortunately were able to get us on a boat the following day which still worked out okay for us. We saw a lot of Orcas and got some great pictures, the gardens were beautiful, my recommendation would be that as soon as you are done with the whales go directly to the gardens as there is a lot to see and you really won't want to miss it. The people on Prince of Whales were outstanding and showed us a great time. We ran into a problem at the end as the boat meant to take us back to Vancouver had mechanical problems and was too damaged to take us back, but the owner of the company came out to meet us and ensure us that he would take care of us. He got us on a bus which then got on the ferry to Vancouver. He even paid for all of us to have the dinner buffet on him for the trouble we had gone through. It is nice to see someone back up their company. Wish Viator would've have done that. Highly, highly recommend doing this tour.
August 2015
Fantastic day. The crew are brilliant and very informative. We saw lots of whales on the trip out and on our return which was an added bonus. Victoria and Butchart Gardens are very beautiful places which made the day even more memorable.
July 2015
Entire trip was excellent. Naturalist on board was very informative. We DID see whales as we were approaching Victoria. So majestic - so beautiful. Besides choppy seas of which we were forewarned it was an excellent trip. We will have to go back to the Butchart Gardens - too much to see - needed more time. The entire layout was well planned except for needing more time to see all the lovely locations. Highly recommend this trip.
June 2015
AWESOME!! Well worth the cost of the tour. Although the boat ride out was cold not their fault, they offered us warm raincoats and blankets and inside seating we chose to sit on the back deck and watch the scenery. We saw seals and whales on our way to Victoria, and otters and seals when they picked us up from the Gardens to return to Vancouver. We enjoyed seeing and shopping in Victoria and had a nice lunch there at a restaurant the naturalist suggested to us. At the end of the day we were tired, but very happy.
October 2014
We had a wonderful time. The naturalist was enthusiastic and extremely knowledgable. She made sure to spend time with every guest. The boat got close enough for photos but not so close that it interfered with the wildlife.
October 2014
The tour was everything you promised, including brilliant weather. Followed a pod of killer whales for at least 40 minutes. Would highly recommend your tour.
Ramony O United States of ...
August 2014
Advertisement
Advertisement