Immerse yourself in nature's splendor minutes from downtown Vancouver. History meets the great outdoors at the Capilano Suspension Bridge Park, where you'll wander through the stunning temperate rainforest of British Columbia. Soar over the Capilano River as you cross the suspension bridge, climb through old growth fir trees on the Treetops Adventure, and rise high above the canyon along a towering wall of granite on the new Cliffwalk.
Highlights
Walk across the magnificent Capilano Suspension Bridge

Try out the new Cliffwalk and have unobstructed views of the canyon

Explore the temperate rainforest through the eyes of a squirrel on the Treetops Adventure

Take a complimentary guided history or nature walk

Just minutes outside of downtown Vancouver and great fun for the whole family!

Free shuttle between downtown Vancouver and Capilano Suspension Bridge

Recent Photos of This Tour
Capilano Suspension Bridge Admission
What You Can Expect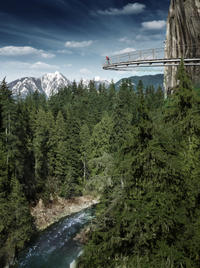 Nature and history abound at the 27- acre Capilano Suspension Bridge Park, just minutes from the bustle of downtown Vancouver. Set within the unique environment of British Columbia's cedar-scented rainforest, the Capilano Suspension Bridge, Treetops Adventure, and brand new Cliffwalk allow you to delve into nature's beauty while kicking up the adrenaline.
Originally built in 1889, the 450 foot long Capilano Suspension Bridge soars 230 feet above the Capilano River and is your gateway to the forest beyond. Take your time crossing this magnificent structure while enjoying the spectacular view of the canyon and river below.
Upon reaching the other side you'll discover the Treetops Adventure, a series of seven interconnected suspension bridges that travel high above the forest floor through the lush evergreen foliage of towering Douglas firs. Viewing platforms nestled into the tree canopy give you a squirrel's eye view of a thriving coastal forest.
But for a real thrill, the awe-inspiring Cliffwalk is not to be missed. New for 2011, this amazing walkway juts out from the granite cliff of Capilano Canyon and takes guests to areas of the park that were previously unexplored. High and narrow, Cliffwalk is not for the feint of heart. A series of cantilevered, suspended walkways hug the face of the cliff and in some sections, a path of glass is all that separates you from the canyon below.
Beyond these main activities, there are plenty of ways to explore the rich history and unique ecosystem of the park. Interactive displays and informative panels offer insight into the forest's ecology with fun facts and identification clues. Guided history tours are offered hourly and are a great way to learn about the park's colorful past. A stroll through majestic evergreens and past tranquil ponds with one of the park's naturalists is a fantastic way to learn about the flora and fauna of the old growth rainforest and discovery the mysteries of this unique Vancouver environment.
Itinerary
Free Shuttle

to and from downtown VancouverOct 1 to April 30
: 5 shuttles per day with pickups at 9am,10am,11am, 12pm and 1pm
May 1 to Sept 30:
25 shuttles per day with pickups from 9am to 4pm - 15 minute departure frequency
Shuttle pickup locations:
1.Canada Place, 2.Hyatt Regency, 3.Blue Horizon Hotel, 4.Westin Bayshore
No reservations are needed,

May 2016
Fun and scary experience I'm afraid of heights
Overall interesting walk.
May 2016
Maravilhoso esse passeio!
May 2016
Absolutely amazing!! This is a Must Do----if you are NOT afraid of heights and are physically able to handle lots of walking. This park has been beautifully preserved.
November 2015
This is well worth the money and we loved Vancouver.
November 2015

November 2015
It was so worth the experience and definitely worth the trip not matter how touristy others say it is! Truly amazing! We even went outside the park up the street to take a trail down to the river. Such an unforgettable moment!
October 2015
Saw and participated in all activities and they were great fun and adventurous! The weather was sunny so the area was beautiful to behold.

Debra H USA
October 2015
Perfect!! We loved having the freedom to explore on our own with no time limits! Beautiful!!!
October 2015
the tour was amazing, and highly recommend it, you will not believe your eyes!
October 2015
Enjoyed. Viator offered the best price of this trip I could find and we did not have to stand in line when we got to Capilano. We walked right in after our vouchers were checked. Very impressive tourist attraction. Civil Engineers would love this place.
Advertisement
Advertisement