Discover the rich traditions and flavors of Fraser Valley wine country on a private wine-tasting tour from Vancouver. With your select group of fellow wine enthusiasts, spend a full day visiting five distinguished wine estates in the British Columbia territory to sample and learn about local varietals. Your excursion includes fascinating estate tours, a gourmet lunch and educational tasting sessions in a breathtaking natural setting.

Highlights
8-hour private wine-tasting day trip from Vancouver
Visit five boutiques wineries in the Fraser Valley winemaking region
Sample wine during tasting sessions with your guide
Savor a gourmet 3-course lunch at Domaine de Chaberton Estate Winery
Small-group format ensures a personalized experience
Tour includes round-trip travel from your hotel in Vancouver
What You Can Expect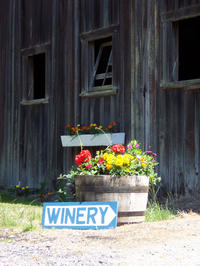 After a late morning pickup from your Vancouver hotel or cruise ship, you will take a leisurely drive out of the city to reach Fraser Valley, where you will have the opportunity to stop at 5 different wineries and enjoy complimentary tastings. This is a private tour, so you will not be hurried from stop to stop and your pace will be decided by your group. Your knowledgeable, professional guide will provide illuminating commentary as you enjoy the scenic drive through the wine country.
Upon arrival at your lunch stop at the award-winning Domaine de Chaberton Estate Winery, you will be treated to a gourmet three-course menu featuring local produce including British Columbia wild salmon. You may also tour the vast 55-acre property before continuing to the next winery.
You may customize this tour to fit your needs, by stopping at as few or as many of the following wineries:
Wellbrook Winery: This winery has a turn-of-the-century feel with 'The Old Grainery Store', which was restored by devoted owner Terry Bremner and features fruit wines made from strawberries, cranberries and blackberries
Township 7 Vineyards: This boutique winery is committed to creating exceptionally complex, well-balanced wines
Domaine de Chaberton Estate Winery: A 55-acre property taking advantage of a unique local micro climate to produce award winning 'cool climate' white wine
Neck of the Woods Winery - an organic winery, undergoing expansion and featuring a fine Pinot Noir
The Fort Wine Company: This charming, award-winning winery produces heritage-style table and dessert wines
Following the conclusion of your tour, your driver will happily drop you off at the airport, hotel or cruise ship of your preference, or even recommend a local restaurant for dinner. A delightful day of wine tasting in British Columbia awaits!
Itinerary
Sample gourmet lunch menu:

Appetizers
Soup de Jour
Mesclun Salad - mixed greens, grainy mustard and sherry vinaigrette
Salade de Bacchus - thin slice of smoked salmon with mixed greens and remoulade sauce

Entrees
Quiche du jour - served with salad
Baked Spring Salmon - served with sauteed vegetables and sauce vierge
Farmhouse Chicken 'a la Ail' - braised chicken with white wine, roasted garlic and cream
Boeuf Bourguignon - braised beef in Chaberton Rouge with pearl onions, bacon and mushrooms

Dessert
Chocolate Mousse
Praline Croustillant

Tea or Coffee
(Alcoholic Beverages available but not included with lunch)
October 2014
The tour was fantastic. Through Viator, Wild BC Tours's driver (Jose) picked 3 of us in a white Cadillac limo at our hotel. Jose was very professional and helpful. Jose took us to two wineries (Wellbrook Winery and Township 7) and at the third winery (Backyard Vineyards), Jose ordered for us appetizers complimenting the wines. Then, since the Domaine de Chaberton Estate Winery was closed on Tuesday (our tour day), Jose suggested that we would have lunch on the coast and took us to a restaurant in White Rock, BC, where we had a delicious lunch looking over the sea. On the way back to Vancouver to our hotel, Jose took us to Lulu Island Winery where we met the owner who provided us with at least nine different kinds of wine, including icewine which we have not tasted before and have no knowledge of how the icewine is made. Thank you again Jose, Wild BC Tours, and Viator for such a memorable experience.
July 2014
We visited 7 wineries. Our tour guide/driver was very good. My only complain is that some wineries did not offer any little snacks (crackers, etc) I do not drink if I do not eat something. I had to buy a box of crackers at the first place we stopped.
September 2011
It was a lovely sunny day and a great day out, Chuck was a great driver and new his stuff. The meal was about half way round the trip and the setting, location and food was excellent, the wine wasn't bad either.
July 2011
It was great! The tour guides were friendly and knowledgeable. Would definitely book with them again.
June 2011
Very , Very happy with Charles he made us feel at ease from the start and his knowledge of the sites he took us was great. We would use Viator again.
June 2011
Chuck the driver was great! so was the limo fleet, and treated like a queen!Tour stop was great, nice people, great wine, lunch was superb, and I have eaten in many great restaurants. Chuck had a wealth of knowledge and a great host
September 2014
We had a stretch limo and private driver for the two of us. Lunch was delicious and quite gourmet. We went to four wineries but passed on the fifth. Our driver, Steven, grew up in the area and took us to places the "locals" go. We saw White Rock beach with lines of fish and chips restaurants, a local hangout. Then he took us to Elizabeth Park which is a small version of Butchart Gardens. A very enjoyable day!
July 2013
I had obviously not read the advertising material well enough. I had expected a bus tour and we were surprised when we met our liimousine and our own guide - Chuck. We met our objective this day of seeing more of the country outside Vancouver city and incidentally visiting some of the local vineyards. Chuck changed his planned itenerary to cater for our interests. The guide was able to answer our many questions on life in British Columbia. A lovely relaxing day out in the country with wonderful hosts.
October 2015
The day was enjoyable. It could be improved by a guide who was more familiar with the wine region.
September 2013
We assumed that our private "limo" tour would be in a limo with the back all to ourselves like most limos. Instead we had a white 1995 limo with blue leather bench seats with 4 seperate doors so my wife and I sat in the middle seat and our friends in the back and the driver directly in front of us like our dad driving us around. Not exactly what we had planned - when booking the trip I didn't think I had to ask if we would have a decent limo or not. This would be something you should disclose to your customers. We were hoping to be able to have a nice conversation and maybe share a glass of wine together but this was not possible with our friends directly behind us and the windows untinted.
Advertisement
Advertisement