Discover the natural wonders of Vancouver and Victoria an exhilarating whale-watching excursion! Delight in lovely aerial views on the 35-minute crossing of the Strait of Georgia by seaplane — the most eco-friendly transport to Victoria. From the island capital, set off on an exciting 3-hour cruise through Haro Strait, native home to orcas (killer whales), sea lions and seals, followed by a return flight to the mainland.

Highlights
Whale-watching cruise and seaplane flight from Vancouver to Victoria
35-minute flight across the Strait of Georgia, from the mainland to Vancouver Island
Whale-watching cruise to spot orcas (killer whales) on Haro Straita
Small-group tour limited to 14 passengers, ensuring personalized service
Carbon offset levy and taxes included
Recent Photos of This Tour
Seaplane Flight to Victoria and Whale-Watching Cruise
What You Can Expect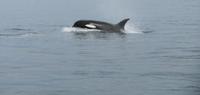 Kick off your oceanic adventure from Canada Place in downtown Vancouver. Choose your departure time (please see flight-time options on Important Info page), meet your pilot and board the seaplane for a thrilling water take-off.
Leave behind Vancouver's bustling harbor for the dramatic beauty of the Straight of Georgia. You'll have 35 minutes to soak up great aerial views of snow-capped mountains and verdant coastline before landing in Victoria. From there, you'll board an open-topped Zodiac or covered Ocean Cruiser (please make your boat selection at time of purchase) for the 3-hour whale-watching cruise.
Set off into Haro Strait, an area flush with salmon — so a natural attraction for orcas during migration! Spot whale pods, as well as seals, sea lions, sea otters and more. Throughout your ride, your professional guide will share fascinating facts about the resident marine life, and explain the area's unique oceanic ecosystem.
After your cruise, choose to head directly back to the mainland by seaplane, or stay in Victoria to visit great attractions like the Butchart Gardens or the Empress Hotel, known for its fabulous traditional English tea service. Please check with your guide for the last flight time of the day.
This tour is seasonal, operating from March to October.
October 2015
Seaplane ride was fantastic. The whale watching was the hit of the day. We saw Orca's from two different pods, and on the way back they showed us over one hundred seals laying in the rocks of one of the bays. The naturalist on the whale cruise was personable and knowledgeable. He answered questions one-on-one, and really knew his subject matter.
August 2015
I surprised my wife with a Journey that upheld everything and more.
Firstly the Staff at the seaplane terminal were impeccable and they also allowed us earlier flight due to availability. The flight over to Victoria faultless. Victoria Spectacular only wish we had of organised an overnight stay.
Whale watching Breath taking and the staff again were The Best. Thank you Corey for the passion of your job it is infectious.
Thank you again for a wonderful memory never to be forgotten.
Helen and Rod
August 2015
Loved it - all went seamlessly , just make sure you contact Harbour air early and carry a photo ID ...
But overall 5 Star, would recommend to anyone who wants to go whale watching and if you do get the chance grab the co-pilots seat often offered to passengers on full flights
August 2015
Incredible experience....We were late getting to the plane but were able to take the next flight and meet our whale watch group on time. The whales were out and about and our guide Brad was extremely knowledgeable and friendly. I would definitely use this site to book in the future.
August 2015
We had our 6 year old with us and went in the open cruise. Just that in itself was exhilarating, my son saying it was the best ride he's ever been on and giggled the whole way. Then seeing the beautiful Orcas was totally amazing. We also saw an eagle, some turkey vultures and some seals too.
September 2014
This was one of the best excursions that we have ever done. I was lucky enough to be asked by the pilot to sit in the co-pilot seat which was awesome. When we landed we got the boat from Victoria and saw many Whales. A truly wonderful experience that my wife and I will never forget.
July 2014
This is a must do. Go early so you can spend the day on Vancouver Island. What an experience watching the boats in and out of the harbour and even the whales as they come up for air. Landing on water is such an incredible experience thanks for arranging things for us well worth the money spent
June 2014
We loved every minute and can't wait to come back.
December 2013
That was a great trip!! We had a great tour staff for the whale watching which was very knowledgeable and guided us very well. We saw Orcas, Mink Whales and Porpoises - we well spent day!
August 2013
We had an amazing day. The 30 min seaplane flight from vancouver to Victoria is the best way to see Vancouver and all the small islands clustered near it. Some great camera opportunties. The open boat was fantastic and Nick (The boatman) was a great guide, very informative and a real character. The boat ride experience in itself was an experience, It's as good as a roller coaster (great fun), but seeing Orca's and Minky whale, Sealions and Harbour dolphins topped it all. Taking the morning boat also gave us time to chill in Victoria before the return flight. A really memorable day. Not cheap, but I'd definitely do it again, for our experience it was worth it.
Advertisement
Advertisement