This three-hour walking tour covers key sights in Vancouver. Walk along the seawall and through the Coal Harbour district with a local guide for fabulous views of the Vancouver skyline, the harbor and the area's mountain peaks. Experience native village culture and spot wildlife in Stanley Park, an urban oasis.
Highlights
3-hour Vancouver walking tour

Explore the Coal Harbour district and stroll along the seawall
Spot wildlife and witness native village culture as you venture through Stanley Park

Enjoy great views of Vancouver Harbour and the city skyline

Learn about the city's history and culture from your local guide

What You Can Expect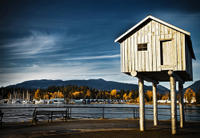 Meet your guide outside the Tourism Vancouver Visitor Centre at your selected departure time to begin your 3-hour walking tour. Starting across the street from Canada Place on Vancouver's waterfront, take a leisurely walk along the sea wall and enjoy views of Vancouver Harbour, the surrounding mountains and the prominent city skyline.

You'll see the city convention center, with its grass roof, right next to the Olympic Caldron, which was used for the 2012 Winter Olympic Games. Pass million-dollar condominiums and world-class hotels and listen as your guide points out notable sites such as Grouse Mountain and the Capilano Suspension Bridge.

When you arrive at Stanley Park, a 1,000-acre (405-hectare) urban oasis, watch for native animals such as squirrels, ducks, geese and other birds that inhabit the park, as well as seals and otters in the surrounding waters.

Your guide will take you along cool forest paths to Lost Lagoon and rose gardens. At Klahowya Village, experience local aboriginal culture as you pass interesting totem pole displays.

Finally, depending on the season, you'll stop to admire the artwork displays of the park's various artists. End your tour outside the park's renowned Vancouver Aquarium.
November 2015
Excellent tour of the area. We had a beautiful walk, and it was incredibly informative. I don't think there was a better way to learn about the area. Highly recommend this!

September 2015
Really good tour - I would recommend highly. I was the only person on the tour and myself and Nick my guide got on really well and I got to learn more about the everyday life in Canada currently as well as the history and culture of Vancouver
September 2015
This was a fun tour -- we had perfect weather -- and it turned out to be a private tour -- the other couple who had signed up was a no-show. Our guide was quite young, enthusiastic and well informed. Since we were the only two with the guide we got to rather more chatting about things and the tour ran long which was fine with us.
Some great photo opportunities as well.
All in all, excellent.
August 2015
We were a small group6 and our guide was very knowledgeable , despite his age 17! . He was giving very interesting facts and details and was able to answer our questions.
We walked for about 3 hour, 3 and 1/2...the weather was perfect as well.
If you have a whole morning free and want to walk, it is the perfect way to visit Vancouver!
October 2014
The tour company is a small but highly professional company. Initially a mix up had my tour booked for the wrong day, but they did not think twice about dropping everything to rectify the issue. Nick was quickly organised to take me on my walking tour, which was extremely enjoyable. What an impressive young man, knowledgeable and professional well beyond his young years. A one-on-one tour between a guide and tourist with a difference in age of more than 40 years could have been awkward, but Nick's communication skills and ease with people of all ages matched his extensive knowledge. I would highly recommend this tour company and my guide Nick to anyone looking to book tours in Vancouver.
August 2014
Fantastic tour and worth every penny!! Nick is incredibly knowledgeable about every aspect of nature and culture in Vancouver and is very passionate about his city and about being a tour guide. He will show you every fascinating trail and treasure at the Stanley Park and he will tell you everything about everything along the way. The itinerary of this tour is very interesting and you would never be able to find these places and learn about them this well any other way. This tour was the highlight of my vacation in Vancouver and I highly recommend it to every traveler out there!!
December 2013
We LOVED IT... age 25-60 ... a really good walking tour in the beautiful city of Vancouver. Alot of walking which is what we wanted, flat and so interesting and beyond beautiful. We got some exercise with a terrific guide who was knowledgeable and funny !!
September 2013
This was great! I would say it is not for anyone that has trouble walking at a fast paced, or long distances. However, this was the best tour in Vancouver and most informative!
July 2013
I got luckily and was the only person present for this trip, the guide was very knowledgeable, he provided a great deal of insight to the Coal Harbour and Stanley Park area, would highly recommend this tour.
July 2013
Chuck is terrific. He knows his stuff, is entertaining, marches your pace and gives an excellent overview. C. Chazan and family
Advertisement
Advertisement