Take advantage of your time in port in Vancouver with a half-day tour of some of area's most epic viewpoints along the North Shore. Your personal guide will escort you over the Lions' Gate Bridge to the Capilano Suspension Bridge for an exhilarating walk along the cliff-hanging footpaths. Then ride the Grouse Mountain gondola high into the alpine forest for breathtaking views Mount Baker and a chance spotting of native wildlife.
Highlights
5- to 6-hour pre- or post-cruise tour of the verdant North Short with private guide
View Vancouver Harbor, English Bay and the Pacific Ocean from Lions Gate Bridge
See leaping salmon at the Capilano Fish Hatchery
Walk the Capilano Suspension Bridge — the world's longest — through temperate rainforest
Experience the thrill of the Treetops Adventure walkway or the Cliffwalk
Take the scenic Grouse Mountain Skyride
Round-trip transport from hotel or cruise port included
Recent Photos of This Tour
What You Can Expect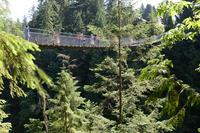 Start your Vancouver half-day shore excursion with a drive over the Lion's Gate Bridge, a 5,890-foot (1,823-meter) suspension bridge that offers unparalleled views of the harbor, English Bay and beyond. Once you get across the North Shore, it is a short drive up the mountain to the Capilano Fish Hatchery (post-cruise departure only). Learn about the life cycle of salmon and watch them (in season – July and August) as they leap their way upriver.

Next, head to the Capilano Suspension Bridge. Meander among the towering trees of this temperate rainforest and learn the traditions of the indigenous First Nations' peoples. Then walk across the 446-foot (136-meter) bridge to the other side of the river, where you can climb to the canopy and stroll through the Treetops Adventure walkway high above the canyon and river below. For those seeking a more thrilling adventure, try Clifffwalk, the newest attraction at the bridge. This heart-stopping journey will take you through the rainforest on a series of suspended walkways jutting out from the granite cliff face to unexplored territories of the park.

At the Grouse Mountain Skyride, take the tram to a 3,937-foot (1,200-meter) viewpoint above the city and enjoy nature's spectacular view. In the summertime, amble along the mountaintop meadows and witness the Logging Sports show. Get up close to grizzly bears with only a thin wire fence between you and them. On top of this beautiful mountain on a clear day, you can see Mount Baker and Vancouver Island off British Columbia's coast.

For pre-cruise tours, you'll be driven to your cruise ship terminal, where you and your bags will board your ship.

Please note: You must include hotel information at checkout and call tour operator ahead to confirm
June 2016
This was a great pre-cruise excursion. Our luggage was waiting for us on the ship.
June 2016
Wonderful experience. Tour operators and guides are first rate.
May 2016
Awesome!
This was a post cruise booking. Wam was awesome and very knowledgeable about the area. Look forward to going back to Vancouver.
Bruce G Australia
October 2015
Absolutely fabulous tour. It takes in a good selection of things to see and do especially when you have limited time before a cruise like we did. The Capalano suspension bridge and forest walk was the favourite! Our guide was also fabulous and very knowledgeable. I think his name was Wharm?

Petr United Kingdom
May 2015
We got fabulous sunny day during our tour - we loved it every moment of it - seemed like the time was just flying - we had amazing guide Tim with us - fabulous time in Vancouver!
December 2014
Everything about the tour and the way in which it was organized were great. I would definitely recommend this tour. It was well-organized, had great and informative tour guides. This is a beautiful area to tour and this tour really does it justice.
September 2014
Our guide was wonderful - helpful and informative. Enjoyed every minute. Some attractions we would have liked more time for example at the capilone bridge walk - more time there and less time at the bear viewing place. It was even fun walking and hiking in the rain. thank you Terry and Abe
September 2013
We absolutely enjoyed this tour of the North Shore. We had a great driver/tourguide and it was such a pleasure to arrive on our cruise ship and find our luggage waiting at our stateroom door. Well worth it.
September 2013
Without a doubt, this is an excellent way to: 1. Tour before your 5 p.m. sailing, 2. See the north island, 3. Have your bags taken right to your cabin. The swing bridge is fascinating, it takes you to a temperate rain forest on the other side and lots of nature trails. Back to the bus and your short ride then to Grouse Mountain allows the ascent of this magnificent area with literally too much to do. Highly recommended is the lumberjack show; this does have intelligent humor and some really talented 'jacks' and one heart stopping surprise. It is included with the gondola lift tickets. On top of the mountain you can also gaze for miles, zip, see bears, take the chair lift, dine, walk and take in some unbelievable tree carvings. Short bus ride to the dock then, where we found our luggage already in our cabin. Highly recommend this tour.
August 2013
It was great! We were busy and had a great time. We didn't have to worry about our luggage, it was outside our room on the ship. Wonderful guide and great tips on what to expect. Perfect start to our cruise to Alaska.
Advertisement
Advertisement