Spend the day scouting for an incredible array of marine life during this 3- to 5-hour Vancouver whale watching cruise. Join a professional naturalist on board a modern boat as you search for creatures including killer whales (orcas), seals, porpoises and eagles, among others. The waters for your cruise are renowned for attracting whales, offering an up to 90% success rate with sightings. Best of all, you'll enjoy spectacular scenery set amidst the Gulf and San Juan Islands. Your whale watching trip from Vancouver also includes round-trip transport from your hotel, plus bottled water and snacks.
Highlights
3- to 5-hour whale-watching tour

Discover orcas, porpoises, sea lions, seals, eagles and more!
90% success rate of sighting whales

Shuttle option for round-trip transportation from downtown Vancouver
Travel through the spectacular Gulf and San Juan island chains
Accompanied by a professional naturalist
A once-in-a-lifetime experience!

Recent Photos of This Tour
Whale-Watching Tour from Vancouver
What You Can Expect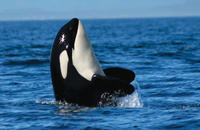 Explore the incredible marine life near Vancouver during this 3- to 5-hour whale watching cruise in search of killer whales and much more. If you're a nature lover or simply looking for a way to immerse yourself in the scenic beautiful of the western coast of Canada, this excursion is a great option.
Start your whale watching trip with pickup from select Vancouver hotels or by meeting at Steveston Village where your boat departs. A shuttle transports guests from nine convenient hotel locations in Vancouver, and free parking is available for those arriving by car. Depending on the option you select, your cruise may leave at either 9am, 11am or 2pm. Check with your tour operator during reconfirmation on your exact schedule.
Then climb aboard your sleek, modern whale watching vessel. The high-speed zodiacs used on the trip offer both an open-air deck and a covered cabin, ensuring a comfortable ride no matter the conditions. On-board hydrophones will also allow you the chance to hear the whale calls of any orcas encountered along the way, and handy photo ID charts will help you identify different species of animal.
Soon your boat cruises out into the waters of coastal British Columbia. The area for your excursion is renowned for the killer whale pods that come to feed on the spawning salmon in the area between May and October each year. During your ride, listen as the naturalist shares insights into orca behavior, and helps you spot for a variety of creatures. Three pods of killer whales, totaling around 80 animals, reliably return to this area annually, making it more likely you'll have a sighting. Keep your eyes peeled for the orca old-timer named 'Granny,' who many believe is more than 100 years old.
Guaranteed whale sightings or your next trip is free.
April 2016
Fantastic in all respects. Great staff. Friendly and knowledgeable. Nice boat. Well run. Saw 12 orcas, multiple eagles, sea lions, seals, auklets, etc. Highly recommend VWW.
December 2015
Stunning! Saw a multitude of wild life, including a hump-back whale and several pods of killer whale. The highlight of our trip to Canada and not to be missed.
November 2015
Vancouver Whale Watch is an amazing tour group! Highly recommend them to anyone. Very friendly and knowledgeable! Could not have asked for a more exceptional experience. We saw many whales! And they made sure everyone had a chance to get some amazing pictures!

November 2015
A very well organised, well run trip. The whales were incredible. We spent a couple of hours watching them. The company is very professional, they were very knowledgeable and I would have no hesitation in recommending this excursion - must-do!
October 2015
Fantastic tour - spent about six hours out on the water and around 4 hours with Whales - saw both Humpbacks and Orcas - amazing!
October 2015
Great tour! Levi the shuttle driver was great. Gave a lot of information about the area and the history of it. The tour guide was very informative. Would definitely recommend.
October 2015
Very good exciting ! The team on board was 100 top!!!

October 2015
The whale watching trip was incredible. Mine actually got moved because of gale force winds the morning I was supposed to go. They let me know first thing that morning and rescheduled me before my trip was over. It was wonderful. We saw about 6 Orcas while we were out there and they got really close to the boat. We also saw lots of sea lions and seals. The village you take off from is actually the fictional town of Storybrooke from Once Upon a Time so that was excited for me since I am a fan of the show. I have very happy I took this tour it was completely worth the money!

Areeya Thailand
October 2015
This tour program is amaziiiiing!!!
We saw 2 killer whales and 2 humpback whales. Then a hundred of seals and sea lions!!! I couldn't expect more from this. Totally the best day in my life. The boat drive was so nice, he always drove the boat closer to the animals for us not too close to interfere them and he also drove the boat to follow them for a bit too.
October 2015
Well this was a fantastic tour. We were picked up at a point very close to our hotel and driven to the departure point. Levi our driver was very good giving us lots of local information and history of the area. The boat trip was very smooth and we saw a large number of whales with the guide on the boat gives us lots of information on the pods that are in the area etc, From start to finish we were out for 4 1/2 hours so I suggest it might be worth you taking some food. The boat provides you with bottled water and a snack bar.
Advertisement
Advertisement