44 Reviews
Location:

Venice, Italy

Duration:

2 hours 30 minutes

(approx.)
Make like a Venetian and enjoy an evening stroll around the 'bàcari' (wine bars) of Venice's Jewish Ghetto! While exploring the historical quarter with a local guide, visit three bars to enjoy a glass of local wine in each place alongside 'cicchetti' — bite-sized appetizers that are served around the city. Learn about local life, food and wine in Venice, and savor enough food for a light evening meal. Numbers are limited to 12 on this small-group food tour, ensuring personalized attention from a guide.
Highlights
2.5-hour cicchetti and wine tour around Venice's Jewish Ghetto
Hear stories about the Jewish Ghetto's history from a knowledgeable local guide
See an open-air market, a mask-making workshop, synagogues and shops
Visit three atmospheric bàcari and learn about the Venetian wine and cicchetti tradition
Savor a total of three glasses of wine plus enough cicchetti for a light meal
Small-group tour with a maximum of 12 people ensures a personalized experience
Recent Photos of This Tour
What You Can Expect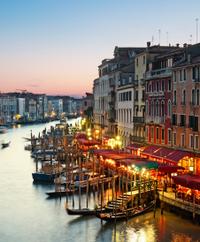 Meet your guide in Venice's Jewish Ghetto, a historical area in the Cannaregio neighborhood of the city. Many consider the area to be a little piece of authentic Venice, tucked away from the well-trodden tourist trail, where the streets resonate with the sounds of locals laughing and catching up on gossip.
Hear how the Jewish Ghetto was the first of its kind in the world, and how it served as the inspiration for William Shakespeare's
The Merchant of Venice,
as you amble along its pretty streets. While the Jewish population in the ghetto reached a peak of 4,000 inhabitants by the mid-17th century, today Venice is home to around 500 Jews who live all over the city. The quarter still thrives as a spiritual and cultural center for
Venice's Jewish community; synagogues and kosher restaurants are just a few of the sights seen, as well as a traditional open-air market, mask-making workshop and bustling independent shops.
After getting a feel for the area, check out three of the ghetto's atmospheric bàcari. The venues visited are subject to change, but your guide knows the most interesting drinking dens in the area and will select bars based on their good food and wine, friendly atmosphere and décor — think of convivial bars straight out of Italian films with elegant, wine glass–lined brick and stone walls.

Inside each bar, enjoy a glass of ombra (Venetian slang for local wine) as well as plates of cicchetti — the tasty Venetian appetizers that are served all over the city. The dishes vary, but you can expert tantalizing offerings such as expertly seasoned meatballs, creamy cod mousse or colorful bruschetta. As you nibble on the tasty treats, hear insights from your guide about the local wine and learn about daily life in Venice.

Your tour finishes near Campo della Maddalena, leaving you ideally placed to return to the center independently or continue your night of eating and drinking in the area at your own expense.
October 2015
This was so much fun. Small group and enjoyed the wine tour and the Jewish ghetto. My only regret was not doing it earlier in the trip so we could of went back to some of these bars. The tour was interesting and point out some interested items in the area. Especially the place where you can take your empty bottle and the will fill it up with wine.
October 2015
tour very informative drink food a walk and nice company this is a must we had Francesca as our guide who was brilliant.
October 2015
Our guide, Chiara, was very knowledgeable about the area. The food and wine good. It is a good way to meet people from other countries.
October 2015
We really enjoyed our Cicchetti and Wine Tour of Venice's Jewish Ghetto. Lara was very personable and knowledgeable and did a great job. We enjoyed that the tour wasn't rushed and that we were able to enjoy our time not only learning about the Jewish Ghetto but meeting and visiting with others on the tour as we enjoyed our visits to the three wine bars. We recommended this trip to other friends who will be visiting Venice!
October 2015
This was a terrific tour. The guide was really passionate about her tour. We enjoyed each location enjoyed the tastings and enjoyed the wine. We walked through the Jewish Ghetto which was very interesting and again the guide was very passionate about the history.
September 2015
My boyfriend and I got into Venice from New York at 11:30am on a Friday, mid-September. This was the first time for both of us in Venice and this was the first tour we took. We thought it would be a good idea in order to learn about the city, explore the Jewish Ghetto, and taste some local cicchetti and wine. It turned out not to be a good idea, but a fantastic idea!!!
Lara was our tour guise and she was really great. She is very friendly, personable, engaging and has a vast fund of knowledge. She's from Venice at each place we stopped, she'd give us the local perspective on things. She was very candid and truthful in her answers to all of our questions about the city and what it's like to live in Venice compared to where we all live. We had a great group of 8 2 ppl from South Africa, 2 from Australia, and 4 of us from the USA which I think that added to make the tour even better. This tour started at a cicchetteria for food and prosecco. From there we walked around the Jewish Ghetto and Lara told us the history of the Ghetto and the Jews in Venice. After the Ghetto, we went to the next 2 cicchetteria for a glass of wine in each and more food. All of the places we stopped were in Cannaregio. We were all having such a good time in each of these places, eating, drinking and talking, our tour lasted a bit longer than scheduled but no one complained. Lara told us how Venice was built and why the meanings of the names of the streets/canals and introduced us to a Spritz.
I would definitely recommend this tour and Lara to anyone who wants to experience not only some delicious Venetian food and wine and prosecco, but also learn about some of the history of the Jews in Venice. It would have been nice to have one of the kosher places as a stop on this tour, but since it was given on a Friday evening and everything closes for Shabbat, that wouldn't work. I do think it's something the tour company should consider including.
September 2015
Our tour guide Francesca was pleasant and very, very informative. She was excellent and would highly recommend this tour! The area is beautiful, quiet, and relaxing.
September 2015
Excellent tour - we really enjoyed it. Yummy food and very good wine. Really gives you a taste of Venice while learning about the history of the Jewish Ghetto. A good substitute for dinner. Our guide was knowledgeable and easy going. We really enjoyed this tour.
September 2015
September 2015
Great time
, Riccardo was very knowledgeable of the area we had good time
Will do it again if back to Venice. Grazie Riccardo
Advertisement
Advertisement