Explore secrets of Venice away from the typical tourist track on this fascinating walking tour. Led by a local guide with expert knowledge of the city, you'll spend 2 hours exploring hidden passageways and uncovering tales of the city's past. Walk at a leisurely pace through the historic San Polo, Carampane and Rialto districts while learning about the courtesans, scoundrels and legendary Renaissance artists who once roamed Venice's storied streets.
Highlights
2-hour walking tour of hidden Venice with a knowledgeable local guide
Discover the history-rich parts of Venice that many visitors don't get to see
Visit the old artisan quarters of the Rialto area and the historical red light district in Carampane
Hear quirky stories about the Venetian courtesans of bygone days and stop for photos on the Ponte delle Tette
See Palazzo dei Camerlenghi, a former prison for tax evaders in the San Polo neighborhood
Visit the Frari church and admire Renaissance artwork by Bellini, Canova and Titian
Recent Photos of This Tour
Hidden Venice Half-Day Walking Tour
What You Can Expect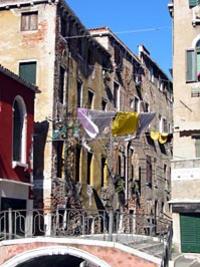 Discover a lesser-known side of Venice tucked away among its narrow streets and canals. Connect with your expert guide on the famous Rialto Bridge to kick off this 2-hour walking tour, and learn about the traders and craftspeople that made the surrounding neighborhood Venice's bustling commercial district.

Wander through a charming maze of passageways into the Carampane neighborhood. Known locally as the castelleto, this former red-light district was once populated with flocks of well-dressed courtesans and their patrons. Your guide will share stories about legendary ladies of the night, including Veronica Franco, a poet who rose to the ranks of Venetian literati. Stroll across the risqué Ponte delle Tette (Bridge of Tits), where topless courtesans used to advertise their 'assets.'

Continuing on to the San Polo neighborhood, admire the ornate, 16th-century Palazzo dei Camerlenghi along the banks of the Grand Canal. Despite its beautiful exterior, the palace was once greatly feared by small-time criminals during its days as a tax evaders' prison. Explore other interesting areas and get a glimpse into contemporary Venetian life.
End your tour on an artistic note at the tucked-away Frari church. After paying a small entrance fee, step inside this glorious Gothic structure to admire murals by the master Renaissance painters Canova, Titian and Bellini.
June 2016
Great insights into the history of the architecture of Venice, the formation of the city and other interesting facts. Our guide was lovely and the tour was worthwhile.
May 2016
This tour was an absolute joy, our guide was very friendly and informative. The 2 hours flew by and finished at a perfect time for us to find lunch. Would highly recommend this tour. Thank you.

Chris Australia
May 2016
Our guide Suzanna was very good, we learnt so much about the history of Venice, thank you very much for a wonderful tour. Highly recommended!
October 2015
Wonderful! Wonderful! Our guide was wonderful,moo! Sadly, I do not remember her name because I want to give her a shout out. You guys behind the scenes, check out who she was and please give her a shout out for us. We loved the market and our guide was most generous with her impressions and recommendations. Very much fun! Venice is so wonderful!
Carmela M United Kingdom
July 2015
Excellent tour. Guide very entertaining and informative. I have been to Venice several times and found it really interesting seeing areas that were off the beaten track. Lina Glasgow.
June 2015
Great guide very interesting prompt on time very knowledgeable will definitely recommend and use again
June 2015
Our guide took us to some really out-of-the-way places where there were NO crowds. Very interesting time. Learned a lot of unusual facts.
May 2015
This tour is very informative and you see another side to Venice. I thinks its a must if you want to see another side to Venice and understand some of its history.
May 2015
This was a small group, 8 people so no need for headsets. Tour guide was wonderful, took us away from crowds, back alleys to areas we would not normally go or see. If you don't like history, don't go. Wife and I both loved it.
March 2015
We were very happy with this tour and we were especially delighted with our guide, she was very knowledgable and passed on some very interesting facts regarding Venice to us.
Advertisement
Advertisement