340 Reviews
Location:

Venice, Italy

Duration:

5 hours

(approx.)
Discover the Venetian islands of Murano and Burano on a half-day trip from Venice! With your expert guide, you'll learn about the age-old handcrafts that brought these little islands fame, and you'll see quality Murano glass and Burano lace being made first-hand. It's the perfect afternoon trip from Venice for those seeking a combination of history and behind-the-scenes action!
Highlights
Half-day Murano and Burano tour from Venice

Watch local craftsmen at work in a Murano glass workshop

Browse an impressive collection of glass artwork

See Burano lace being made by local islanders

Visit the Burano Lace Museum independently

Recent Photos of This Tour
Murano Glass and Burano Lace Tour from Venice
What You Can Expect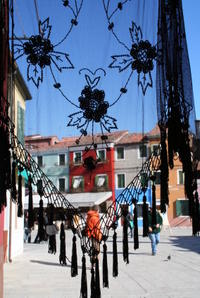 After meeting in central Venice, your full-day tour starts with a short ride to Murano by boat. Famed for its stunning Murano glass products, the cluster of little islands that comprise Murano are as popular for their glassmaking heritage as they are for their attractiveness.

With your friendly guide, head straight to a glassblower's workshop for an authentic, behind-the-scenes look at a Murano glassmaker in action. As the craftsman goes about his daily business, you'll learn how finished glass is carefully prepared and made. Watch the silica sand turn to glass, discover how the bright colors (typical of Murano glass) are achieved and hear all the highs and lows of working as a glassblower in Murano!

You'll have time to spend at leisure on Murano – a great opportunity to browse the workshop's impressive glass art collection or simply explore on your own.

Next, head to the neighboring island of Burano, where you'll be greeted by its vibrantly colored fishermen's houses that line the streets. Just as Murano is famous for its glassmaking, Burano is famous for its lacemaking. Visit a local workplace to see the island's craftswomen at work. Almost exclusively made by women, Burano lace is the finished product of a painstakingly precise textile craft. As you watch, your guide will talk about the history of this exquisite Venetian lace and explain how the handcrafted finery is sadly becoming a dying art.

Before your half-day trip comes to an end, you can independently visit the fascinating Burano Lace Museum (Museo del Muretto), a modern museum that showcases this age-old craft, or spend time exploring the island. Stroll through the colorful little streets, take photos or browse the shops for a lace keepsake to take home!
November 2015
Great experience. The guide, Alessandra, was very informative and we thoroughly enjoyed our tour.
November 2015
It was an awesome experience, I highly recommend it. Our tour guide, Francesca was amazing, she told us about a variety of things and facts, from agriculture, to society and warfare, mostly about Venice, but there were bits of Italian history aswell. The two islands showed us two, almost completely different worlds, and our free time allowed us to explore both. We could peek into the makings of small masterpieces, glasses and lace. Murano was more exciting, but Burano with it's colorful world, compensated it just fine. If you want to experience Venice at it's best, you definitely have to include this trip. Money well spent!
November 2015
Kristina was a great guide - very informative and fun! Everyone had a really great time. I would definitely recommend this to anyone that wants an overall quick-ish visits of Murano and Burano.
November 2015
I loved this tour! Not only was this tour great to see the other islands, but was also very informative about Venice in general! Our tour guide was excellent and the islands were beautiful! I WANT TO MOVE TO BURANO! I was worried we would feel rushed, but I felt like with the free time allotted was enough. I could've used more because I am a wonderer, but all in all, it was a fantastic tour!
November 2015
10/10, this was a great tour to go on especially if you have already been to Venice and want to see something different. The water taxi was very nice, the tour guide was amazing, she provided so much information about the islands, her knowledge was very impressive. It was amazing to see how they make the glass at Murano factory, all the staff were so friendly and helpful. A tad expensive but then you pay for what you get. The second trip was to Burano Island were they make the lace, the streets are so beautiful full of colour. The whole trip was approx. 4 hours long, great value for money. I would defiantly suggest this tour. Great Day out.
November 2015
Both islands were fascinating. Our tour guide Alessandra was amazing. She was informative and friendly. After the tour, she went out of her way to help us get a table at a great seafood place nearby.
October 2015
Very enjoyable ride to the Islands and guide was excellent with narrative going and coming.
October 2015
just as described.
our guide, Francesca is wonderful and knowledgeable.
enjoyed the tour very much.
October 2015
We really enjoyed this experience. Although you can purchase your own boat ticket to Murano and Burano definitely take this tour instead. The price is comparable and you get the extra value of a super informative tour guide at least if you have Francesca as we did. She taught us so much about Venice and all the islands. And while on Murano we got to see an awesome glass maker at work and you can take all the pictures you want while he's working. And the island of Burano is so unique in site and very quaint to walk around. We felt we had ample time to ourselves to explore and purchase anything we wanted on each island. This tour was great and just the right length.
October 2015
We LOVED this tour! Going to the two islands is a MUST to experience the culture and trades that are unfortunately fading away. Our tour guide, Alessandra, was so great.
Advertisement
Advertisement