Explore the intricacies of two famed Italian handicrafts with a day trip from Venice to the nearby islands of Murano and Burano. Watch centuries-old glassblowing techniques in Murano, and marvel at the detailed stitches of exquisite Burano lace. Your knowledgeable guide will share the history of these two artisan islands while you visit local workshops and wander the picturesque streets.
Highlights
Half-day Murano and Burano tour from Venice

Watch local craftsmen at work in a Murano glass workshop

Browse an impressive collection of glass artwork

See Burano lace being made by local islanders

Visit the Burano Lace Museum independently

Recent Photos of This Tour
Murano Glass and Burano Lace Tour from Venice
What You Can Expect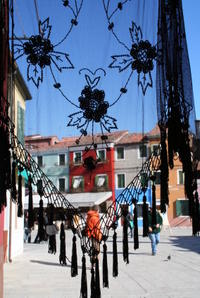 Situated just across the Venetian Lagoon from Venice, the lovely islands of Murano and Burano are world-renowned for their traditional artisan crafts. You'll meet up with your guide in central Venice for the short boat ride to Murano, a picturesque grouping of islands that has been home to some of the world's finest artisan glassblowers since the 13th century.

Visit the workshop of a local glassblower to watch delicate forms take shape from molten glass through a combination of rolling, shaping with iron tools and blowing through a long metal tube. Learn tricks of the trade, like how minerals are added to give the candy-colored vases and chandeliers of Murano their vibrant hue. Enjoy some free time on the island to explore other workshops and perhaps pick up a souvenir to take home.

Hop back on the boat for the scenic ride to Burano, where traditional lacemaking workshops are scattered among the island's brightly colored homes. Learn about the history of Burano lace and how it was once sought after by monarchs across Europe for its exquisite quality. You'll get a chance to watch local craftswomen creating lace through a series of finely detailed weaving and stitching, carrying on a tradition that has thrived here for centuries.
If you like, visit the Burano Lace Museum on your own to delve even deeper into the history of this elegant craft. Enjoy free time to explore the island and peruse local shops before the return boat trip to Venice.

April 2016
I met up with the guide at the Vittorio Emmanuel statue no problem and we took a boat with indoor and outdoor seating to Murano for a fascinating glass blowing demonstration. We got just under an hour to check out the town centre before we headed to Burano. We spent a few minutes hearing about the history of lace-making on the island and then had about an hour to check out the town. This was an unexpected treat and I think everyone in the group agreed. The coloured houses made for some great photos and there's nothing like walking those canals with a gelato.
April 2016
We found the guide very knowledgeable and she made the tour very interesting. We wouldn't hesitate to book another through viator. It was very good value for money.
April 2016
Monica was fun and really cared about the tour group. She went out of her way to make us comfortable and to entertain us. She even helped me with my Italian language lessons. She was fabulous! Would tour with her again!
April 2016
We enjoyed the tour guide and both tours!
April 2016
The meeting point and tour guide were easily located. She was lovely and knowledgeable.
This was another tour I was grateful allowed solo travellers to take part in. Murano was very interesting and it was cool to see the process of the glass blowing and hear some of the history behind it. It was interesting to note that although many stores in Venice claim to sell Murano glass, it was not real Murano glass. The factory's showroom was lovely - full of beautiful art albeit a little pricey. There are some other shops outside of the factory though that were even cheaper than in Venice, although I know it was not the Murano glass I was buying, I was still happy with purchases there.
Burano was an unexpected highlight. The houses were beautifully coloured and it was nice to meander through the less busy streets and enjoy the feel of Venice and see the scenery. There was a short, but interesting explanation about the dying art of Burano lace, which was more intricate and complex than I expected.
This was a nice way to spend the afternoon and see more than just the main cluster of islands that is Venice.
March 2016
Chiara was an enthusiastic and knowledgeable guide! Our family, with two children, 9 and 12, thoroughly enjoyed this tour. There is time after glass and lace presentations to walk around the islands and grab a bite to eat on Burano with all the history provided during the water taxi rides. Thank you!
January 2016
Beautiful scenery, knowledgeable guide!
January 2016
This was a great tour. Our guide Francesca was very knowledgeable and friendly. She made the tour a fun time. Everyone enjoyed it.
December 2015
We had a great tour guide who made the tour very enjoyable! The boat ride plus the beautiful islands were wonderful. Murano and Burano are beautiful islands that must be seen!
November 2015
Great experience. The guide, Alessandra, was very informative and we thoroughly enjoyed our tour.
Advertisement
Advertisement