Explore the intricacies of two famed Italian handicrafts with a day trip from Venice to the nearby islands of Murano and Burano. Watch centuries-old glassblowing techniques in Murano, and marvel at the detailed stitches of exquisite Burano lace. Your knowledgeable guide will share the history of these two artisan islands while you visit local workshops and wander the picturesque streets.
Highlights
Half-day Murano and Burano tour from Venice

Watch local craftsmen at work in a Murano glass workshop

Browse an impressive collection of glass artwork

See Burano lace being made by local islanders

Visit the Burano Lace Museum independently

Recent Photos of This Tour
Murano Glass and Burano Lace Tour from Venice
What You Can Expect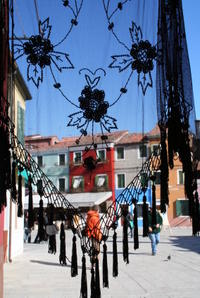 Situated just across the Venetian Lagoon from Venice, the lovely islands of Murano and Burano are world-renowned for their traditional artisan crafts. You'll meet up with your guide in central Venice for the short boat ride to Murano, a picturesque grouping of islands that has been home to some of the world's finest artisan glassblowers since the 13th century.
Visit the workshop of a local glassblower to watch delicate forms take shape from molten glass through a combination of rolling, shaping with iron tools and blowing through a long metal tube. Learn tricks of the trade, like how minerals are added to give the candy-colored vases and chandeliers of Murano their vibrant hue. Enjoy some free time on the island to explore other workshops and perhaps pick up a souvenir to take home.
Hop back on the boat for the scenic ride to Burano, where traditional lacemaking workshops are scattered among the island's brightly colored homes. Learn about the history of Burano lace and how it was once sought after by monarchs across Europe for its exquisite quality. You'll get a chance to watch local craftswomen creating lace through a series of finely detailed weaving and stitching, carrying on a tradition that has thrived here for centuries.
If you like, visit the Burano Lace Museum on your own to delve even deeper into the history of this elegant craft. Enjoy free time to explore the island and peruse local shops before the return boat trip to Venice.
June 2016
Lovely relaxing motorboat ride to Murano and Burano. In Murano you get to see a glassblowing demonstration and tour the gift shop. Free time is also allotted to stroll through the picturesque city. In Burano you see a lace-making demonstration by hand and then get free time to meander through this quaint fishing village with its brightly colored houses.....a photograph's dream.

June 2016
Our guide Christina was lovely and knowledgeable. Murano and Burano are beautiful, highly recommend to join this tour!
June 2016
The trip was good, what made it much better and excellent was the tour rep from city finders ... She was a local and has been for nearly 40 years!! Spoke very good English
June 2016
Our guide Alessandra made this a great afternoon. She was very professional and knowledgeable, only too happy to give explanations and advice. We visited a glass factory in Murano and watched very clever glass blowing. There was free time for some shopping. We would have liked a bit more time in beautiful Burano, with its many quaint shops. An enjoyable experience.
June 2016
June 2016
June 2016
Fabulous trip! Absolutely perfect.
June 2016
Excellent and well worth the trip. For those who get seasick/need the loo, don't worry, there is no problem with either of those things. The journey between the islands is very smooth. The tour guide also speaks very good English. I recommend to take a couple of bottles of water for the way there / and back in the boat, also, some change incase you need the toilets - I remember the Burano loo costing 1 Euro. Apart from that it's well worth the visit!
June 2016
This was a lovely tour with a nice, private boat ride out to Murano and Burano. The tour of the glass warehouse was lovely and then there was plenty of time for shopping! The same thing went for Burano. Just be sure to bring your wallet/credit cards when you do go. The glass in very, very expensive.
June 2016
Wonderful day spent seeing Venice by water and learning about it's history from a knowledgable and personable guide! Loved the artistry of glass-making in Murano and lace-making in Burano. Make sure to get a gelato and stroll the quaint streets and canals of Burano!!!
Advertisement
Advertisement