Location:

Venice, Italy

Duration:

2 days

(approx.)
Get to know Florence on an overnight trip from Venice! The independent experience allows you to explore the Tuscan captial at your own pace and with minimum hassle; round-trip travel by high-speed train, a 48-hour hop-on hop-off tour ticket and 3- or 4-star hotel accommodation are all included. How you spend your time there is up to you! Ogle standout attractions such as Florence Duomo and the Ponte Vecchio or visit world-class art museums such as the Accademia or Uffizi galleries. All activities are at your own expense.
Highlights
Overnight Florence trip with round-trip train transport from Venice
Enjoy peace of mind that all your travel logistics are organized
Discover Florence independently and see impressive landmarks such as the Ponte Vecchio and Florence Duomo

Use a 48-hour hop-on hop-off tour ticket to explore the city at your own pace and see top attractions, too
Choose between 3- or 4-star hotel accommodation in central Venice
What You Can Expect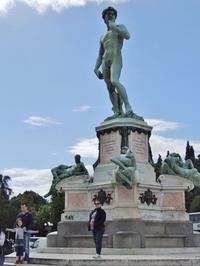 Day 1: Venice – Florence
Make your own way to Santa Lucia Station in central Venice to meet your host. Receive your round-trip train ticket, hop-on hop-off tour ticket, hotel details and information about train times, and then leave your host to catch your train and travel to Florence independently.

Train journeys between the two cities can last up to 2.5 hours, but your high-speed train shuttles you into the heart of Florence in just 2 hours. On arrival in the city, check in to your hotel, and then head out to explore! How you spend your time in the Tuscan capital is up to you. Entrance fees to attractions, activities and any meals are at your own expense, but a 48-hour Florence hop-on hop-off tour by open-top, double-decker bus with audio commentary is included. See the Itinerary for a list of routes and stops.

If you want to sightsee on foot, perhaps take a walk along the Ponte Vecchio — Florence's iconic bridge — to the neighborhood of Oltrarno and relax in Boboli Gardens. In the evening, find an alfresco restaurant near Piazza della Signoria and watch the glamorous Florentines taking their passiagata (evening stroll) around the square.

Overnight: 3- or 4-star hotel in central Florence

Day 2: Florence – Venice (B)
After breakfast in your hotel, enjoy a full day at leisure to continue your fun in Florence. Check out is in the late morning, but you can store your luggage at the hotel for the day, if you wish.

Florence is awash with culture so perhaps start your day with a visit to one of its world-class museums such as the Accademia or Uffizi galleries. Michelangelo's masterpiece David is inside the Accademia Gallery, and the Uffizi Gallery is home to a treasure trove of Renaissance artwork with works by Leonardo da Vinci, Caravaggio and, of course, Michelangelo.

However you spend your day, be sure to leave enough time to get to the station. Board your train at Santa Maria Novella Station in the early evening, and then travel back to in Santa Lucia Station in Venice where your independent experience finishes.
Itinerary
Florence Hop-On Hop-Off Tour Stops:Line A (1-hour full-loop duration):
Piazza Stazione (for Santa Maria Novella Station)
Piazza della Libertà
Piazzale Donatello (English cemetery)
Piazza d'Azeglio
Piazza Cesare Beccaria
Corso dei Tintori
Teatro Verdi
Lungarno Pecori Giraldi
Piazzale Michelangelo
Piazzale Galileo
Grand Hotel Villa Cora
Porta Romana
Palazzo Pitti
Via de'Tornabuoni
Antinori
Piazza dell'Unità
Line B (2-hours full-loop duration):
Piazza Stazione (for Santa Maria Novella Station)
Piazza della Libertà
Piazzale Donatello (English cemetery)
Piazza d'Azeglio
Piazza Cesare Beccaria
Corso dei Tintori
Teatro Verdi
Via Lungo l'Affrico
Villa Camerata
Convent of San Domenico, Fiesole
Regresso, Fiesole
Fiesole central
Regresso, Fiesole
Convent of San Domenico, Fiesole
Villa Camerata
Stadio Artemio Franchi (football stadium)
Piazzale Donatello (English cemetery)
Piazza Cesare Beccaria
Lungarno Pecori Giraldi
Piazzale Michelangelo
Piazzale Galileo
Grand Hotel Villa Cora
Porta Romana
Palazzo Pitti
Via de'Tornabuoni
Antinori
Piazzale Montelungo
Line C (2-hours full-loop duration)
Piazzale Montelungo
Piazza Stazione(for Santa Maria Novella Station)
Piazza della Libertà/Viale Giacomo Matteotti
Piazzale Donatello (English cemetery)
Piazza d'Azelio
Piazza Cesare Beccaria
Via Lungo L'Affrico
Via Righi Ostello
Convent of San Domenico, Fiesole
Regresso, Fiesole
Piazza Mino da Fiesole Arrivo, Fiesole
Piazza Mino da Fiesole Partenza, Fiesole
Regresso, Fiesole
Convent of San Domenico, Fiesole/ Via Mantellini
Via Righi Ostello
Viale Paoli/Viale Maratona
Piazzale Donatello (English cemetery)
Piazza Cesare Beccaria
Corso dei Tintori/Via dei Benci
Lungarno Serristori
Piazza Ferrucci
Piazzale Michelangelo
Piazzale Galileo
Viale Machiavelli/Grand Hotel Villa Cora
Porta Romana/Viale Petrarca
Piazza Tasso, San Frediano
Via Vittorio Veneto
Piazza Stazione (for Santa Maria Novella Station)
Piazzale Montelungo
Advertisement
Advertisement