Ensure a hassle-free way to finish your Venice vacation by booking this private departure transfer from your city or Venice Lido hotel to Santa Lucia Station or the bus station at Piazzale Roma. Simply book an option to suit your vacation schedule, and then hop aboard your water taxi at your hotel; it's that easy!
Highlights
Private departure transfer from Venice to Santa Lucia Station or Piazzale Roma
Relax with comfortable, air-conditioned transport by private water taxi
Receive assistance with your luggage from your professional, friendly driver
Enjoy a private transfer service that's available 24 hours a day, seven days a week
Choose from a pickup in central Venice or Venice Lido
What You Can Expect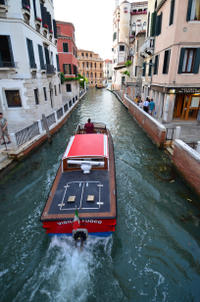 Whether you're traveling individually, as a couple or in a group, your transport needs are covered by this private transport service from your hotel in central Venice or Venice Lido to Santa Lucia Station or the bus station at Piazzale Roma.
When your vacation in the Veneto capital is over, simply board your private water taxi near your hotel at a prearranged time. Then, settle into your comfortable, air-conditioned boat and travel straight to the train or bus station.
To make your booking, simply advise your train or bus details as well as your Venice accommodation details. Your transfer will be confirmed instantaneously and you will be provided with a travel voucher to present to the driver. Approximately 24 - 48 hours prior to your departure from Venice, you will be required to reconfirm exact pickup time and place (the contact number will be provided on your travel voucher).
Price is per person, based on 6 adults per car/vehicle.
Due to the Hotel Marriot location (Isola delle Rose), transfer to/from this Hotel are subjected to a surcharge of €20, payable on spot.

November 2015
Private boat picked us up at the hotel on time and dropped us at the train station. We were met by representative who brought us to our train and made sure we were in the correct car. Very nice service.
July 2015
The transfer boat arrived five minutes early, the driver was very polite and helpful. There was another gentleman awaiting us at the train station, who took us to our platform. He also was very polite and helpful. I would highly recommend this service to anyone.
May 2015
Absoluely perfect. After your stay in Venice, you could easily make the trip alone. However, this duo actually deposited me in my train seat! Such a large terminal, i was grateful
October 2014
A hassle free way to be transferred from our hotel to the train station- our transfer ended up having to be at 6am and the hotel concierge arrange an earlier pickup with payment of a surcharge to the company. Would definitely recommend.
October 2014
The guide was punctual, friendly and made sure we were on the train and so were our bags!
September 2015
Had a private transfer, operator tried to put other people on our booking. I strongly informed them of my booking three times at which point they apologized. Then the wait for the boat began!
May 2014
I was alittle disappointed in our departure guide. She never introduced herself to me. It wasn't until we were in the water taxi that I found out from my mother-in-law that the lady in the hotel lobby texting on her phone was the guide. Our pick-up time was 10:15am and we were ready by 10am. I had stored my luggage with the bell man earlier, so was trying to retrieve it at the front desk. The guide told my mother-in-law to get in taxi, and stood around tapping her foot. In the mean time my husband noticed he left something in the room, so he had to go back. We got all of our stuff together and boarded the taxi
and departed by 10:10am, before our confirmed departure time of 10:15am.
I guess what bothered me most was the unprofessional demeanor of the guide (no acknowledgement and texting, tapping of the foot like we were making her late for something more important) Obviously, we didn't give her a tip.
The water taxi guy on the other hand, was very nice and helpful. We did tip him!
Advertisement
Advertisement