Explore Venice's lesser-known artistic and architectural treasures on this 2-hour private walking tour. Your local guide will lead you through a labyrinth of narrow backstreets to discover fascinating churches, squares and other landmarks that lie off the beaten path. Learn the history of these sites and admire their stunning artistic elements while you enjoy the personalized experience of a private tour.
Highlights
Two-hour private guided walk through Venice
Focus on the art and architecture of Venice
Stained-glass window of San Giovanni and Paolo church and beautiful Miracoli church
Enjoy privileged, personalized attention from your tour escort and expert English-speaking guide on this special private walking tour of Venice
Choice of morning and afternoon walking tours
Professional commentary provided by your expert English-speaking guide
Recent Photos of This Tour
Private Tour: Venice Art and Architecture Walking Tour
What You Can Expect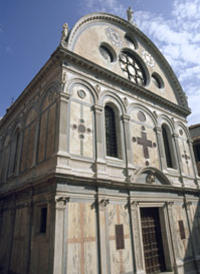 Discover masterpieces of Venetian art and architecture beyond the crowds of St Mark's Square. After meeting up with your guide in central Venice, head out into the city's quieter side streets and narrow passageways.
Visit the glorious San Giovanni and Paolo church, which boasts impressive Gothic architecture and the largest stained-glass window in Venice. Other tour stops include the narrow Miracoli church, with its beautifully restored, early Renaissance façade, and the former home of famed Venetian merchant and explorer Marco Polo.
As you wander along narrow canals and across charming footbridges, your guide will explain the political and cultural forces that helped shape Venice's unique artistic legacy. Feel free to ask all the questions you want as you enjoy the customized nature of a private tour. After about 2 hours of exploring, you will have a new appreciation for the amazing sights and structures of Venice.
May 2016
This tour was amazing , MARIE THERESE , guide very wise , calm , and smart !
I recommend !
June 2015
The tour guide knowledgeable and good English
March 2015
September 2014
Very well informed guide who was happy to discuss any aspect of Italian history, culture and politics as well as the introduction to Venetian Art and architecture we had expected. He was flexible and accommodating tailoring the tour to our interests. Had we visited the churches we did without him we would have missed so much...pointing out detail and anecdote which would have otherwise passed us by. Our children (8 and 13) also thoroughly enjoyed themselves. I would recommend this tour for anyone visiting Venice.
Rosy Yung Canada
July 2014
Our personal guide for our group of 6 was wonderful and knowledgeable and well prepared. He, being an architect himself, was able to give us an in depth explanation of all the architectural features of the various structures and buildings in the city. He came along with illustrations in books on the topic, showing us the mechanics of the construction. That 2 hour walking tour were the best, informative, interesting time we have ever spent in Venice.
July 2014
Once again very interesting- the meeting point was a little hard to find
June 2014
Superb Guide...wonderful experience...probably the high point of our visit!

Vernon M USA
September 2013
Very interesting tour of how and why the buildings were done in Venice. Tour guide was freindly and helpful. Even gave us great tips on where to get drinks and meals later.
August 2013
Our expert guide revealed a face to Venice that we never knew existed. Her knowledge of the depth and breadth of Venician artistic history was astounding and we were thrilled to visit sights not found on the tour books. We recommend this tour highly.
Lemiel P USA
January 2010
The best tour. The guide was very fluent in English and extremely knowledgeable on everything she showed us. Kudos to her and to you!
Advertisement
Advertisement